Two Filipino teens are on the list of TIME's 30 Most Influential Teens of 2017: student protester Shibby de Guzman, 14, and beauty vlogger Bretman Rock, 19.
According to TIME's November 2 report, the young people who made it to the annual list are hailed for their "global impact through social media" and "overall ability to drive news."
Others who made the list include Stranger Things' Millie Bobby Brown, Moana's Auli'i Cravalho, Cindy Crawford's daughter-model Kaia Gerber, and singer Noah Cyrus.
A student of St. Scholastica's College-Manila, Shibby has figured prominently in several youth protests against extrajudicial killings amid President Rodrigo Duterte's aggressive war on drugs.
She first made headlines in November 2016, when she led a student protest that was held in front of her own school following the burial of the late president and dictator, Ferdinand Edralin Marcos, at the Libingan Ng Mga Bayani.
The then 13-year-old Shibby was seen wearing a placard that read, "LAHAT TAYO POSIBLENG DRUG PUSHER."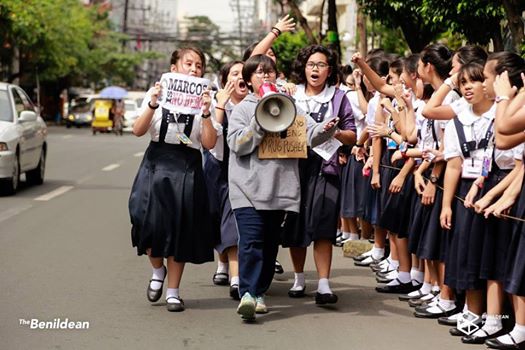 Shibby also joined the #YouthResist student protest days before President Duterte's Second State of the Nation Address (SONA) in July this year.
Citing Shibby's strong stance, TIME Magazine said, "She carried a megaphone and wore a cardboard sign similar to those sometimes strewn over the bodies of drug-war victims.
"Then, in a widely shared social-media post, she shut down critics who alleged that her fellow protesters were 'brainwashed.'"
TIME Magazine also quoted Shibby who said, "We completely know and understand the injustice we are protesting against."
Bretman, for his part, is widely known in the world of beauty vlogging.
The 19-year-old has over two million subscribers on YouTube, nearly nine million followers on Instagram, and one and a half million followers on Twitter.
TIME described him as the "The Hawaii-based Filipino beauty vlogger shot to fame for demonstrating makeup skills—fierce contouring, flawless eyebrows—that could give the Kardashians a run for their money.
"But the real reason Rock (born Bretman Rock Sacayanan) has racked up nearly 9 million Instagram followers is his larger-than-life personality, best seen in the musings he posts alongside his glam how-tos."