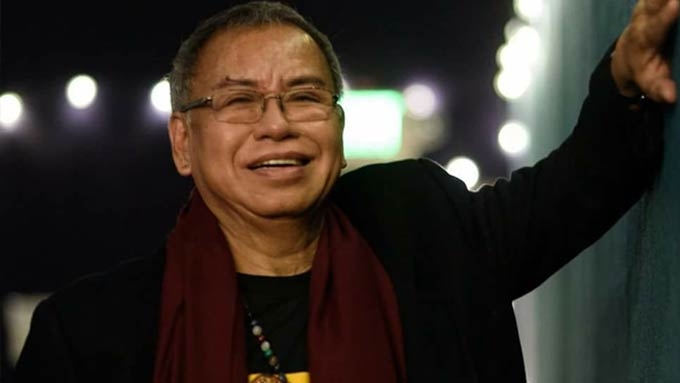 IMAGE Bernardo Bernardo on Facebook
---
Veteran stage actor Bernardo Bernardo took to social media yesterday, Saturday, January 6, 2018, to appeal for prayers for his alarming medical condition.
Last month, Bernardo underwent a series of lab tests at the University of Santo Tomas hospital in Sampaloc, Manila.
The results revealed that the actor's pancreas was "swollen" due to a "possibly malignant" tumor.
His latest Facebook status detailed: "as [the tumor] grows, it begins to press on the bile duct and the pancreatic duct. With increasing pressure, the ducts eventually get pinched off."
Following this, Bernardo said he "lost his appetite for food and, consequently, lost a lot of weight at an alarming rate in such a short span of time."
But the Ang Larawan cast member noted that the "cameras" have been "kind."
As he pointed out in his post, "They do not capture the very real pain and fear of the unknown, the hidden costs of this medical journey that has put me in Controlled Panic Mode."
The circumstances compel the stage and film actor to undergo another series of lab tests for diagnosis and treatment.
He disclosed: "I'm scheduled for an Endoscopic Ultrasound (EUS) that allows for fine-needle aspiration (FNA) biopsy (to determine if the tumor is malignant); and/or ERCP (endoscopic retrograde cholangiopancreatography), where diagnosis and treatment, using stents, can take place during the same procedure.
"We will deal with the abnormal growth of tissue next.
"One step at a time. One day at a time."
From here, Bernardo asked for prayers from his Facebook "prayer warriors."
ADVERTISEMENT - CONTINUE READING BELOW
"Given my history of clinical depression and anxiety attacks coupled with a potentially life-threatening growth in my pancreas, it feels like it's about time to call for support from FB Prayer Warriors.
"I strongly believe in the power of prayer.
"I know that in order to continue to fight this battle — I need Courage. I need Strength. I need Clarity of Mind.
"Which is why, heart to heart, my friends, I hope you will find time to say a little prayer for me," went his appeal. 
Read the full Facebook post below: