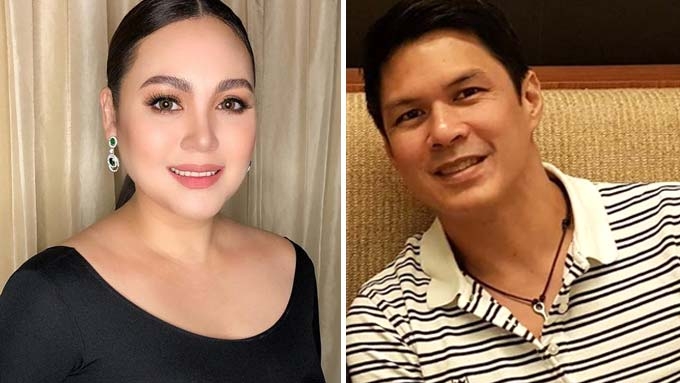 IMAGE Instagram @claubarretto / @raymartsantiago
---
Claudine Barretto, 38, dismissed the idea that she and estranged husband Raymart Santiago, 44, are getting back together.
This was in relation to netizens' positive feedback about Claudine and Raymart attending their daughter Sabina's Grade 8 moving-up ceremony yesterday, February 1.
The estranged couple have two children: Sabina, 13, and Santino, 10.
A netizen with the Instagram handle @lourdeszamora63 left this comment: "Sana my one more chance just for d sake of children if there is. Hoping"
But Claudine was firm in saying that she and Raymart are better off as "co-parents" to their two kids.
Claudine wrote: "@lourdeszamora63 we r co parenting & thank u for wanting us to be together again, but its way much better this way. Salamat"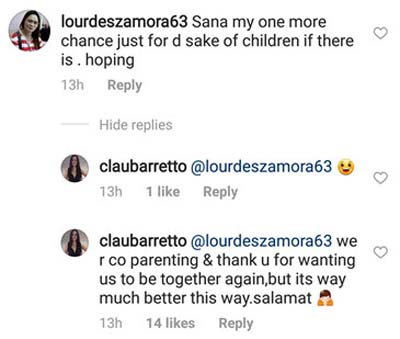 It was in March 2013 when Raymart and Claudine separated after 13 years of marriage.
When they did, they became entangled with each other's legal complaints, until they both decided to settle their differences and go through counseling in 2015.
In October 2016, Claudine and Raymart were first seen together on the occasion of Sabina's dance recital.
Since then, the estranged couple seem to have been working at staying on good terms.
---
Stories We Are Tracking
---
OLDER AND WISER. On a different note, Claudine also responded to a netizen recalling how the actress was reputed to be "mataray and maldita" in showbiz.
The netizen with the Instagram handle @tamsmalditah wrote: "Before i really don't like claudine.. i find her 'mataray maldita' bad thing about her b4..
"My fault that im too judgemental about her without knowing the real claudine.
"Years goes by, am starting to like her parang same ung ugali namin medyo mataray but behind that may magandang puso at kalooban.."
In response, Claudine said she's flattered that she has earned the netizen's admiration.
"@tamsmadlitah thank u. Its ok all of us become judgemental whats important is that when we get older we realize the crazy things weve done is just a phase.
ADVERTISEMENT - CONTINUE READING BELOW
"then comes wisdom as we mature. thank u for this comment it made me smile"