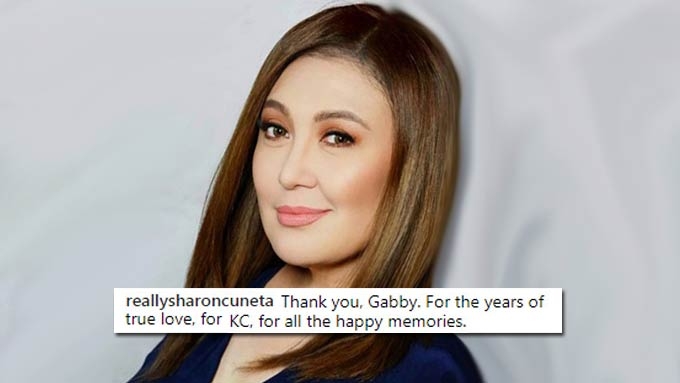 IMAGE reallyharoncuneta on Instagram
---
Sharon Cuneta feels overwhelmed by the resounding success of her onscreen reunion with ex-husband and former love team partner, Gabby Concepcion.
Since its online release yesterday, their fastfood commercial has spread like wildfire on social media, garnering over a million views and counting.
It has also triggered all sorts of "hugot feels" among netizens, especially their avid fans who have been long clamoring for their reunion.
Stories of fans getting kilig over the sight of Sharon and Gabby back together onscreen reminded the seasoned actress of their love team's lasting impact on the public.
Initially, Sharon had no idea what to expect from her very first commercial with her former partner after 26 years.
The 52-year-old star wrote in her Instagram post, "So many mixed emotions… I had a feeling this would be something special, mainly because every single thing Gabby and I ever did and made together (including our daughter, hahaha!) was a sure success—and in more ways than one.
"But I didn't know what to expect in terms of how our public would receive us now that we are older...
"We have been apart for 26 years on-screen and not exactly friends off-screen.
"I didn't even know what to expect of Gabby when we were about to shoot the TVC, and [I] prayed so hard that it would be, at least, pleasant…"
Suffice to say, it seemed like a pleasant and very promising reunion between Sharon and Gabby as seen from their behind-the-scenes videos.
---
Stories We Are Tracking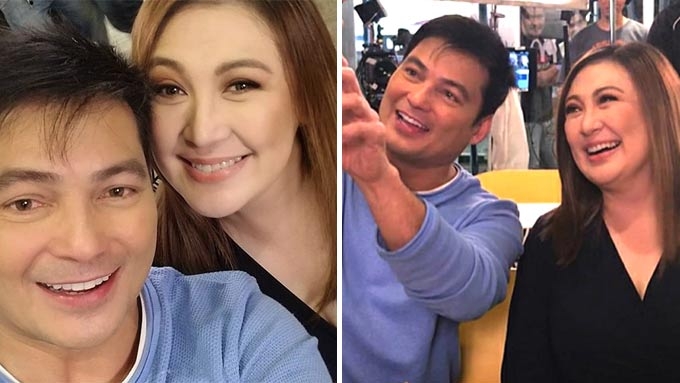 The most kilig reactions to Sharon-Gabby reunion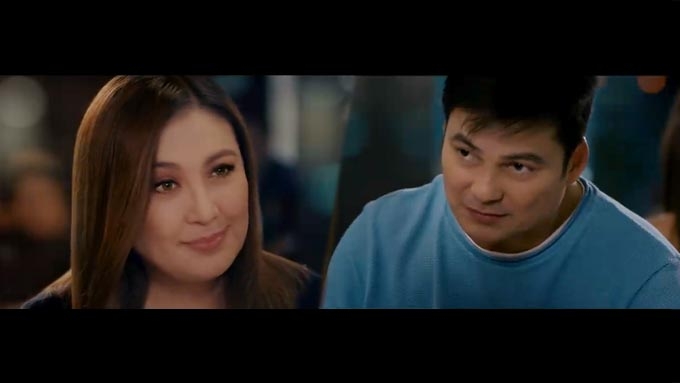 Sharon says Kiko supports her reunion project with Gabby
---
RENEWED FRIENDSHIP. Sharon also posted a story about a terminally-ill patient smiling for the first time in years after watching her commercial with Gabby.
This is clearly a testament of their love team's profound and lasting impact on their fans.
Sharon continued in her post, "I have been alternately crying and laughing —all from my heart — all day long… I again realized the power of Gabby's and my team-up since he was 17 and I was 15 in Dear Heart.
ADVERTISEMENT - CONTINUE READING BELOW
"We had no idea we would be able to touch so many hearts…
"We would always pull at our audience's heartstrings and help them remember how love in its purest form — simple, true, beautiful — can make anyone of any age feel so consumed by it…
"Now there is more that only Gabby, my original Prince Charming, and I can do… We have probably been doing this for years and didn't even know it."
But among all the fans who rejoiced over their reunion, Sharon and Gabby's only daughter, KC Concepcion, may have very well been the one with the biggest smile, the loudest cheers and the most grateful heart.
As Sharon pointed out, "Thank you, Gabby. For the years of true love, for KC, for all the happy memories...
"Our baby girl is happy. She is also in disbelief…
"We just picked up from where we left off…
"Thank you to our amazing God who has allowed what I thought would never be possible in KC's lifetime to happen…
Sharon hoped that God would continue to bless her "renewed friendship" with Gabby, "May we truly learn to forgive as we say we do and keep only all the good that we shared for the next 100 years…
"Apart from all the blessings that God has always showered [upon] us two... this reconnection with you has been His biggest gift."
---
Stories We Are Tracking
---