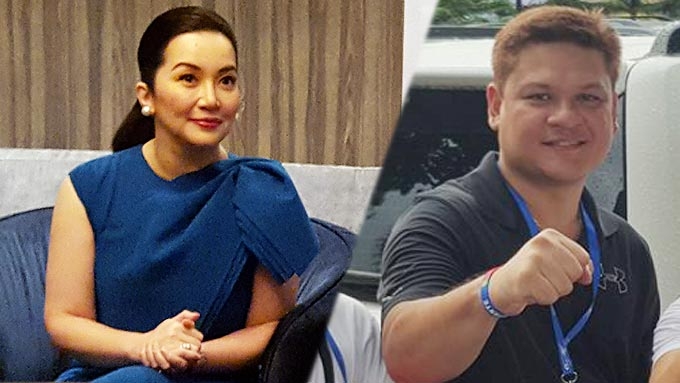 IMAGE Nerisa Almo (Kris)/Facebook photo of Paolo Duterte
---
Kris Aquino has invited resigned Davao City Vice Mayor Paolo Duterte to personally talk about the bad blood between their families.
The TV host/actress/social media influencer did the invite on her Instagram account a week after the son of President Rodrigo Duterte took a swipe at her on a Facebook post.
On February 20, Paolo posted a quote card that criticized the anniversary of the EDSA People Power Revolution, which restored democracy in the country in 1986.
It read: "The commemoration of EDSA is a reminder of a broken promise."
In his caption, Paolo mentioned Kris, "Oo nga no....sorry krissy ha wag magdrama....laro nalang PS4...#eatshitanddie"
Kris replied via an Instagram post last night, February 26.
Kris began in her caption, "You mentioned me in your post by name & i feel it is only proper to reply.
"Sorry Paolo (you called me Krissy so i'm taking the liberty of calling you Paolo)- i don't know how to play PS4..."
Kris said she's reaching out because her father, slain Senator Benigno "Ninoy" Aquino Jr., "believed that everything could be worked out through face to face dialogue."
She then proceeded to give her invite.
"May i invite you to have coffee (i endorse Nespresso) or we can have a San Mig (i've endorsed them too & i'm cool w/ the lemon flavored) if that is your preference... you have my word hindi ako 'mag da-drama' pag nagkaharap na tayo."
She continued, "I have no agenda other than the desire for you to personally get to know me & vice versa...
ADVERTISEMENT - CONTINUE READING BELOW
"Too much bad blood has already been manufactured between our families...
"We have the chance to hear each other out."
---
Stories We Are Tracking
---
Kris said she's taking the "opportunity to open communication lines" regardless what Paolo's response would be.
"Para sa mga nagtataka kung bakit ko 'to ginagawa—because i'd rather have tried & reached out & possibly be rejected than regret not making a move when i saw an opportunity to open communication lines," she said.
Then Kris addressed to Paolo again, "Kung tanggihan mo ko, Paolo- i shall respect that.
"Nasa pamilya nyo ang kapangyarihan at ang buong lakas ng gubyerno at kapulisan ng Pilipinas—kaya sino naman nga ba ako?"
She even concluded her invitation with a revised line from Julia Roberts's popular 1999 movie Notting Hill which went, "I am just a girl, standing in front of a boy, asking him to love me."
Kris explained, "Hihiram ako ng linya kay Julia Roberts from Notting Hill (but of course rewriting it to suit our particular situation): i'm just a girl, unfortunately not standing in front of a boy, but doing it via social media- asking him to give getting to know her personally a chance... I shall await your decision & pray that my effort won't be snubbed."
KRIS REPLIES TO COMMENTS. Kris also took time to respond to a few netizens who commented on her post.
Instagram user @jen_chavez_saberola said, "He [Paolo] is right miss @krisaquino"
Kris replied, "I will answer this briefly—w/ no EDSA People Power there would be no freedom of speech, freedom of the press, and most importantly freedom to elect the leaders we want to lead our nation through peaceful transition of powede every 6 years.
ADVERTISEMENT - CONTINUE READING BELOW
"If you prefer totalitarian regimes or dictatorships—i researched they may want you in North Korea, Cuba, Syria, and Zimbabwe among others. #justasuggestion."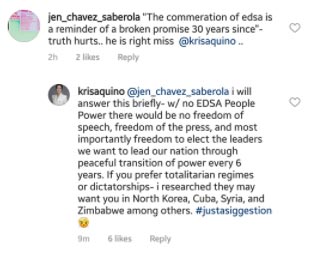 Instagram user @jalipabrybry said, "Kudos to Kris' social media team. Grabe :) Palaban pero love love love na galawan pa rin."
Kris clarified that her post was her own doing, "No social media team worked on this post except yours truly.
"Will let you in on something those who regularly follow me must have figured out by now—when a video is posted w/background music—that's me doing the editing.
"And every caption written here is authored by me & only me."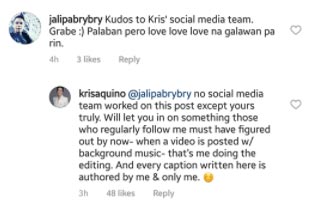 ADVERTISEMENT - CONTINUE READING BELOW