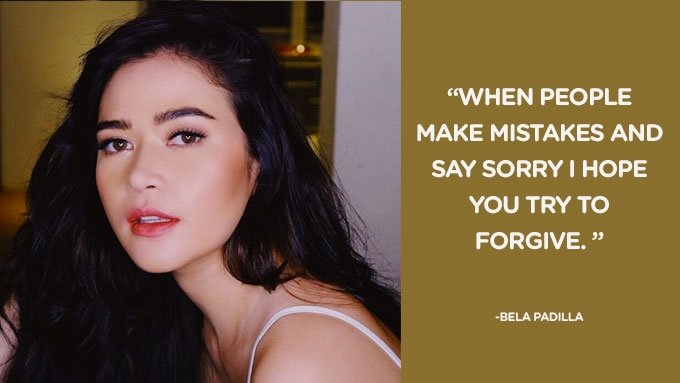 IMAGE Instagram @belapadilla
---
Today, March 11, Bela Padilla responded to a netizen claiming that the Kapamilya actress should be "cancelled" for her supposed transgressions since 2012.
The term "cancel(ed)"—according to Preview's April 2017 article—is a millennial word that means: to reject something because it's no longer trendy or it's become too ratchet.
It all started with Twitter user @SeaweedHeart getting triggered by Billy Crawford and Coleen Garcia's pre-nup shoot in Ethiopia that drew flak for its alleged discriminatory theme.
The netizen pointed out that Bela also figured in a similar issue when she posed for a 2012 FHM Magazine cover, where the actress was surrounded by three black women with a caption that read: "Bela Padilla: stepping out of the shadows."
While Hollywood is taking the revolutionary path by making movies like Black Panther & Moonlight, here we are utilizing black people as BACKGROUND for photoshoots of fair-skinned celebrities. pic.twitter.com/ridwPKIZj3

— Thea Reodica (@SeaweedHeart) March 10, 2018
Then the netizen brought up Bela's lack of "sensitivity" when she did the screenplay for the 2017 movie Last Night, starring Piolo Pascual and Toni Gonzaga.
The netizen argued that Bela supposedly depicted suicide "as a series of slapstick" that failed to deliberate "psychological distress" in corresponding scenes.
Enumerating Bela's supposed transgressions, @SeaweedHeart tweeted:
OH MY GOD PEOPLE?! You mean you still ain't cancelling b/ela prior seeing this?! After her problematic insights on joey de l e on's depression remark? After writing a romanticised movie on suicide? YOU SERIOUS?!

— Thea Reodica (@SeaweedHeart) March 10, 2018
BELA HITS BACK. Bela refused to take the netizen's saucy remarks about her sitting down.
The actress/film writer tweeted, "Sinong nagimbento ng concept na we can and should 'cancel (cancelledt)' people? Anong klaseng pag-iisip yan?  Paurong. Tsk. Tsk. Tsk. You cannot exclude people, that's not your call."
Bela then pointed out that she had since apologized for the 2012 brouhaha involving her cover shoot for a men's magazine, which had reportedly recalled the magazine issue in question at the time of the controversy.
ADVERTISEMENT - CONTINUE READING BELOW
Addressing @SeaweedHeart, Bela tweeted:
Hello, Thea :) I've seen your tweets and I have apologized for my 2012 cover over and over and the copies were recalled. When people make mistakes and say sorry I hope you try to forgive. You can't "cancel" certain people bec that makes your fight to protect them inconsistent. ???? https://t.co/j8fDUWbr5P

— Bela Padilla (@padillabela) March 11, 2018
Sudden Sunday thought: when people apologize to me, and I decide to accept the apology... I try my best to not hold their mistake against them anymore. Because that fear of you possibly bringing it up again, cripples a person and hinders them from growing and loving fully again.

— Bela Padilla (@padillabela) March 11, 2018
ABOUT LAST NIGHT. Apart from the 2012 controversy, Bela also addressed @SeaweedHeart's statement criticizing her for supposedly romanticizing depression in the 2017 movie Last Night.
Bela emphasized that she actually received positive feedback about the movie from people suffering from depression.
At the same time, we have different views on different matters, you expressed yours as I did, mine. If I romanticized depression, ako na "magcacancel" ng sarili ko para sayo. But I didn't.?? https://t.co/j8fDUWbr5P

— Bela Padilla (@padillabela) March 11, 2018
The amount of people who spoke to me and the team behind Last Night because of the help they felt they got after it is honestly enough for me to ignore your baseless tweets. But I don't want you walking around today with hate in your heart, so bibigyan kita na peace of mind :) https://t.co/j8fDUWbr5P

— Bela Padilla (@padillabela) March 11, 2018
If the movie didn't work for you, it worked for the people it was meant for ?? have an amazing day, Thea...actually, have an amazing life ?? i would love to see you achieve what you want in life so you dont feel the need to hate people so much ?? https://t.co/j8fDUWbr5P

— Bela Padilla (@padillabela) March 11, 2018
---
Stories We Are Tracking
---