Volleyball player EJ Laure quashed rumors saying that she is pregnant.
While EJ did not mention her alleged baby daddy's name, persistent speculations concerning her and Hashtags member Bugoy Cariño have been making rounds on social media.
In a Facebook post earlier today, March 11, EJ denied that she is having a baby.
Punctuating her statement with laughing emojis, the 19-year-old EJ wrote:
"Ewan ko ba kasi talaga sa trip nyo [laughing emoji] basta ako i've been enjoying my life and resting my shoulder for S81 been living nice and simple then makakabasa ako ng kung ano ano [smiley emoji]
"just to end everything ' wala akong control sa isip nyo kasi may kanya kanya tayo' god bless na lang [heart emoji]"
Citing ABS-CBN's February 3, 2018 report, the former star spiker of University of Santo Tomas' Golden Tigresses reiterated that she hasn't been playing this year due to her "chronic shoulder injury."
It was also mentioned in the report that she has yet to return to court without being given a clean bill of health from her doctor.
EJ'S STATEMENT. EJ added that she has been plagued with the pregnancy rumor since December 2017.
"Ps: december buntis daw ako tapos january buntis din ako tas march buntis na naman? jusko 3months nakong naging buntis so triplets pala to?"
BUGOY'S ALLUSIONS? Meanwhile, Bugoy has a cryptic post on Twitter alluding that he'll just laugh off whatever allegation is being hurled against him.
The 15-year-old Hashtags member did not say what he is referring to, but his tweet already garnered more than 500 comments from netizens speculating whether or not he got EJ pregnant.
HAHAHAHAHA ???????????? tatawanan ko nalang kayooooo ????????????????????????????

— Bugoy Cariño (@hashtag_bugoy) March 10, 2018
In his separate posts via Instagram story today, EJ took a video of himself while miming Ex Battalion's hit song "Hayaan Mo Sila" that can be heard playing as background music.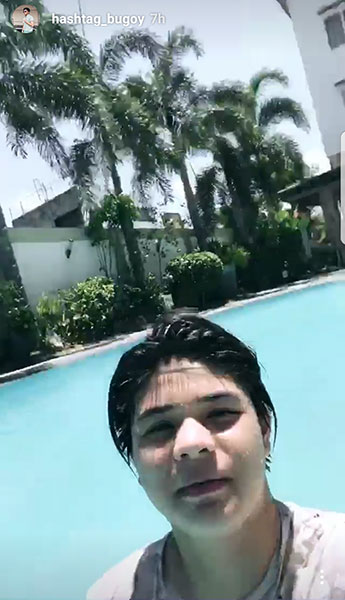 Bugoy also posted a photo taken at Our Lady of Manaoag Church in Pangasinan.
In the caption, he wrote: "Praying for those people who have nothing better to do with their lives"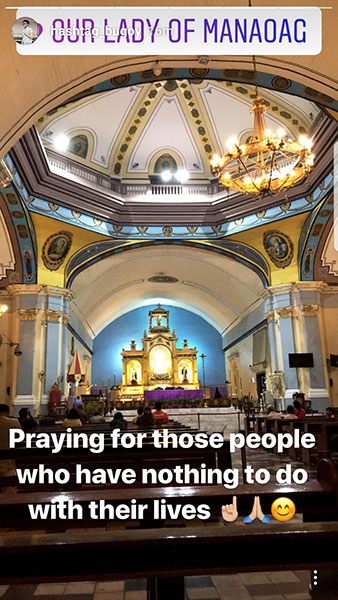 At press time, Bugoy has deleted his Instagram stories.