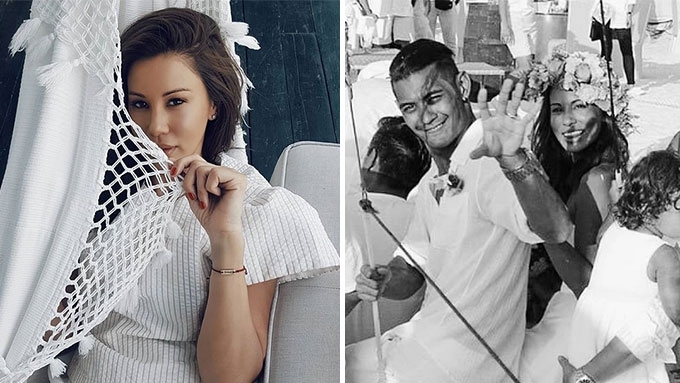 IMAGE @triciacentera on Instagram
---
Gab Valenciano and Tricia Centenera would have celebrated their third wedding anniversary today, March 27.
The former couple had two wedding celebrations in 2015: the first was in Tagaytay on March 27, and the second was in Boracay on March 31.
But they first had a civil wedding ceremony in the U.S. on October 11, 2014. 
In September 2016, the couple ended their marriage, which, according to her, was caused by infidelity.
Fast forward to March 27, 2018, Tricia is finally 'healed.' 
In an Instagram post, she uploaded a photo of her and Gab taken during their beach.
Her caption: "I'm exactly where I'm meant to be... Thank you Jesus. Only good vibes, love & light..."
Through her blog entry "OK Let's Talk About It," the TV host/model said she and Gab already buried the hatchet three years since they separated.
She actually saw him on March 26.
"I actually saw my ex-husband last night—we didn't even realise it was the eve of our, what would have been anniversary.
"We had a friendly embrace & were surrounded by family, it was nice."
The Filipina-Spanish model went on to thank everyone who helped her get through the healing process.
"I took my time healing, stumbling many times. I spent time with Jesus. I dated myself.
"I allowed my family, friends & dogs to help me & love on me. And I fought for my career.
"There were times when I was alone, but I was blessed that I never felt lonely especially thanks to my Church."
Tricia also left a message for the haters of her ex-husband.
She wrote, "Now to his haters, my ex-husband I believe is a good man who has just made some bad choices, but are any of you completely perfect?
"I can say I've made some pretty poor life choices too but I believe it's how we bounce back & get back up that's what's more important.
ADVERTISEMENT - CONTINUE READING BELOW
"There's nothing wrong with failing forward & he is trying his best to be the best version of himself so please let him try."
She continued, "Yes this man broke me however I didn't let it ruin me forever."
The W talent also added that she considers Gab as a sibling more than anything else.
"Through sincere prayer, petition & forgiveness, I can now call him a friend even though the expectation is that as his ex-wife I should hate him, I honestly don't.
"Yet a friend who I'm sure will p*#s me off at times but none the less a friend…or maybe we're more like siblings now haha
"he's like the sibling who doesn't give the best love advice."
The Australian-raised fashion blogger also noted that Gab fully supports her new relationship.
"He's respectful that I'm in a relationship with a man I love wholeheartedly & he's sincerely happy for us.
"He asks love & healing advice & is trying for himself."
---
Stories We Are Tracking
---