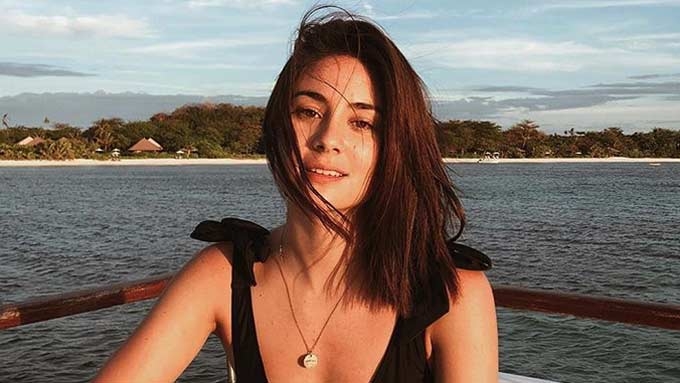 IMAGE Instagram @mari_jasmn
---
Australian model-blogger Mari Jasmine is firm about not joining show business.
While she's comfortable with hosting a lifestyle TV show, Mari said she's not interested in trying her luck with acting.
She told PEP.ph (Philippine Entertainment Portal), "I've had offers, but it's not my thing. It's not me."
Do her celebrity friends ask her to join showbiz?
Mari answered, "No. I think my friends all know that it's not me.
"If you know me as a person, I am very private. I don't know.
"I respect the people in showbiz because they have a tough life—long hours and, you know, they don't necessarily have privacy.
"So, I know that they work really hard with what they have.
"And I see that it's really not me. I'm really happy with what I am doing." 
Best known in showbiz circles as the ex-girlfriend of Sam Milby, Mari is acquainted with other showbiz personalities, like KC Concepcion and Benjamin Alves.
ADVERTISEMENT - CONTINUE READING BELOW
But she clarified, "Most of my friends are not artistas.
"I actually only met KC recently. We met in Amanpulo for a brand event.
"She's really open and really sweet."
PEP.ph interviewed Mari on the sidelines of the store opening of Longchamp at Rustans, Makati City, last March 13.
LONG-TERM PLAN. An Australian citizen, Mari is of half-Japanese and half-English descent.
Her work as model/blogger/host has kept her here in the Philippines for several years.
When asked if she plans to stay longer in the country, Mari noted that she doesn't really have a long-term plan for her career.
Mari elaborated, "I'm just always in the present, take the opportunity when it's there.
"If things are doing good? They're doing good now.
"Maybe I should plan more in the future, but I'm just not that sort of person.
"But for now, I'm happy, yeah."
ADVERTISEMENT - CONTINUE READING BELOW
An advocate of maintaining a well-balanced lifestyle, Mari said she tries to keep a positive mindset despite all sorts of stressors that she encounter every day.
"I think, when you are more mindful, you are less stressed, you worry less.
"It's so cliché, so I hate it when I hear it, 'Oh, be present.' 
"But it really helps with your mental stress. And I think, just in general, people will be happier.
"And if people are happier, they'll be more kind to everyone else.
"The world will be a better place if everyone is able to slow down and be more mindful with everything they do."