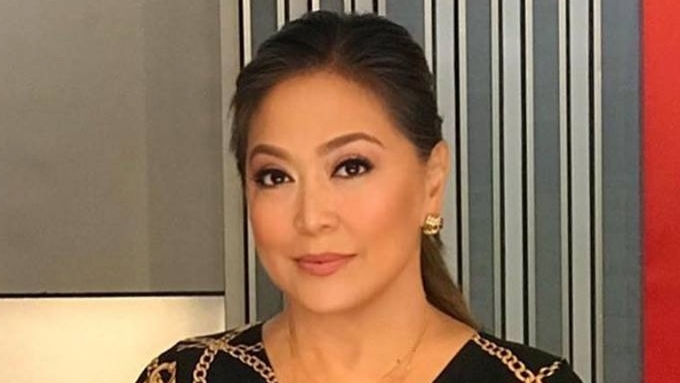 IMAGE Karen Davila Facebook
---
Nauwi sa aksidente ang dapat sana'y masayang bakasyon ng ABS-CBN broadcaster na si Karen Davila at ng kanyang pamilya sa Siargao.
Ang Siargao ay isa sa pinakapopular na isla at tourist destinations na matatagpuan sa Surigao del Norte.
Sa pamamagitan ng isang mahabang Facebook post ngayong Biyernes Santo, March 30, ibinahagi ni Karen ang aksidenteng kinasangkutan ng kanyang anak na lalaki habang nagse-surfing.
Lahad ni Karen, "Last March 28, Wednesday, I flew to Siargao with my husband DJ and our two boys, David and Lucas.
"We were billeted at Isla Cabana, a beautiful resort popular for its white sand beach front.
"Excited to experience Siargao, I immediately booked surfing lessons for my sons at 4pm, a perfect time for surfing, I was told, for it would be high tide.
"Isla Cabana contacted Junrey Taoy, a seasoned surfing instructor whom the resort often outsourced for guests.
"Just a few minutes from the hotel, we rode a tricycle to Boardwalk Cloud 9, lined with motorcycles, surfing boards, surfing dudes and small gifts shops, it leads to the impressive beach which Siargao is becoming world famous for - massive rolling waves for surfing.
"We needed two surfing instructors. So Junrey recommended a friend, Jocol Valerio, to train my older son David.
"I specifically told Junrey and Jocol, David needed special attention as he has challenges in coordination—being in the autism spectrum.
"David however is sporty and trains regularly, swims quite well, boxes and runs.
"Jocol said, almost flippantly, 'Madali lang yan, kaya yan'"
Patuloy niya, "There are 3 major surfing areas in Cloud 9 - Jacking Horse for beginners, Quicksilver for inermediates and Cloud 9 for experts, where surfing competitions are held every September or October.
"My kids, of course, trained at Jacking Horse. Waves were still strong. And I have to say, crowded with tourists—foreigners, locals, many with families and small kids.
ADVERTISEMENT - CONTINUE READING BELOW
"After a few minutes of basic training on the beach, David and Lucas were off with trainers Junrey and Jocol, while my husband and I lay on the shore enjoying the view and the local vibe."
SURFING ACCIDENT. Pagkatapos daw ng ilang sandali ay tumatakbong lumapit sa kanila ang anak na si David, at duguan ito.
Ayon kay Karen, "Around half an hour after... our son David ran to us BLOODIED, with his rash guard ripped apart and said, 'Mom, I had an accident!.'
"I have to say, I was in a moment of suspended disbelief.
"My husband immediately attended to my son, as they searched for a life guard, a medic or a small first aid station in Boardwalk Cloud 9.
"I, on the other hand, started calling out for my smaller son, Lucas who was still surfing on the beach.
"After a minor commotion, with surfers screaming my son's name, Lucas finally came to shore with his trainer Junrey.
"It took some time before we finally found David and my husband DJ at the end of the boardwalk.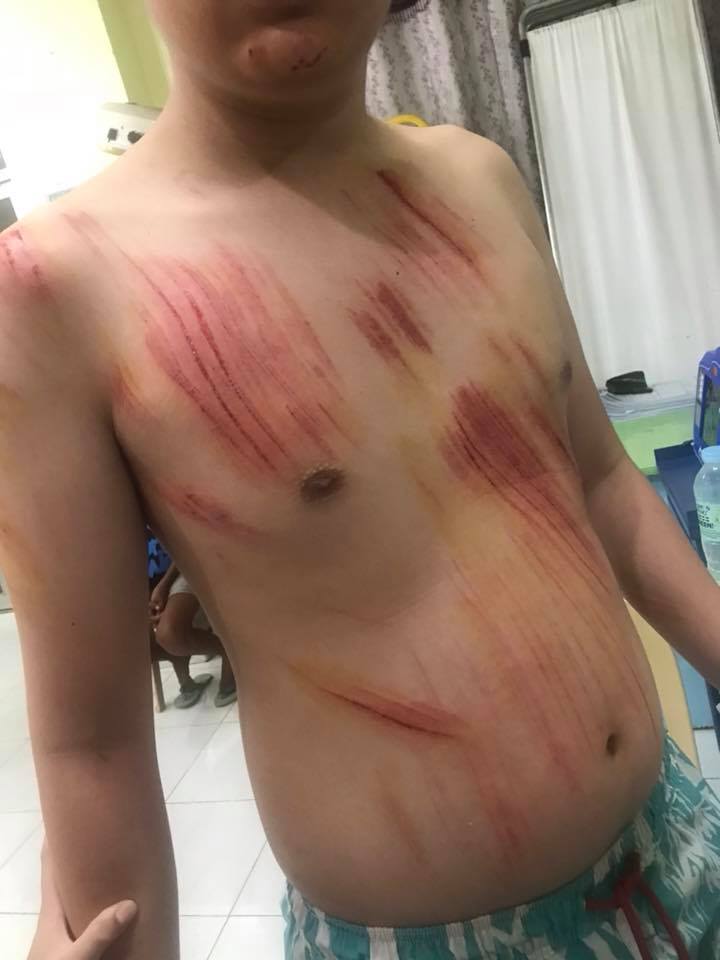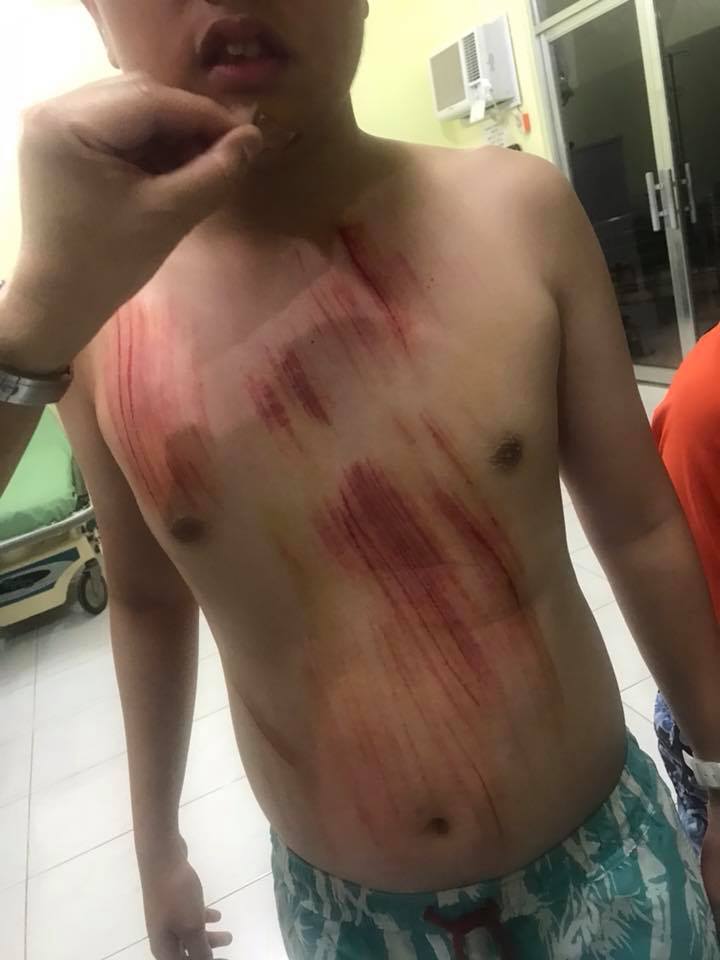 "I WAS SPEECHLESS. My son's whole chest, was bleeding from crisscrossing abrasions (as you can see on the photo above) with a deeper gash under the right rib, clearly from hitting the rocks on the shallow waters, his chin bruised and covered with blood, his right hand in cuts like that from a small knife."
Ang ikinagalit daw nang husto ni Karen ay ang biglang pagkalawa ng surfing trainer ni David at ang kakulangan ng first-aid personnel at equipment sa lugar.
"What got me very angry was Jocol Valerio, the trainer - suddenly disappeared!
"My husband said after showing him the sari-sari store where to buy the Betadine, cotton and gauze, he left them.
ADVERTISEMENT - CONTINUE READING BELOW
"No one was there to assist my husband or my son who was bleeding! No nurse, no first aid, NO ONE.
"A couple minutes after, the owners of Isla Cabana came with a van, presumably after hearing the news from the locals.
"Owners Dingdong and Mildred Pabillore offered to drive us to the nearest hospital, which was at Dapa....would you believe, some 45 minutes away by car! Imagine if we had to take a tricycle!"
Patuloy na salaysay ni Karen, "At the municipal hospital in Dapa, there were no tetanus vaccines available. Mildred had to ask Junrey, Lucas' trainer to take his motorcycle and buy Tetanus Toxoid & Tetanus Immunoglobin Vaccines, antibiotics and painkillers prescribed by the doctor.
"While there was a doctor and a nurse on duty, very helpful and attentive—there were no medicines. Foreigners were at the ER with us and I wondered, how do they attend to so many foreigners visiting the island with this set up?
"SO THIS WAS OUR FIRST DAY IN SIARGAO.
"Major accident involving a minor. No first aid treatment at a busy tourist surfing site.
"Missing surfing trainer who ran away.
"Long drive to the hospital, with no medical supplies.
"UNBELIEVABLE."
Nang sumunod na araw, March 29, ay nakausap daw ni Karen ang mayor ng Genral Luna, Surigao del Norte na si Jaime Rusillon.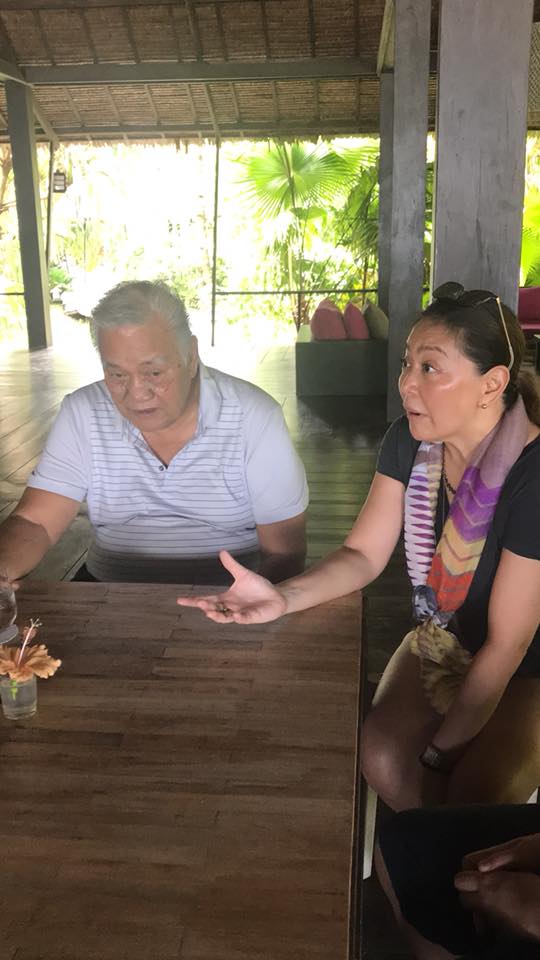 ACCIDENTS CAN BE PREVENTED. Dito ay ipinarating ng broadcaster ang nangyari sa kanyang anak at inisa-isa ang mga kakulangang napansin niya sa isla ng Siargao.
"My major points for concern:
"1. I found out anybody who surfs in Siargao can train in Siargao. Some of the trainers are habal habal drivers, who train on the side for extra income. The instructors have no professional certifications. No requirement to be certified. No system of vetting trainers. Anybody with a surf board, who wants to earn P500 an hour can train. Period.
ADVERTISEMENT - CONTINUE READING BELOW
"2. There are NO LIFE GUARDS on the beach. NOT ONE. This is crazy. The rising mecca of surfing, with hundreds in the water - and NOT ONE life guard to save tourists from possible drowning or injury.
"3. There is NO FIRST AID CLINIC or trained medical personnel at the beach. NONE. Sari-sari stores sell Betadine, alcohol, cotton, gauze, tape - proof that injuries are quite common, with supply meeting demand. Problem is, they are able to sell the first aid meds but essentially don't know who to assist you. In other words, 'bahala ka na sa buhay mo.'
"4. The attitude of some instructors on Cloud 9 is, 'nasugatan'... and stare at you like it's absolutely natural. No panic, no rush, just local chit chat like it happens all the time, and it's not that big a deal. Safety clearly isn't top priority."
Nilinaw ni Karen na batid niyang nangyayari ang aksidente saan mang panig ng mundo at ang surfing ay isang extreme sport.
Pero maaari naman daw maiwasan ang mga aksidenteng ito.
"Now, let me make it clear. I am well aware, accidents happen anywhere in the world.
"Surfing is an extreme sport. But so is skiiing, bungy jumping, paragliding, diving....but accidents can be prevented.
"And they are in many tourist destinations by putting safety measures and first responders in place.
"Junrey, Luca's surfing instructor informed us that Jocol didn't take David further out to sea, which is safer for beginners as there are no rocks.
"Clearly, Jocol IS NOT CAPABLE AND TRAINED TO TEACH MINORS.
"Once a town is SOLD TO TOURISTS, the primary responsibility of both the national and the local government is to ENSURE THE SAFETY OF THE TOURISTS. PERIOD."
FIFTH CLASS MUNICIPALITY. Ikinagulat naman ni Karen ang mga ibinigay na dahilan ni Mayor Rusillon sa mga kakulangan sa isla ng Siargao.
ADVERTISEMENT - CONTINUE READING BELOW
"Mayor Rusillon gave me several reasons WHY there was NO CLINIC, NO NURSE, NO LIFE GUARD... 'Karen, were a 5th class municipality and we lack doctors, and we are not ready for the influx of tourists, we were shocked.'
"WHAT?! I'm not going to detail... but wasn't P1.2 BILLION allocated for Siargao to improve infrastructure to boost tourism?
"Wasn't a multi million sports complex built?! All this infra and Siargao can't afford to professionalize its trainers, put full time first aid clinic and life guard for tourists to support the VERY industry that put it's name on the map?
"Mayor Rusillon said, 'Karen let me invite you to the Surfing competition this September, ayun, maraming nurse and life guard na ron, kompleto'
"ANOTHER...WHAT?! I asked him, why not ask the resorts to chip in if you really don't have the budget?
"With over 100 resorts in Siargao, imagine at P500 a month per resort, that's P50,000 for a full time first aid clinic!
"I spoke with Nino Barbers, one of the owners of Bayud Resort regarding this incident, as he is one of the officers of the Siargao Island Surfers Association and Siargao Tourism Operators Association, and he said, the resorts are basically on their own, with no help of assistance from the LGU.
"Now, this is ridiculous. Siargao thrives on tourism. Both the LGU and resort owners, businesses are interdependent on the success of the island."
Dito na nanawagan sa Department of Tourism na tugunan ang mga pangangailangan sa isla ng Siargao.
"I call on the DEPARTMENT OF TOURISM to act on Siargao right away... life guards and first aid clinics at the beach ARE A MUST. AN EVERY DAY RESPONSIBILITY.
"It's time we professionalize surfing instructors as they do in other countries. Let's stop being a backyard operation that may cost the lives of people.
ADVERTISEMENT - CONTINUE READING BELOW
"Our first visit was traumatic but I remain GRATEFUL. My son is safe, others may not have been so lucky. Thank you to all the doctors, nurses and people who helped us along the way.
"I want to highlight this so action can be taken before anything worse happens.
"Hopefully, something good will come out of this for Siargao.
"I love the Philippines.
"Happy Easter everyone!"