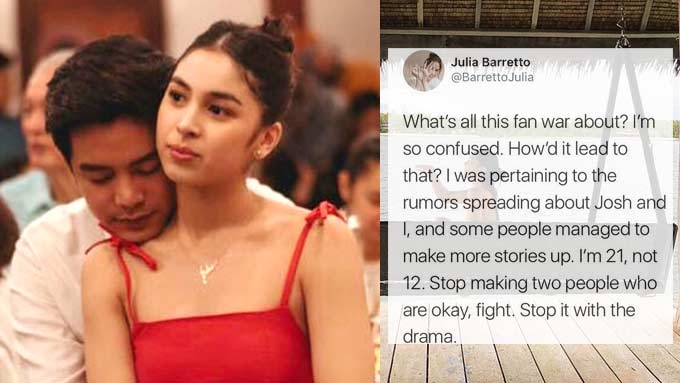 ---
Once and for all, Julia Barretto quashed rumors that her relationship with Joshua Garcia is on the rocks because of a third party.
Without going into details, Julia pointed out that Joshua is already taken.
Reposting a quote from a blogger last night, April 5, Julia tweeted: "Ang kay Julia ay kay Julia."
THE ALLEGED THIRD-PARTY ISSUE. It has been three weeks since word got out that Joshua sent a direct message to an Instagram user with the handle name @danerhea.
The same female netizen posted via Twitter a screencap of Joshua reacting to her swimsuit photo.
Joshua's message merely read "art photo" and a thumbs-up emoji.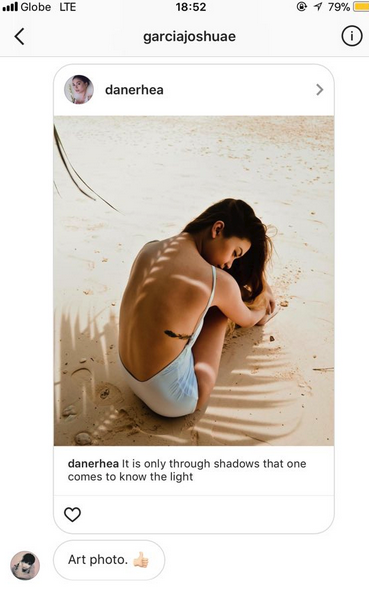 ADVERTISEMENT - CONTINUE READING BELOW
Fans began to speculate whether or not the issue linking Joshua to a female netizen could have caused a falling out between Joshua and Julia.
This was seemingly fueled by Joshua and Julia's own cryptic statements and posts on their respective social media accounts.
But by March 31, both Joshua and Julia exchanged messages on Twitter, alluding that the netizens have been making baseless assumptions about them.
---
Stories We Are Tracking
---
JOSHLIA VS. LOISHUA WORD WAR? Her latest tweet where she short of laid her claim to Joshua should have put an end to the third-party issue.
But a few hours after her tweet last night, April 5, the Kapamilya actress was surprised when some netizens misinterpreted her statement yet again.
The tweet that read "Ang kay Julia ay kay Julia" sparked a word war among Julia and Joshua's (JoshLia) fans versus the supporters of the actor and his The Good Son leading lady Loisa Andalio (LoiShua).
ADVERTISEMENT - CONTINUE READING BELOW
Below are some comments from Julia's Twitter thread:
Bat triggered tong mga loinie loisa fans na to? Totoo naman diba? Ang kay Julia ay kay Julia. Basic. What is there to be angry about? Lol. Magsilayas kayo mga epal!

— Cheer (@pokpaker21) April 5, 2018
Ntatawa ako sa mga fans ng joshlia nd b nla alam n work lng ung gngawa ng loishua! Haha oa mka react

— Cheska alviar (@cheska_alviar) April 5, 2018
trabaho lang yan sayong sayo na talaga yan si joshua HAHAHAHAHAHHAH pinersonal HAHAHAHAHHA tawa nalng kami sayoo! atee trabaho lang yun may r2 nsa loisa may joshua kana sayung sayu nayunnnn

— Iamkristiinnee26???????? (@asghjloinie) April 5, 2018
Masyadong affected ang mga mga loisa fan's move on move on din kayo ha d laging pra sa inyo ang tweet ng mameh juls namin go julia we support you

— Clarizabonife (@Clarizabonife1) April 5, 2018
"STOP IT WITH THE DRAMA." This debate prompted Julia to tweet again, firmly reminding her followers to stop it with the fan wars.
Julia also pointed out that what matters is that all's well between her and Joshua.
Her latest tweets, posted earlier today, April 6:
What's all this fan war about? I'm so confused. How'd it lead to that? I was pertaining to the rumors spreading about Josh and I, and some people managed to make more stories up. I'm 21, not 12. Stop making two people who are okay, fight. Stop it with the drama.

— Julia Barretto (@BarrettoJulia) April 5, 2018
Stop pitting women against each other. It's not cute.

— Julia Barretto (@BarrettoJulia) April 5, 2018