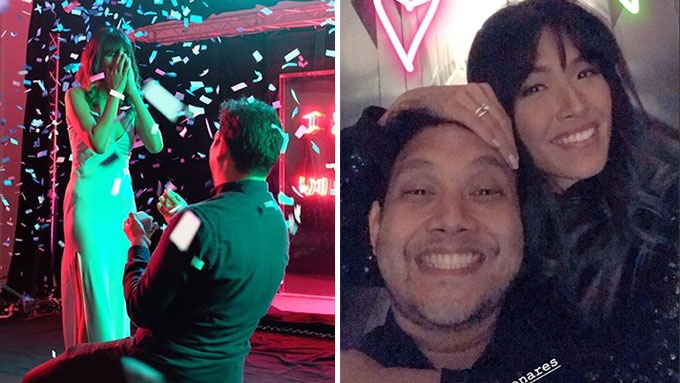 IMAGE Courtesy of Bianca Yuzon on Instagram
---
Film and commercial director Quark Henares is now engaged to singer-songwriter Bianca Yuzon.
The Rakenrol director's wedding proposal to his long-time girlfriend happened at DPIXL Studios in Makati City, Friday night, April 6.
Quark was directing Bianca's music video when he surprised the latter with a wedding proposal.
The couple's closest friends and family were all present during the proposal.
On Instagram, Cristalle Belo-Pitt revealed that the engagement ring her brother gave to Bianca was an heirloom from their grandmother, Nena Belo.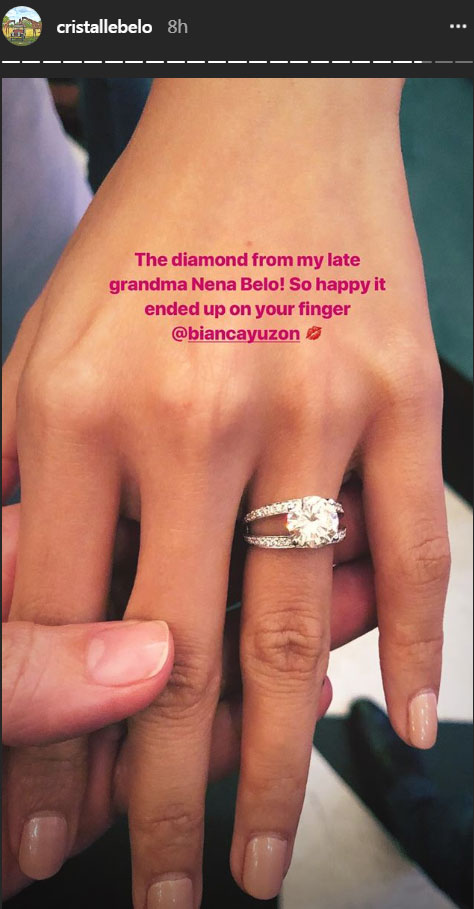 Vicki Belo and former husband Atom Henares were also present at their son Quark's surprise engagement proposal.
In her IG stories, Vicki said, "Finally, our son is engaged and we're so happy 'cause he found a beautiful, sweet, kind, and loving girl in Bianca."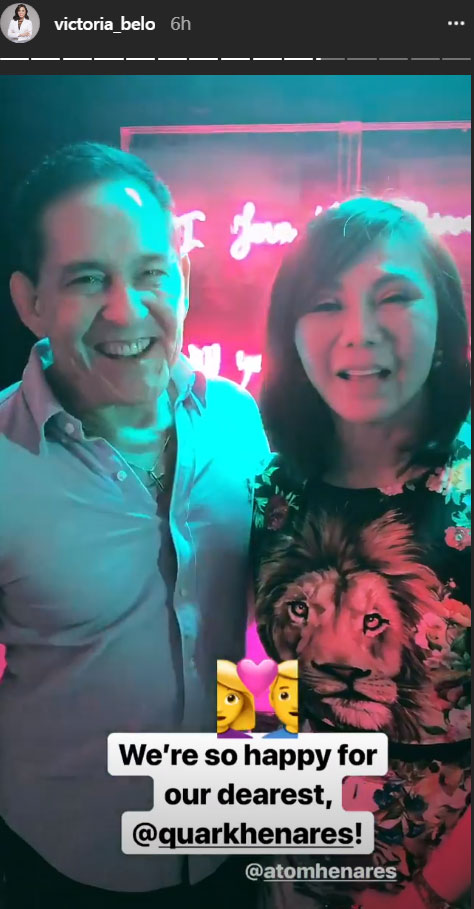 Vicki also posted on Instagram a video of Quark popping the big question to Bianca.
BIANCA'S POST. On her Instagram account, Bianca dedicated a touching message for her husband-to-be and listed down everything she's looking forward now that they're getting married.
Bianca wrote, "Today I got to verbally respond to a life-changing question that @quarkhenares asked in such breath-taking fashion, the truth being that my heart has spoken for me a long time ago:
"Yes, I would love to spend the rest of my days with you—supporting each other and growing in many ways together, traveling, giving back, dancing like loons and singing at the top of our lungs, making and appreciating art, taking care of each other, SJ and other fur babies, and eventually raising hooman (and maybe faerie) children of our own.
"Yes to lifting each other up through various hurdles and having each other's back. Yes finding things to celebrate everyday. Yes to sitting in a dark room for hours watching movies and comparing notes afterward. Yes to exploring worlds around and within ourselves.
This list could go on and on, yes, Q, YAAAS!!"
ADVERTISEMENT - CONTINUE READING BELOW
Bianca also expressed how excited she is to share the next chapter of her life with Quark.
She said, "Excited for this next chapter with my Favourite, my one and only, pengy-Bar and best friend. I love you, and thank God for you 'air daaay. Lesdothiiis!
"Last but definitely not the least, I am also beyond grateful for all the time and effort our beloved family and friends put into making this surprise #proposal of epic proportions that much more special.
"Q and I adore you, and are so blessed that we not only get to share this unforgettable moment with you, but many more to come. and to those sending in their greetings and well-wishes, sending you lots of love as well. THANK YOU @mikerabat"