Billy Crawford, 35, and Coleen Garcia, 25, are getting married at Balesin Island Resort in Polilio, Quezon today, April 20.
Looking back at their love story, the couple has stayed strong despite the nasty rumors that plagued them when they started dating in 2013.
Coleen once said that Billy was "such a good guy" that she felt it was "worth giving him a chance."
In Kris TV's September 2015 episode, she said: "May hesitation nung una, e. Kasi, di ba, there was that whole thing going on?
"It was so public already before we're even ready to be together.
"And then, parang it took me eleven months just to say 'I love you too.' Ganun."
How did they surpass the challenges in their relationship? Was their 10-year-age gap ever an issue between them? What was their sweetest date as a couple?
Before they exchange I do's today, PEP.ph looks back on some of most unforgettable highs and lows in Billy and Coleen's relationship.
JANUARY 2013. Coleen once told PEP.ph that she and Billy have worked together as co-hosts since 2011, but it was only in 2013 that they started growing close to each other.
During this period, Billy was in a relationship with his girlfriend of five years, Nikki Gil.
Coleen, for her part, was in a relationship with Gab Valenciano. But they broke up in February 2013 because of circumstances related to Gab's decision to study abroad.
Seen in the photo below, dated January 21, 2013, were some of It's Showtime's hosts enjoying lunch courtesy of birthday boy Jugs Jugueta.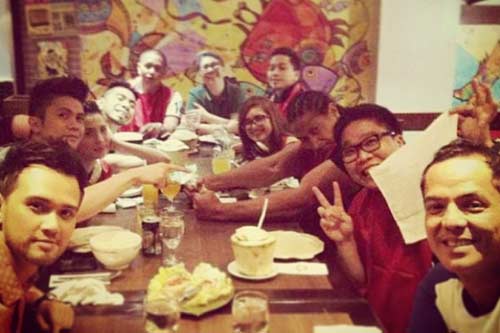 JULY 2013. It was on July 28, 2013, during his guest appearance for ABS-CBN's talk show The Buzz, when Billy confirmed his breakup with longtime girlfriend Nikki.
Citing how he has been feeling "lost" and "confused," he explained that it was his own fault that their relationship did not work out.
The following day, July 29, netizens were abuzz with speculations pointing at Coleen as the alleged third party in Billy and Nikki's breakup.
Billy, however, immediately quashed rumors dragging Coleen into the issue.
His Instagram post partly read: "What the hell is wrong with you people? There is nothing about me and Coleen! You guys are just so wrong man.
"May problema kayo sa 'kin, ako na Lang. Wang Nyong idamay mga taong walang kinalaman sa hiwalay namin ni Nikki."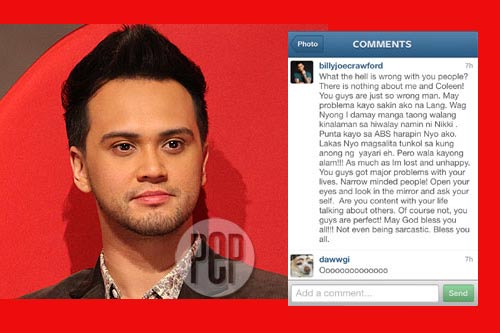 AUGUST TO NOVEMBER 2013. In an interview with PEP.ph dated July 31, Coleen categorically denied rumors romantically linking her to Billy.
"Ang masasabi ko lang, there's nothing going on between me and Billy.
"I'm close to him but I'm close to everybody in Showtime."
By October, the nasty rumors persisted when photos of Billy with his arm around Coleen came out on social media.
They were spotted at a party right after their hosting stint for It's Showtime in Bacolod.
But Coleen remained firm about her and Billy being just "workmates."
She reiterated in Buzz Ng Bayan's November 3, 2013 episode, "Ako na lang palagi ang third party, e, ano?
"Yun naman ang palaging akala nila, e, na ahas ako.
"Pero ang masasabi ko lang, hindi."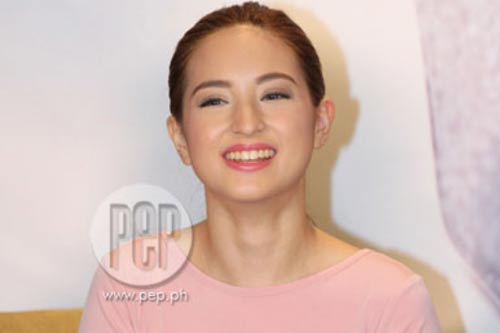 DECEMBER 2013 TO JANUARY 2014. Coleen and Billy may have been evasive about the real score between them, but their growing closeness soon became apparent when they flew to U.S. for vacation during Christmas break.
On December 29, 2013, Billy posted a photo of his reunion with his friends who are based in New York.
Then, on January 1, 2014, Coleen posted via Instagram a picture of an ice cream from Serendipity 3, a restaurant in New York popularized in the 2001 movie Serendipity starring John Cusack and Kate Beckinsale.
Although they did not post a picture of them together, Billy and Coleen were spotted in Brooklyn's Barclay Arena watching a basketball game between Brooklyn Nets versus Milwaukee Bucks.
A photo of the sighting even surfaced on the Internet.
When they came home to Manila, Billy appeared in Buzz Ng Bayan's January 12, 2014 episode, He confirmed that he asked Coleen to join him in his U.S. trip.
Billy also admitted that he's courting her, "She is not my girlfriend, yet… and I would love for her to be."
In the same interview, he reiterated that Coleen was not the reason why he and Nikki broke up.
This was contrary to Nikki's revelation, in Cosmopolitan's December 2013 issue, that Billy cheated on her, but did not say who the alleged third party was.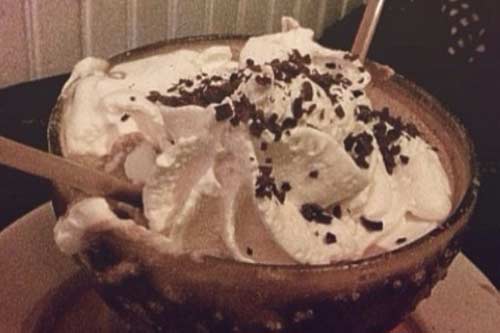 FEBRUARY 25, 2014. Billy proved to be a persistent suitor towards Coleen.
On It's Showtime's February 25, 2014 episode, Coleen felt she was "put on the spot" when Billy asked when she'd say yes to being his girlfriend.
Amid ribbing from their co-hosts, Billy exclaimed, "Sasagutin na kaya ako?"
Coleen, however, evaded the question and kept saying, "Freeze!"
It was the cue word signalling the end of the show's "Sine Mo 'To" segment.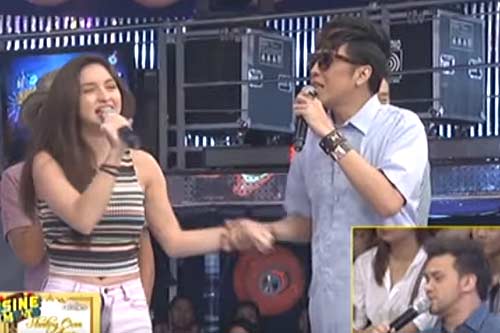 MAY 2014. By this time, Billy and Coleen have been going out openly but are still evasive about putting a label to their relationship.
On his Instagram post dated May 3, 2014, Billy called Coleen "my best friend" whose company he always enjoys.
He added that their travels together are the "best of times."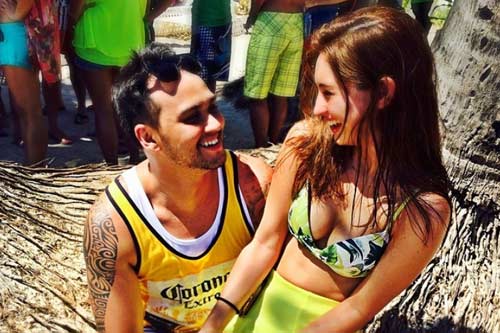 JULY 23, 2014. They officially became a couple on July 23, 2014.
The following day, on It's Showtime's July 24 episode, Billy went public about his relationship with Coleen.
Billy proudly proclaimed, "Oo, sinagot na niya ako."
Was Coleen bothered by the 10-year age gap between her and Billy?
She didn't think so.
Coleen was quoted as saying in The Buzz Ng Bayan, "It has never been an issue. I have never gotten along with anyone as well as I get along with Billy.
"And my lolo and lola, actually, 20 years ang age difference nila and they're still together.
"So I really don't think it has anything to do with age."
Seen in the photo below was Billy's Instagram post, dated July 18, showing Coleen reading a book in bed.
His caption read: "I miss my #bosslady so much!"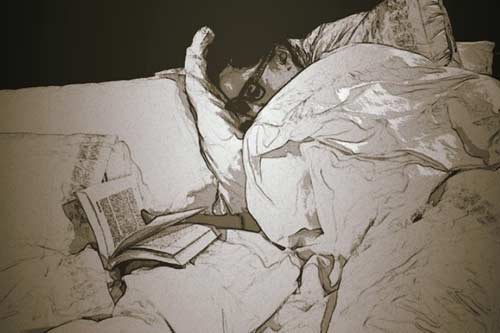 DECEMBER 2014. Their trip to Maldives in December 2014 went viral because of Coleen's bikini photos flaunting her sexy abs.
Billy, for his part, was proud that Coleen takes good care of her body that has become #fitspiration for many of her Instagram followers.
The couple's sweet photos together also caught the attention of netizens.
Coleen would later tell PEP.ph that travelling with Billy helped strengthen their relationship.
In an interview dated June 13, 2016, she said, "Like, we know the other person doesn't want to do this and we know that this person, you know, can't stand this.
"Even the way we pack, the way we handle ourselves, the way we take care of ourselves when we're not in our comfort zones."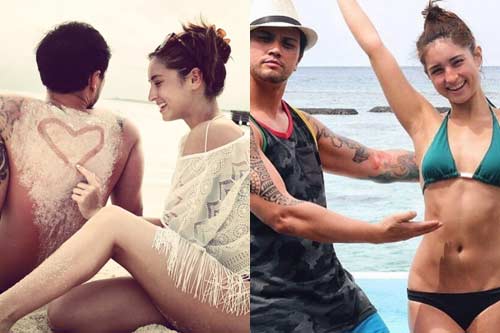 FEBRUARY 2015. On their first Valentine's Day as a couple, Billy surprised Coleen with "100 Ecuadorian red roses" that he purchased and picked up from Dangwa.
According to Coleen's Instagram post, he came straight to her at 2 A.M. to greet her on this special occasion.
She wrote in the caption, "Gaaaahhhh kilig. Y so sweet @billyjoecrawford Happy hearts day from us!"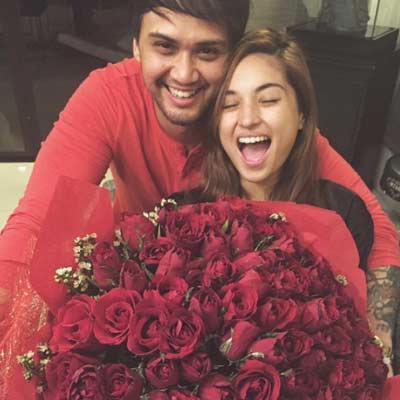 APRIL 2015. Billy also got along really well with Coleen's dad, Jose Garcia.
Coleen once said that Billy actually brought her closer to her family because they often go out together, whether for a simple meal or an out-of-town vacation like their Batangas trip below.
She also told PEP.ph in a previous interview that her and Billy's parents have met each other even during the early days of their relationship.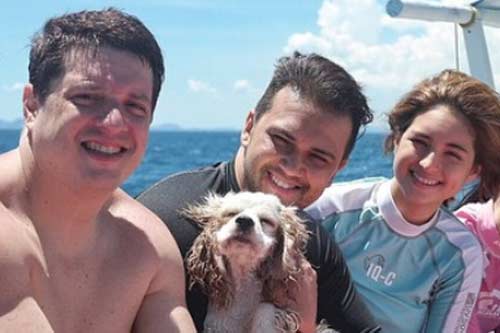 MAY 2016. In 2016, Coleen quit hosting It's Showtime to prioritize her acting stints.
But even though they no longer work together, there were times when Coleen would drop by It's Showtime's studio in ABS-CBN just to say hi to Billy.
"Happy birthday prod, @billyjoecrawford! Came from the BDO Sports fest, and now on my
way to recording.
"But glad I got to pass by for a bit to say hi to this guy. I wish I could have watched you perform live today! I know you did amazing, as always!!!"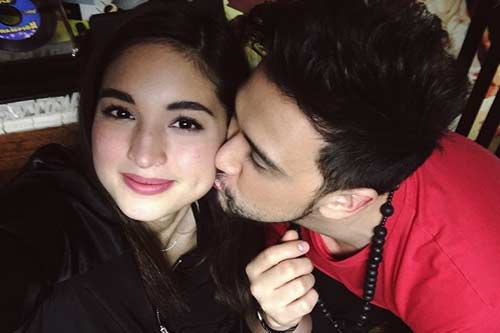 JULY 2016. Billy never failed to shower Coleen with romantic gestures.
On their second anniversary as a couple, he surprised her with a chopper ride going to their date in Tagaytay.
His love letter for Coleen via Instagram was sweeter.
"It's been the greatest 2 years of my life love! Full of happiness, learning experiences, amazing roads that zig zag from time to time.
"We've been up we've been down, but God keeps us strong and my trust and faith in him got stronger knowing that I have one of his angels fighting by my side.
"I love you #mypartnerincrime #Myeverything #mylife #mysoulmate I'm not perfect, but you see the good in me, I owe you my life. Thank you and Happy anniversary.
"I will try to be the best for us. I love you so much. 2years!!!"
In a recent interview with Coleen, she recalled that Billy rented a chopper for their date because he wanted to bring her back to Manila in time for the airing of her first Maalaala Mo Kaya episode that night.
"Very thoughtful lang kasi naisip niya yung importance na mapanood ko yun.
"Yun ang pinaka-sweet for me."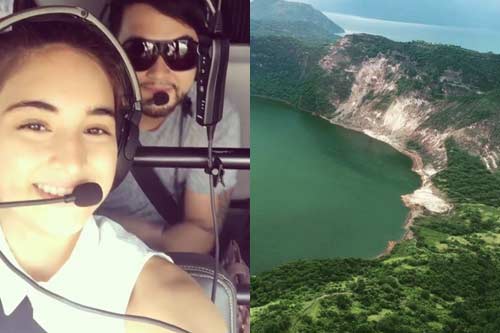 DECEMBER 2017. As early as 2015, Billy has been vocal in his media interviews that he dreams of settling down with Coleen.
But he also maintained that he respects Coleen's wish to prioritize her career first.
As it happened, he was sure that he has found "the one" in Coleen from the very start.
Then, on the night of December 20, 2017, Billy finally proposed marriage to Coleen in front of their loved ones at a restaurant in Quezon City.
Billy later revealed that it took him "19 months" since he bought a ring before he mustered his courage to pop the question to Coleen.
Speaking to PEP.ph, Billy elaborated, "Kapag mahal mo ang isang tao, at yung puso mo, utak mo, and I guess, when God gives you the go signal and says 'this is where you should be,' I just took a chance.
"I just said, 'You know what, if I don't do it now, I'll probably do it next time, and this and that, baka tumagal pa, ayoko na.'
"I just don't want to let her go."