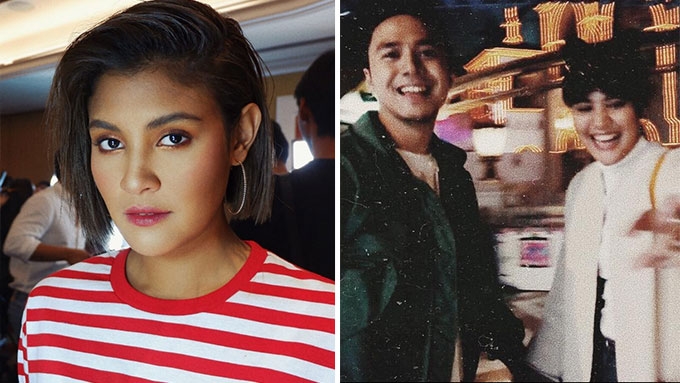 IMAGE Courtesy of @maui_manalo and @kianavee on Instagram
---
Singers Kiana Valenciano and Sam Concepcion have been an item for over three years, and their relationship seems to have grown stronger.
Kiana and Sam started seeing each other in 2015, but they confirmed their relationship only in February 2017.
PEP.ph (Philippine Entertainment Portal) talked to Kiana after her performance for Oxygen at Manila X last April 14, at the Cove Manila in Parañaque City.
Sam was not there, and the 25-year-old songstress admitted she hasn't been seeing Sam these days because of their work.
But she told PEP.ph they're good.
"There's been a lot of traveling lately but, you know, absence makes the heart go fonder.
"As cliché as it is, I wish he was here because he has a way of calming me down when I'm nervous but at the same time, I'm happy for him.
"I'm happy his career is going up right now. In terms of our personal life, everything is going smoothly."
Some of their fans also wondered why they have not updated their social media accounts.
Kiana explained, "In the past, I've been very showy online.
"I loved posting, I loved showing people what was going on minute per minute.
"But then, I realized like secrecy is kind of like a super power right now, when people don't know what you're doing.
"I think it's more empowering that way when not everyone knows what's going on in your relationship because it's really supposed to be just between two people.
"So as much as we can, we try and keep it that way."
The same issue was thrown at Sam last year, who was even accused by their followers of not being proud of Kiana.
The Kapamiiya talent defended himself in his interview with Tonight With Boy Abunda in June 2017/
Sam said, "When you're a public figure and everything is magnified and seen—the things that are important to you—you kind of leave some for yourself and you want to protect that.
ADVERTISEMENT - CONTINUE READING BELOW
"So I think subconsciously that's just it. But I'm not cautious about saying that we are together and happy."