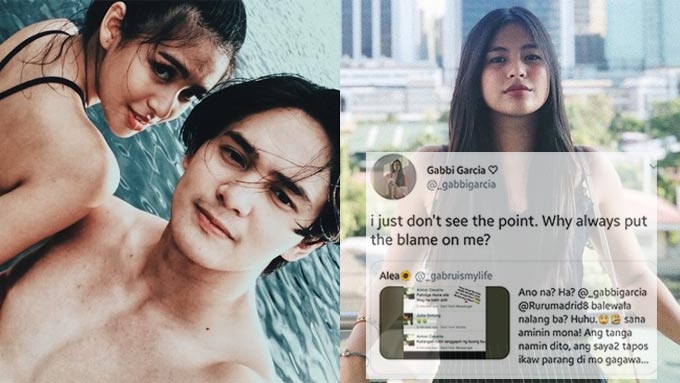 IMAGE Instagram @rurumadrig8 / @_gabbigarcia
---
Gabbi Garcia slammed a netizen blaming her for the supposed breakup of her love team with Ruru Madrid.
Speculation is rife that the two stars won't be paired with each other in their next project.
One netizen asked, "Yung chinat ng isang GabRu Member yung ass. ni kuya Ruru [sad emoji] Wala Na daw ang GabRu? [sad emoji]"
This prompted some GabRu fans to question why Gabbi seems indifferent towards the issue and keeps fans waiting for nothing.
But in her Twitter post last night, Gabbi insisted that she's not to blame for what will happen to her teamup with Ruru.
Responding to a netizen, Gabbi tweeted, "I just don't see the point. Why always put the blame on me?"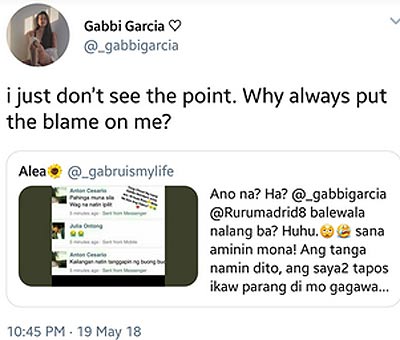 Gabbi went on to say that she has been "loyal" to her love team with Ruru from the very start.
I remained loyal since 2014? Idk i just really dont see the point

— Gabbi Garcia ? (@_gabbigarcia) May 19, 2018
hanggang sa huli, i remained loyal. Sooo can u guys chill? Lol

— Gabbi Garcia ? (@_gabbigarcia) May 19, 2018
Their teamup started in the 2015 Kapuso prime time series Let The Love Begin.
They last worked together in the prime time series Sherlock Jr., which aired from January 29 to April 27, 2018.