On Father's Day, Andi Eigenmann gave credit to ex-boyfriend Jake Ejercito for being a good dad to their six-year-old daughter, Ellie.
The Kapamilya actress even posted on her Instagram Story a "super cute picture" of Jake and Ellie.
Her caption read, "Thanks for being such an awesome dad to Ellie! Happy father's day!"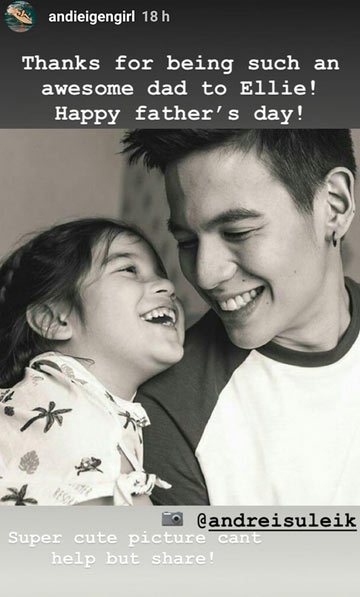 From the looks of it, Andi and Jake seem to be having no trouble co-parenting almost a year after they have reached an agreement on their joint custody of Ellie.
It was in October 2016 when Jake made it known to the public that he is the biological father of Andi's daughter.
But long before his admission, Jake has maintained a close relationship with Ellie based on his own Instagram posts of their bonding moments together.
Andi, for her part, has made no secret of the fact that Jake often goes out with Ellie long after the couple called it quits in 2014.