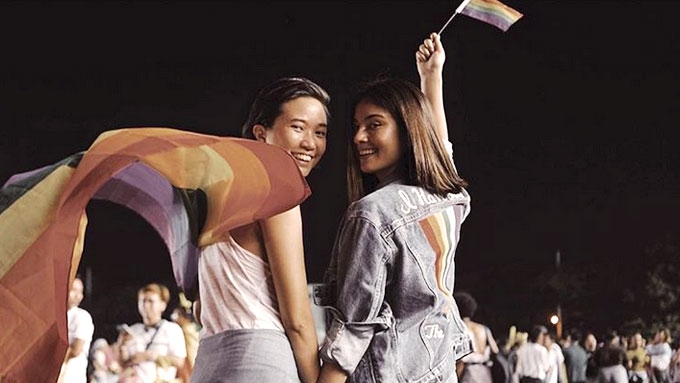 IMAGE Instagram @givemesam
---
For the first time, Mari Jasmine revealed that she is in a relationship with Baka Bukas director Samantha Lee.
Mari is a model-TV host, better known in showbiz circles as the ex-girlfriend of Kapamilya actor Sam Milby.
In Mari's Instagram post dated July 4, she spoke about her pride for being part of the LGBTQIA+ (lesbian, gay, bisexual, transgender, queer, intersex, and asexual) community.
Mari related how she found a circle of true friends who knew about her sexual orientation since she came to Manila five years ago.
"Pride is about celebrating love, equality, and owning your truth.
"So here's mine: in the little time I've spent on this earth, I've had the privilege of being in love with both men and women.
"Filipinos are known to be some of the most loving people on earth.
"As a foreigner arriving in Manila over 5 years ago, I can attest to this - I've been accepted and treated with love and compassion from day one.
"I've been welcomed to family dinners, been nurtured, taken care of and was never made to feel like an outsider."
Then Mari expressed her dream of a time when she can openly hold "my girlfriend's hand" in public without being judged by the society.

"My dream is for the same kind of love, compassion, and understanding to be shown to the LGBTQIA+ community.
"We still have a long way to go to reach acceptance and equality, especially here in the Philippines.
"My dream is to live in a world where I feel safe walking down the street holding my girlfriend's hand.
ADVERTISEMENT - CONTINUE READING BELOW
"A world where I have the same fundamental human rights that I would be entitled to if I were in a straight, heteronormative relationship."
Together with their common friends, Mari and her partner Samantha Lee attended the pride month celebration at the Marikina Sports Center last June 30.
Mari even showed some of their photos taken from the event in the same Instagram post.
Then Mari appealed to her Instagram followers to reach out to their loved ones who may be scared of coming out.  
"To those who don't have any friends or family in the LGBTQIA+ community, I implore you to reach out and start learning.
"We are often only afraid of the things we don't know or understand.
"To reach equality, we need our allies to be as passionate and vocal about our rights as we are."

She added, "To the LGBTQIA+ community and to those who are still questioning/figuring out who you are - you are wonderful, worthy and loved.
"Don't let any person or any institution let you think otherwise. I stand by you and I will fight with you forever!"
Some of the celebrities who expressed their love for Mari included Bianca Gonzalez and Kim Jones.

ADVERTISEMENT - CONTINUE READING BELOW
Janine Gutierrez was also among Mari and Samantha's common friends who attended the recent pride-month celebration at Marikina Sports Center.
WHO IS SAMANTHA LEE? In a separate post, Samantha showed a photo of her and Mari holding hands while waving a flag that symbolizes pride for LGBTQIA+.
The photo was also taken during the pride-month celebration at Marikina Sports Center.
Samantha captioned it with "#PRIDE"
Samantha is the director/co-producer/writer of the indie film Baka Bukas, starring Jasmine Curtis Smith and Louis delos Reyes.
The film tells the story of how two girl best friends developed romantic feelings for each other and explored being in a relationship.
MARI'S PAST RELATIONSHIP. Mari Jasmine and Sam Milby began dating in the latter part of 2015, but it was only in August 2016 when the latter admitted that they were indeed in a relationship.
---
Stories We Are Tracking
---
The two called it quits the following year, September 2017.
In an interview with ABS-CBN late-night talk show Tonight With Boy Abunda, aired March 7, 2018, Sam had been elusive about the reason of his breakup with Mari.
Sam said that he respects her privacy and that they are "ok" even if they no longer communicate with each other.
---
Stories We Are Tracking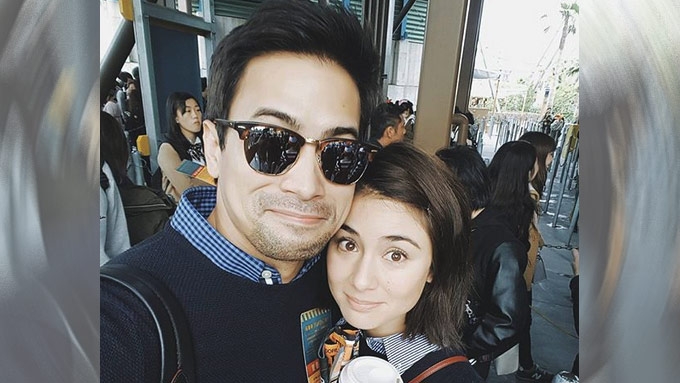 Sam Milby hints at reason of breakup with Mari Jasmine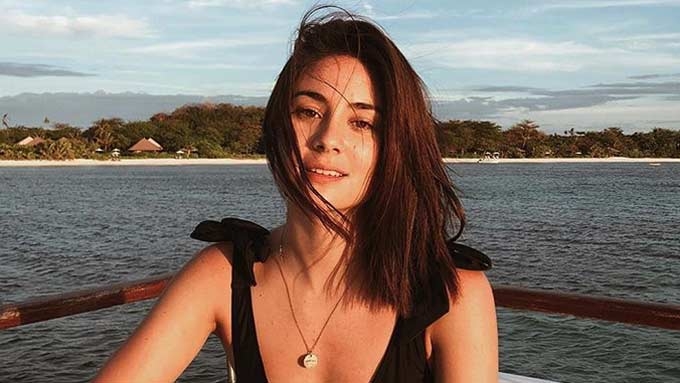 Mari Jasmine on joining showbiz: "It's not me."
---