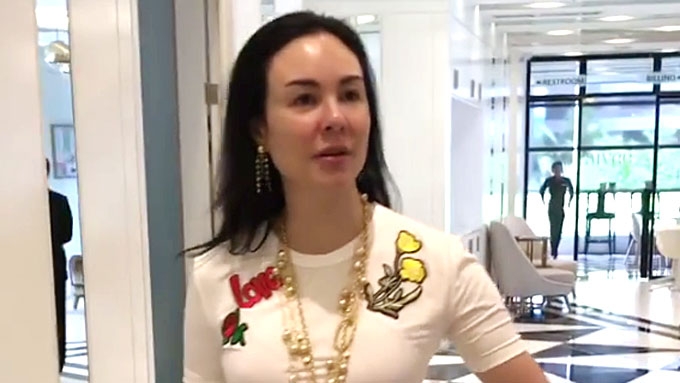 IMAGE @gretchenbarretto Instagram
---
Gretchen Barretto, 48, took to Instagram to say she has no regrets severing ties with people who put her down.
She also made it clear that she is already indifferent to these unnamed people that she cut out of her life.
Her short but telling statement on her July 31 Instagram Story read: "Cutting people out of my life doesn't mean I hate them.
"It means I respect myself."
In her post, Gretchen did not name names.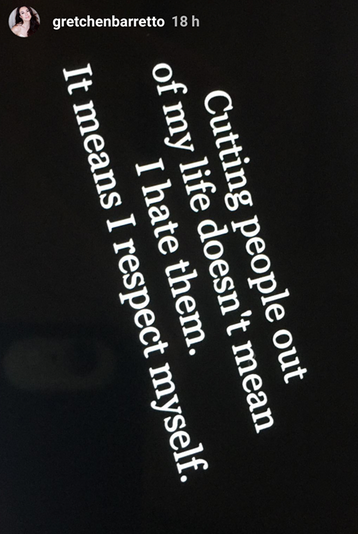 ADVERTISEMENT - CONTINUE READING BELOW
FALLING OUT WITH SISTERS, PARENTS
But it is no secret that Gretchen has had many a falling out, a lot of them the public has witnessed.
These include her parents Miguel and Inday Barretto, as well as her sisters Claudine and Marjorie Barretto.
Gretchen and Claudine got in an imbroglio in 2013 when the former was going through her court battle with estranged husband Raymart Santiago.
The Barretto family was soon divided, with siblings Marjorie, Mito, Michelle, and Jay-Jay taking Gretchen's side, while sister Gia and their parents, Inday and Miguel, stood by Claudine.
---
Stories We Are Tracking
---
Gretchen was on good terms with Marjorie up until their falling out in the last quarter of 2014, following reports about a rift that stemmed from the former's alleged lack of support for niece Julia Barretto.  
It was in January 2015 when Gretchen confirmed in an exclusive interview with PEP.ph (Philippine Entertainment Portal) that there's a "silent war" between her and Marjorie due to an undisclosed issue.
ADVERTISEMENT - CONTINUE READING BELOW
In a separate PEP.ph interview dated September 2015, Marjorie said that she didn't want to force a reconciliation between her and Gretchen if the timing was not not right.
---
Stories We Are Tracking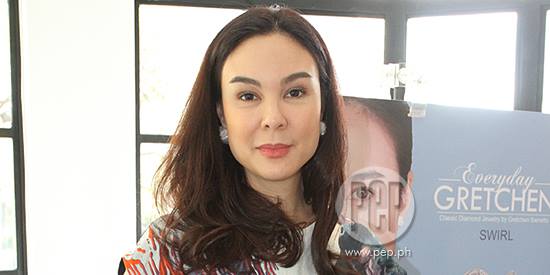 Gretchen confirms silent war with sister Marjorie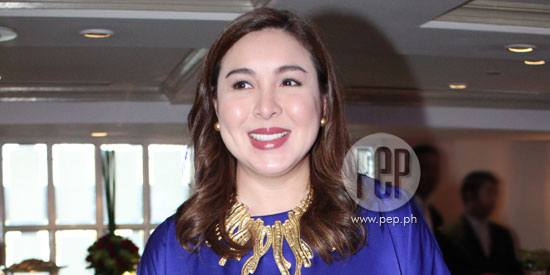 Is Marjorie still wishing to reconcile with sister Gretchen?&
---
Yet despite the complicated family dynamics among the Barretto family, it should be noted that there were occasions when Gretchen and Claudine came to each other's defense on social media.
Back in July 2017, Gretchen called out a netizen who bashed Claudine by comparing their looks.
Then in August 2017, Claudine returned the favor by defending Gretchen concerning issues about her rumored affair with businessman Charlie "Atong" Ang.
A month and a half ago, in June 2018, Claudine took to Instagram to show a photo of her reunion with Gretchen's daughter Dominique Cojuangco at a fashion gala.
This had netizens guessing whether or not Claudine made the move as a way of reaching out to her Ate Gretchen.
Is a reconciliation between the Barretto sisters still possible?
ADVERTISEMENT - CONTINUE READING BELOW
Perhaps, only time will tell.  
GRETCHEN: "I AM WHO I AM."
In the meantime, Gretchen seems content with her family life with longtime partner Tonyboy Cojuangco and daughter Dominique.
She also makes no apologies for the way she lives her life, including her luxurious lifestyle.
Addressing a naysayer last July 28, Gretchen wrote on Instagram: "@boshie1185 really, like bashing me is something better than what I am posting ?! [laughing with tears emoji] I am who I am & I will do whatever pleases me [laughing emoji] Deal with it [tongue out emoji] C'est la vie [kiss emoji]."
C'est la vie means "that's life" or "such is life" in French.
---
Stories We Are Tracking
---