KC Concepcion has taken to Instagram to show a photo of her French boyfriend Pierre-Emmanuel Plassart giving her a sweet kiss on the cheek.
Making it all the more memorable is the fact that they took the photo few steps away from Musee d'Orsay along River Seine in Paris, France.
KC's caption reads, "Oh... Don't mind if you do! [kiss and shining emojis] @peplassart #ParisJeTaime #MonCoeur #France"
According to KC, the photo is from her recent trip to Paris, when Pierre flew her there for his birthday celebration last August.
She stayed there until past mid-September and went back home in Manila for mom Sharon Cuneta's 40th anniversary concert in Araneta Coliseum.
Responding to a netizen, KC writes, "This is a pic from my last trip a few weeks ago!!"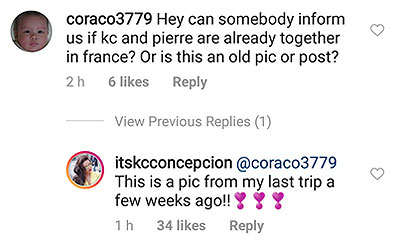 KC also replies to another netizen commending her for having found love months after her breakup with Aly Borromeo.
"Yes just continue to improve yourself and be genuinely happy in life.
"Happiness is healing and also contagious!"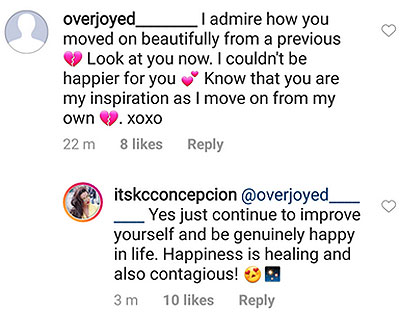 Asked if she talks to Pierre in French, KC says she gets to communicate with him in his native language since she learned it since she was 11 years old.
KC adds that she learned French when she studied in Boston, Massachusetts when she was in seventh grade.
"He speaks to me more in French but we do Franglais = a mix of French and English... and sometimes I speak to him in FranTaglish when I'm annoyed. Haha."