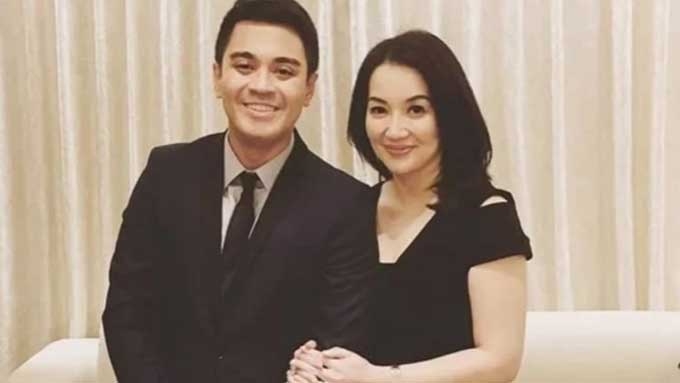 IMAGE Instagram
---
#KrisAquinoVsNickoFalcis
In court documents, TV host/actress/web star Kris Aquino has named Nicko Falcis as the man who allegedly stole P1.270 million from her.

She is asking for a total of P32.27 million in damages.
Broken down, Kris wants Nicko to pay:
P1,270,980.31 as actual damages.

P15,000,000 as temperate damages.

P1,000,000 as examplary damages.

P10,000,000 as moral damages.
P5,000,000 as attorney's fees.
Plus costs of suit.
Kris's Complaint Affidavit lists 44 counts of qualified theft against Nicko.
His alleged crime is the "unauthorized use" of a company credit card that, she says, she gave him "solely" for the purpose of paying for business expenses of Kris Cojuangco Aquino Productions (KCAP), her production company.
Kris said that she was "never consulted" and she "never approved" of the expenses that he charged to the KCAP credit card for his "personal benefit."
WHO IS NICKO FALCIS?
Kris had previously introduced Nicko in media events as her business manager, who is charged with running KCAP and negotiating her endorsements.
ADVERTISEMENT - CONTINUE READING BELOW
Nicardo M. Falcis II, aka Nicko, is a certified public accountant, with a Masters of Science Joint Degree in Global Finance from the Hong Kong University of Science and Technology Business School and the New York University Stern School of Business.
He is 35 years old, a cum laude from the University of the Philippines, and is currently based abroad.
According to the star once called "Queen of All Media," Kris met Nicko Falcis in 2015, and began a working relationship with him in June 2016, around the time Kris lost her TV jobs and began turning to the digital platform.
In her Complaint Affidavit, Kris said she hired Nicko as her projects manager "to solicit business for me for brand endorsements, acting engagements or investments in commercial ventures."
Kris added that Nicko also acted as her talent manager, tasked to negotiate contracts with "prospective and existing brand partners."
The extent of Nicko's duties as projects manager was the reason, alleges Kris, that she "authorized the issuance of a Banco De Oro corporate credit card" for Nicko to use "solely for KCAP-related expenses."
ADVERTISEMENT - CONTINUE READING BELOW
That the two enjoyed a close working relationship was evident in the manner that they interacted with each other in events covered on mainstream and social media.
In May 2018, Kris took to Instagram to extol Nicko's latest academic feat. 
Nicko had then finished his masters degrees in finance.
In her Instagram post, Kris also mentioned that Nicko graduated "magna cum laude" from the University of the Philippines, with a degree in Business Administration and Accountancy. [In fact, Nicko was a cum laude from the state university.]
The full caption of Kris's post: "This person is responsible for helping me pick up the shattered pieces of me, not afraid of getting himself bloodied along the way. And together I feel we did a good job because the new me came out a better & stronger version.
"I celebrate @nix722 today, he just had his graduation ceremony in NYC. He finished his Master of Science in Global Finance sa NYU Stern-HongKong University of Science and Technology.
ADVERTISEMENT - CONTINUE READING BELOW
"Ipagyabang ko lang, before that he graduated Magna Cum Laude from UP BS BAA (double major Business Administration & Accountancy).
"Thank you for believing, Nicko. And thank you for continuing to encourage me to aim higher & work harder! We (TEAM KCAP) love you!!!"
At press time, this post is no longer viewable on Kris's Instagram feed.
QUALIFIED THEFT COMPLAINT
Then on October 12, 2018, the media—including PEP.ph, the Philippine Entertainment Portal—reported that Kris went to the Quezon City Prosecutor's Office to personally file a qualified theft complaint against Nicko.
The media also reported that the same complaint was filed before the Office of the Prosecutor in six other cities—San Juan, Mandaluyong, Pasig, Makati, Taguig, and Manila—ostensibly because these were the places where the unauthorized use of the KCAP credit card were supposed to have occurred.
In an official statement sent to PEP.ph last Tuesday night, November 13, Kris hinted that the still-to-be-named person had abused the "100%  trust" she had given him during the time they worked closely together.
ADVERTISEMENT - CONTINUE READING BELOW
Kris Aquino's statement read, excerpted:
"Bakit ba nagalit si Kris? This is the simplest answer. Hindi ako naging salbahe. I was GENEROUS.
"I didn't just share my millions, I shared the credit for my career's resurrection... and I shared my 100% trust.
"He had the same signing privileges for our company bank account.
"He had an equal credit limit for the KCAP credit card regardless that my company is a sole proprietorship.
"GREED made him ungrateful and I was treated like a fool.
"There was never even an effort to cover his tracks because a BDO credit card paper trail over just a 3 month period when he had the company credit card, including charges for even ?95 cups of coffee were left for me to see because all bills were addressed to my home.
"The lack of decency and the lack of respect for the trust I had given destroyed my faith in my judgment of a man's moral compass."
ADVERTISEMENT - CONTINUE READING BELOW
Kris added that she was "forced" to speak about the "unedited truth" behind the then-unnamed man's betrayal following his camp's "delaying tactics" in their legal battle.
---
Stories We Are Tracking
---
TIMELINE OF MONEY ISSUE
On September 22 this year, Kris posted on Instagram that she had been "quietly" suffering for six weeks because of financial troubles.
She said she was reeling from her discovery that a person who had earned "millions" from her, by "running KCAP" and "negotiating" her "endorsements" had stolen from her.
The ordeal, she added, resulted in "stress, inability to eat & sleep properly," thereafter causing her drastic weight loss.
By September 25, Kris announced via Instagram that she had gotten the services of lawyers Philip Sigfrid Fortun and Florin Hilbay, along with other lawyers from their respective firms.
Kris then spoke of her fear of losing the "hard-earned" money that she had saved for her children Josh and Bimby:
"My PAIN comes from my fear that tens of tax paid millions from my sons' trust funds, money i conscientiously saved for them because i made a deathbed promise to my MOM that Kuya Josh & Bimb will always come first, baka mawala lahat ng pinagpaguran ko para sa kanila.
ADVERTISEMENT - CONTINUE READING BELOW
"It is WRONG that the 2 BOYS I LOVE MOST, MY LIFE'S MEANING & INSPIRATION may suffer consequences because i chose the wrong person to trust."
To this, she attached a selfie photo, showing a glimpse of her sunken cheeks.
On September 29, Atty. Fortun released a press statement explaining Kris's specific instruction that "no legal remedies should be left untapped" to "safeguard assets she had acquired and investments she had made."
Kris posted on Instagram a copy of her lawyer's statement, which also explained her decision to leave for Singapore to undergo medical tests due to her "recent weight loss" and other "health issues," including "hypertension, severe allergies, and migraine."  
After a medical checkup in October 2 in Singapore, Kris chronicled updates on the status of her health in her succeeding Instagram posts.
By October 11, she revealed that she had been diagnosed with Chronic Spontaneous Urticaria, an auto-immune disease that she said she has had since 2013.
ADVERTISEMENT - CONTINUE READING BELOW
While posting briefs on her health, Kris was suddenly silent on updates related to the qualified theft she filed against her still-unnamed, formerly trusted person.
It was not until her YouTube vlog on October 26 that she made mention again of the financial crisis she was in.
However, she refused to answer queries about the amount of money allegedly stolen from her, leaving the public to speculate on the amount of the stolen "trust fund." 
But Kris said that she decided to file a lawsuit against the man who betrayed her, because the ordeal of seeing her sons' future fund violated had caused her health to suffer.
---
Stories We Are Tracking
---
PEP.ph remains open to any statement that may be issued by the personalities mentioned in this article.