Vice-presidential candidate Ferdinand "Bongbong" Marcos Jr. has his very own campaign comics titled "Asikasong Bongbong Tuloy tuloy!"
This was published even before presidential candidate Mar Roxas's camp released the controversial "Sa Gitna Ng Unos" campaign comics.
Read: Mar Roxas draws flak for being portrayed as Yolanda hero in campaign comics
Senator Bongbong's 20-page comic booklet chronicles his childhood antics, his first glimpse of Malacañang Palace, how he learned to be independent while studying in England, and his journey as a public servant.
But upon reading the comics, there is a noticeable gap between Bongbong's happy memories of his teenage years and the events that led to the ousting of his father and then president Ferdinand Marcos, better known as the 1986 EDSA Revolution.
The only thing that was mentioned was how the Marcoses were forced into exile in Hawaii under the watch of U.S. military.
The narration about the struggles of the Marcos family partly reads, "Lahat ng panlilinlang at kasinungalingan ay ginawa ng mga sundalong Amerikano, para takutin ang pamilya Marcos. Walang nagawa si Bongbong kundi maluha na lang."
The next panel showed how the Marcoses fielded unfair accusations from the authorities, without mentioning the many cases of human rights violation and corruption filed against them.
"Kung ano-anong pagbibintang na ang pinaratang sa pamilya nila na halos ay panghinaan na niya ng loob."
OLD CAMPAIGN MATERIAL? In an official statement, Senator Bongbong claimed that his comics entitled "Asikasong Bongbong Tuloy tuloy!" happenS to be an "old" campaign material.
But the back leaf of the comic booklet in question shows a photo of Senator Bongbong's family with a logo that reads, "Vice President Bongbong 2016."
It was also distributed during his media events and campaign sorties soon after he filed for certificate of candidacy in October last year.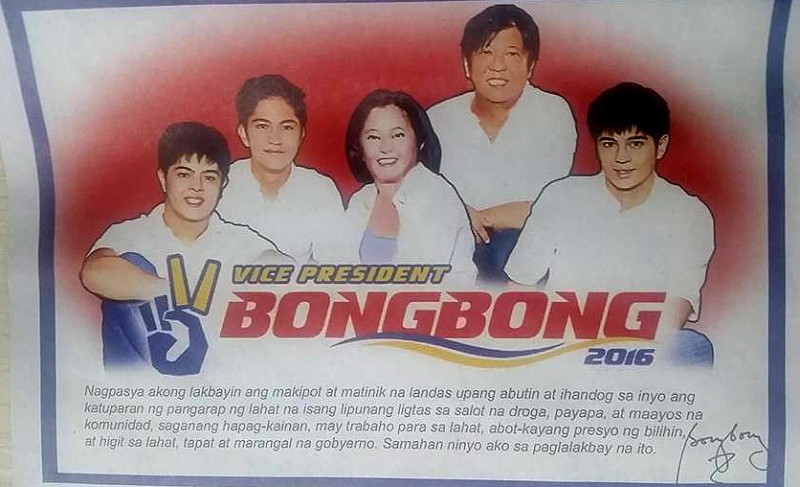 REVISIONING HISTORY? The portrayal of the Marcoses' supposed struggles in the comics is a stark contrast to the cries of Martial Law victims and activists, who accuse Bongbong of allegedly re-visioning history with falsehoods.
Before the 30th anniversary of the EDSA Revolution, a group called Crime Against The Return of The Marcoses to Malacañang (CARMMA) even gathered at the University of The Philippines and declared their opposition of Senator Bongbong's bid for vice presidency.
Read: CARMMA cites 7 sins of vice presidential candidate Bongbong Marcos