It's not a baby bump.
Model and beauty brand founder Hailey Bieber clarified that she's not pregnant with husband Justin Bieber's child.
In her Instagram Story yesterday, November 29, 2022, Hailey didn't have qualms showing a selfie of her slightly swollen abdomen that might have fueled pregnancy speculations.
But she pointed out that it's caused by her ovarian cyst as big as "the size of an apple."
"I don't have endometriosis or PCOS [polycystic ovaries syndrome] but I have gotten an ovarian cyst a few times and it's never fun," Hailey wrote on her caption.
Hailey went on to say that her health condition is not only "painful" but it also makes her "nauseous, bloated, crampy, and emotional."
Trying to keep calm, she added, "I'm sure a lot of you can overly relate and understand. We got this."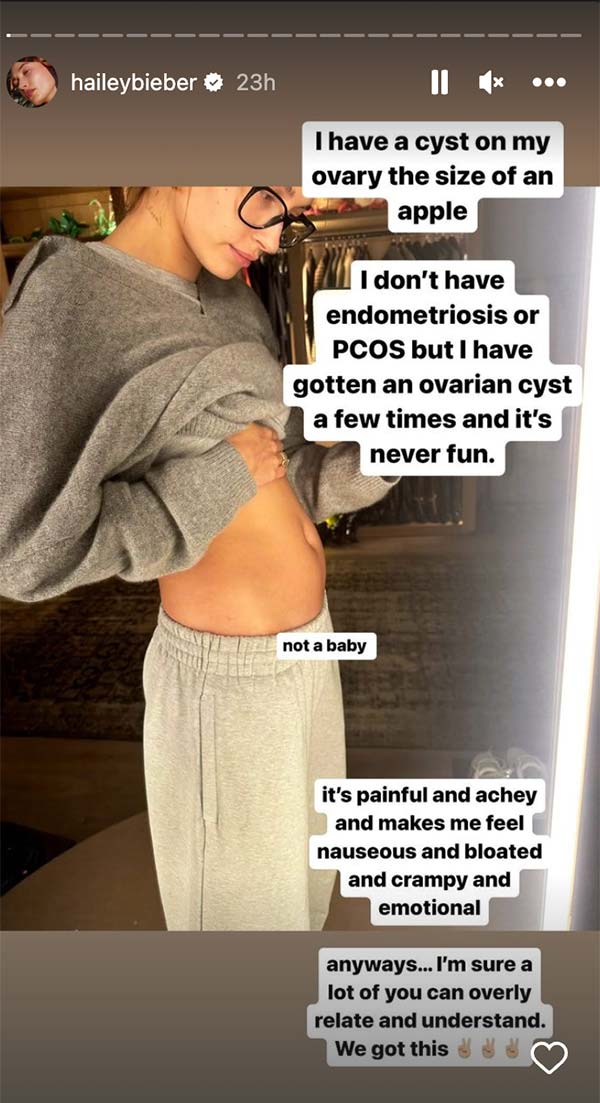 According to healthline, ovarian cysts are fluid-filled sacs formed in the ovaries, mostly benign and "typically caused by hormonal changes."
While it usually goes away on its own, it's best to seek a doctor for professional diagnosis and medical treatment especially if the cyst is large and continues to grow.
MORE HOT STORIES: