South Korean actor Park Bo Gum has finally made his way back to the Philippines!
The 26-year-old K-drama superstar is staging his very first fan meet in Manila titled 2019 Asia Tour: May Your Every Day Be A Good Day at the SM Mall of Asia Arena in Pasay City today, Saturday, June 22.
Bo Gum rose to popularity after starring in several hit dramas including Reply 1988, Love In The Moonlight, and his latest TV series titled Encounter alongside South Korean actress Song Hye Kyo.
Before the fan meet, Bo Gum met up with PEP.ph (Philippine Entertainment Portal) and other members of the entertainment media at a press conference held in Sofitel Philippine Plaza Manila on Friday afternoon, June 21.
The South Korean heartthrob expressed how excited he is to meet his Filipino fans.
Bo Gum said, "I've been really looking forward to this day. I'm so nervous but...
"I really wanted to come here."
The Love In The Moonlight star said this is his first time meeting his Filipino fans, but this is actually his third visit to the country.
He recalled, "I've been here twice before. The first time was when I was acting in the drama called Wonderful Mama.
"The second time was when we went on vacation after the drama Love In The Moonlight.
"The Philippines is where I did snorkeling for my very first time here, so that remains in my memory."
Bo Gum later added, "It's my first fan meeting here and I haven't met my fans yet.
"But I'm just grateful for their support and love."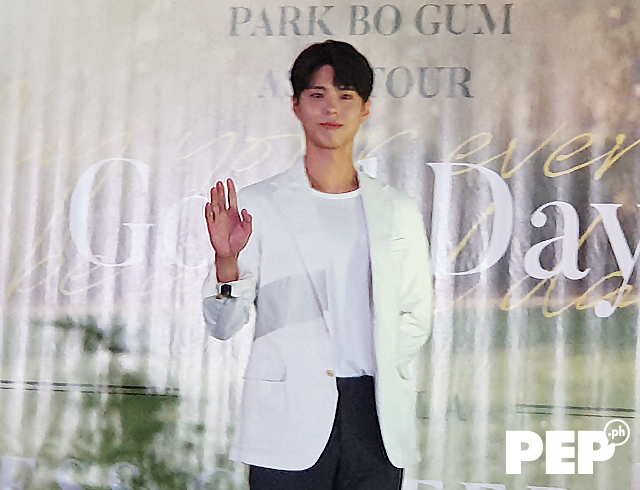 PARK BO GUM'S PROJECTS
Park Bo Gum also talked about some of his projects during the interview.
With Love In The Moonlight and Encounter being huge hits all over the world, Bo Gum was asked about the possible factors that led to the success of these projects.
He answered, "I think thanks to the characters of the drama, because all of those drama and characters really precious to me.
"And beautiful landscapes of Korea, I think. Just my opinion."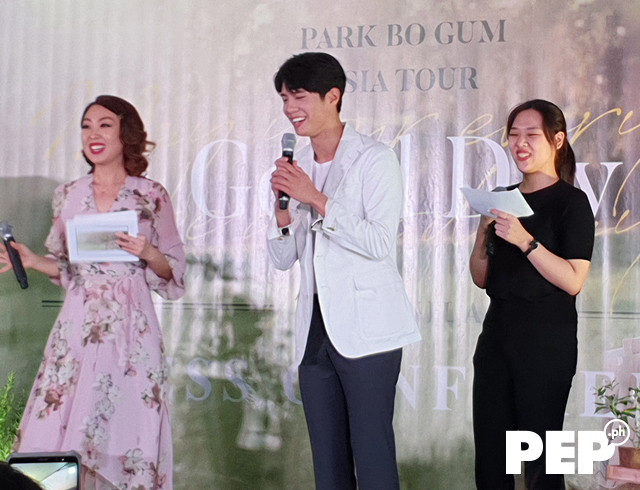 Asked which among his previous roles is his favorite, the actor was hard-pressed in singling out his top pick.
Bo Gum said, "All of the characters will be in my memory to me because of all those characters and dramas are so, so precious to me."
He added, "Every character I played has something in common with me.
"Also, there were a lot of things I wanted to learn and emulate in those characters."
He then asked the attendees of the press conference their favorite character which he portrayed.
Some of the fans were quick to shout Crown Prince Lee Yeong, his character in Love In The Moonlight.
Bo Gum also shared a few details of his upcoming movie with Goblin stars Gong Yoo and Jo Woo Jin titled Seo Bok.
He narrated, "It's a really interesting story. The movie title is Seo Bok.
"And I play a human clone who has a secret to eternal life.
"I'm just happy to work with such amazing actors, Gong Yoo-sunbaenim and Jo Woo Jin-sunbaenim and so on.
"And the director [Lee Yong-Joo], I admire. It's gonna be a really good movie so please look forward to it."
Bo Gum has portrayed many great characters throughout his career but the Reply 1988 star said he still has a lot of dream roles to portray.
He said, "There are still many acting roles that I haven't tried yet.
"So actually... I hope to show my new moves and performance to many, many various films."
PARK BO GUM'S GOOD DAY
Bo Gum reiterated his excitement for his first fan meet in Manila and is looking forward to seeing his fans singing and dancing along. Manila is the last stop of his 2019 Asian tour.
He said, "It's gonna be a really Good Day that we can all enjoy together.
"If you know the lyrics, the songs, please sing and dance along with me."
Bo Gum was asked about his most memorable experiences.
He said, "The fact that I'm having my Asia tour is an unforgetable experience.
"Because I really appreciate the fans and the fans are giving me, regardless of what they speak and where they live, they are sparing their really precious time for me.
"So I prepared for the tour hoping that it's really gonna be a 'Good Day.'"
As for his message to his Filipino fans, Bo Gum said, "First of all, thank you so much. Thank you for your support and love and blessings.
"Thank you very much for your warm welcome so let's have fun tomorrow.
"And let's make a good memory together."
Bo Gum's fan meet is produced by Ovation Productions and ABS-CBN Events. The event is also made possible by TNT in partnership with Blossom Entertainment.
Tickets are priced at P9,050 (patron), P7,980 (lower box A), and P5,860 (lower box B), available at www.smtickets.com and at all SM Tickets outlets.