After confirming that she and best friend Dani Barretto are still BFFs after having a "big misunderstanding," Bela Padilla visited Dani's baby Millie for the first time.
The Kapamilya actress related her heartwarming experience through an Instagram post that she uploaded on Saturday, October 5, 2019.
The post reveals a photo of one-month-old Millie sleeping soundly, captioned with her witty dedication for the little girl: "Millie [heart emoji] ....is what your parents call you, but to me, you're Milliephant [wink and elephant emojis].
"You can count on me to buy you the candy that your mom and dad say you can't have hahaha [laugh out loud emoji].
"It was so nice to meet you, beaut! [flying kiss and heart emojis]"
Proving that nothing has changed in their friendship, Dani also left a comment on Bela's post telling her how much she appreciated her visit.
She stated, "So happy you two met!! [heart emoji] Love you Bellyy!"

Dani's husband Xavi Panlilio seconded his wife's comment with a playful retort to Bella's caption: "A part of me is mad that your nickname for my daughter is better than my nickname for her. But im happy that it was [you] who thought of such a good one. [clap emojis]"
Dani also uploaded an Instagram story of Bela carrying little Millie.
Her caption read, "This photo makes my heart so happy. [heart emoji]"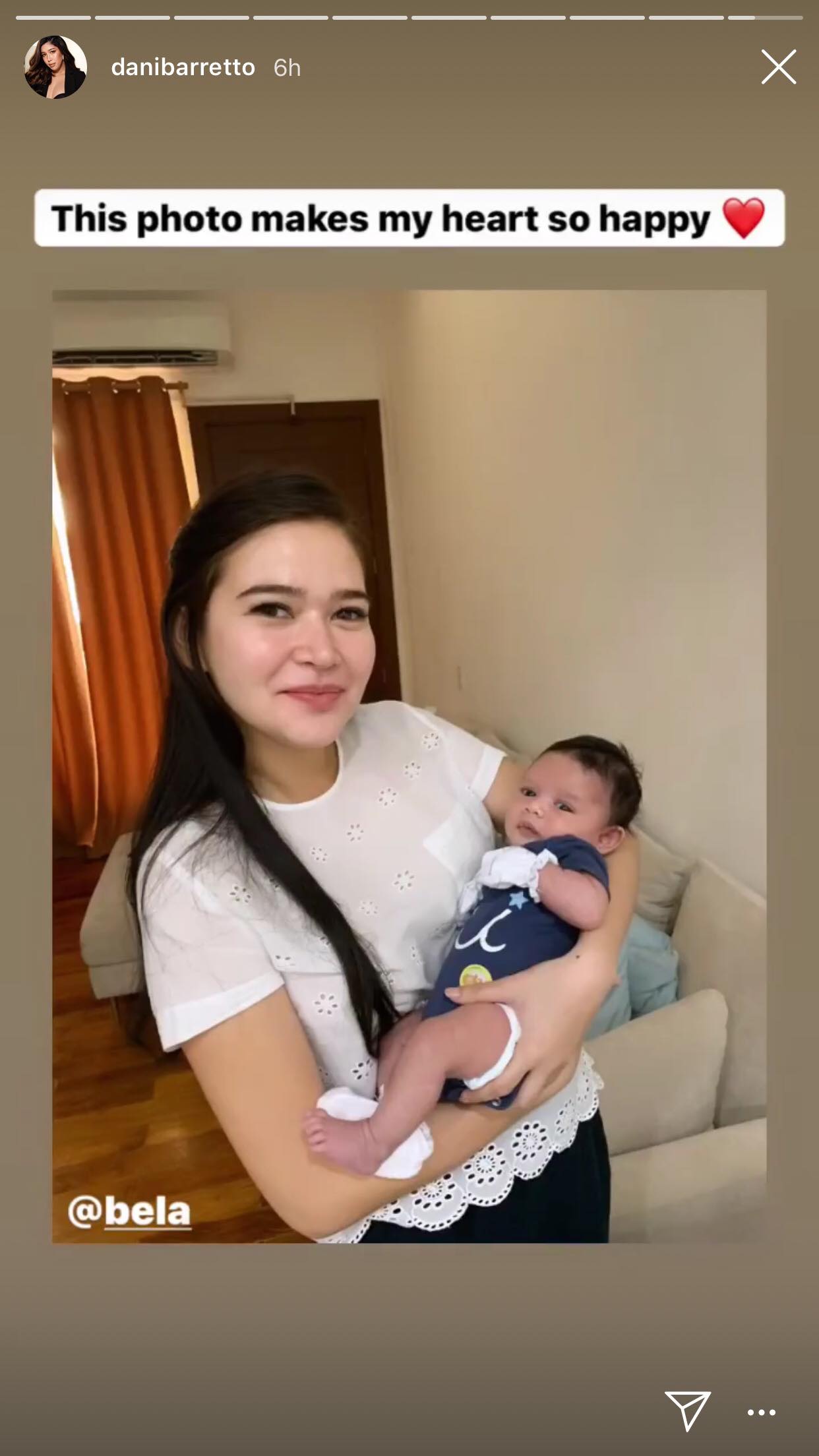 BELA PADILLA: "DANI AND I ARE BOTH LEVEL-HEADED"
In a previous interview with PEP.ph (Philippine Entertainment Portal), Bela dispelled the rumor that she and best friend Dani had a tiff over the past few weeks.
According to her, the rumor started when a fan sent her a message that Dani unfollowed her on Instagram.
In turn, she unfollowed Dani too, but only out of impulse.
According to her, the issue was just "blown out of proportion."
She explained that what she and Dani went through is no different from what friends, couples, and families experience from time to time.
All is good between them now
"Like in any kind of relationship, we go through things. But Dani and I are okay," she assured PEP.ph.
"So it was something that simple lang.
"But it was blown out of proportion on social media lang.
"But it's really nothing."
She adds, "I'm happy though that Dani and I are both level-headed and we talked amongst ourselves.
"We didn't let the issue get bigger. We didn't let the issue get to us.
"And I feel for her. The person just gave birth. She's so happy right now."
Prior to their disagreement, Bela unfollowed Dani's younger sister, Julia Barretto, when she was accused of being the third party in Gerald Anderson and Bea Alonzo's controversial breakup.
Bela was accused of siding with Bea after she was spotted hanging out with Angel Locsin, Angelica Panganiban, Paulo Avelino, Ketchup Eusebio, Ivana Alawi, and ABS-CBN executive Deo Endrinal after ABS-CBN's trade launch held on July 23, 2019.
Angel Locsin posted their get-together on her Instagram account with the hashtag, '#ParakayB' with 'B' pertaining to Bea Alonzo.
Bela clarified that she only joined them as part of work and unfollowed Julia merely as part of her social media detox.
She reiterated, "From following 4,000 people, I'm down to 2,000 plus, kasi I'm really trying to stay away as much as I can away from social media...
"I unfollowed several people. It wasn't just Julia. Even my classmates from high school...
"So I just want to clarify—I didn't unfollow Julia because I'm taking sides, because I honestly don't even know the story of what's happening to them."