Angel Locsin reacts to Senator Tito Sotto liking a tweet that says she is "pro-NPA."
The tweet that Sotto liked had the caption "a proNPA since day 1" and had a screencap of Angel replying to a Twitter account with the handle @MarcosGlobalOFC.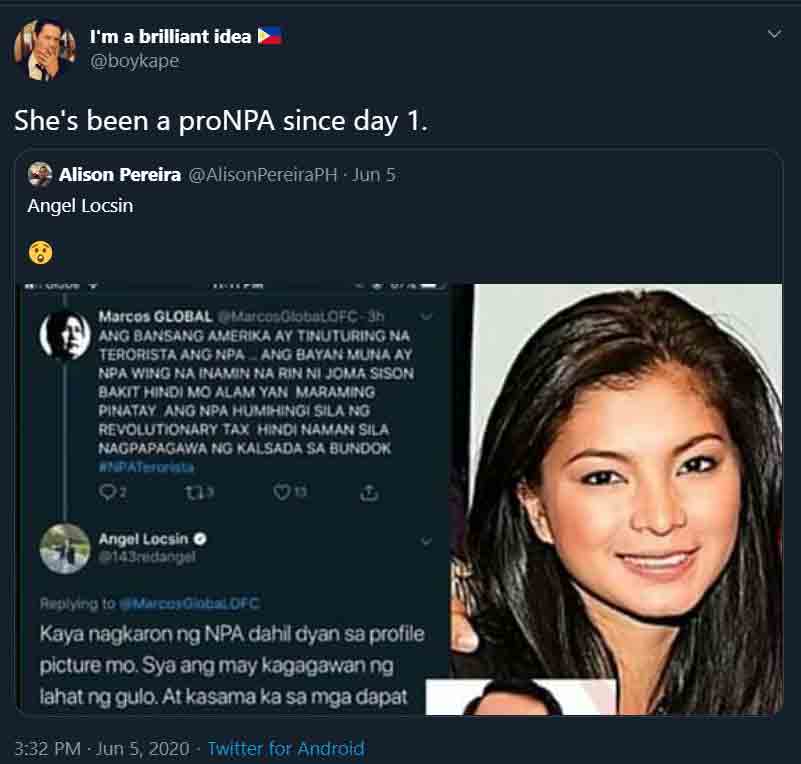 The netizen Angel replied to said the United States of America classifies the NPA, or the New People's Army, as terrorists.
Angel replied, "Kaya nagkaron ng NPA dahil dyan sa profile picture mo.
"Sya ang may kagagawan ng lahat ng gulo.
"At kasama ka sa mga dapat makunsensya dahil pinagkakakitaan mo yang pagtro-troll para sa mali.
"Binenta ang prinsipyo habang ang daming nagdudusa."
Also in the screencap is former senatorial candidate Neri Colmenares, who is a relative of the actress.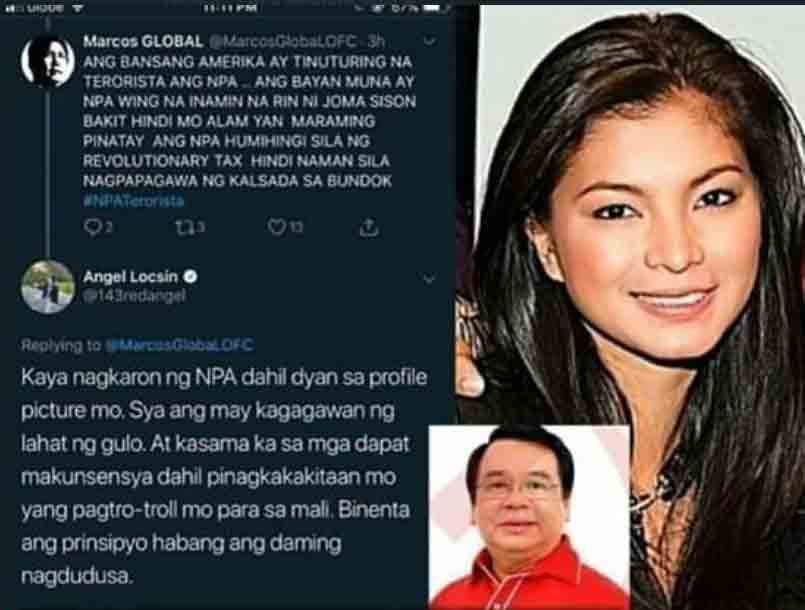 The NPA is the armed wing of the Communist Party of the Philippines (CPP).
According to the FSI-Stanford University Center For International Study and Cooperation website, the CPP-NPA "seeks to overthrow the Philippine government in favor of a new state led by the working class and to expel U.S. influence from the Philippines."
The communist army was formed under President Ferdinand Marcos's administration in 1968.
Marcos was president of the Philippines for 20 years (December 1965 - February 1986).
Nine of those years he ruled as a dictator when he placed the country under martial law.
The profile pic and Twitter handle of the netizen Angel replied to has the image and name of the dictator.
TAGGING SOTTO
Angel tags Sen. Sotto in response to the tweet that called her "proNPA."
She said, "Hi @sotto_tito, I saw that you liked this tweet. I will never support terrorists, nor will I ever support any kind of violence.
"You have the right to like any tweet. And we have the right to voice out our opinions.
"I hope we don't get tagged as terrorist for doing so. Thank you."
The latter part of Angel's is in reference to the Anti-Terrorism Bill of 2020 or House Bill 6875
Sotto is a principal author of this bill.
The actress has been vocal about her opposition to the passage of the bill.
The Anti-Terrorism Bill now awaits the signature of President Rodrigo Duterte after the House of Representatives approved it on its third and final reading last Wednesday, June 5.
The bill has been heavily criticized for its broad definition of who can be designated as "terrorists" and what is considered as "terrorism."
Human rights advocates also call the bill repressive as it legalizes acts such as warrantless arrests, unlawful detention for almost 24 days, and wiretapping and surveillance of a suspected terrorist for 60 days.
(Isa ka bang showbiz fan na laging updated at naghahanap ng latest chika? Share what you know. Join here! https://bit.ly/PEPChika)