Netizens have taken to Twitter the discussion if anyone still knows "Panatang Makabayan" by heart.
This, after ABS-CBN chairman emeritus Eugenio "Gabby" Lopez III was asked to recite the first line of "Panatang Makabayan" during the ABS-CBN franchise hearing in Congress, Monday, June 8.
"Panatang Makabayan" or the Philippine Patriotic Oath is commonly recited before "Panunumpa Sa Watawat" during weekly flag ceremonies for grade school and high school students.
It reached the fifth spot among the trending topics on Twitter earlier today.
Lopez was grilled about his allegiance as a dual citizen of both the Philippines and the United States.
Deputy Speaker Rodante Marcoleta sought to end the issue by throwing this question: "Para siguro matapos tayo sa issue ng allegiance, mawalang galang lang po, Mr. Lopez, puwede po ba paki-recite ninyo yung unang linya ng Panatang Makabayan? Unang linya lang."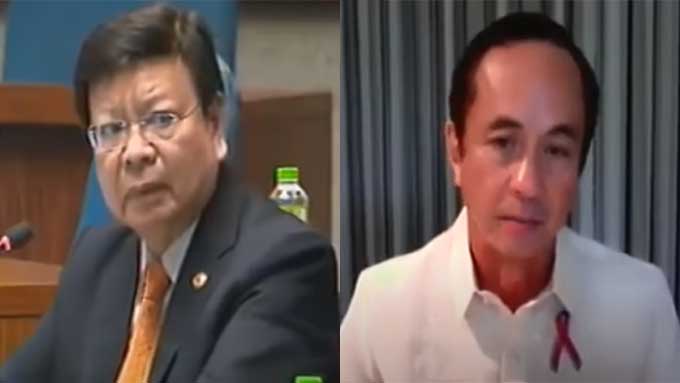 After about 16 seconds of silence, Marcoleta called on Congressman Carlos Zarate if he can coach Lopez who didn't immediately answer his query.
"Congressman Zarate, baka gusto mo nang tulungan," Marcoleta said.
Lopez laughed at Marcoleta's remark, but continued to briefly exchange words with the person next to him, before he finally recited the line "Iniibig Ko Ang Pilipinas."
Congressman Zarate was not amused, however, by Marcoleta's "side comments."
Zarate actually asked for it to be removed on record, insisting that he has his "own time" should he wish to interpellate Lopez.
"NAKALIMUTAN KO NA"
Filled with wry humor, netizens seem surprised that the issue on Lopez's allegiance all came down to whether or not he knows "Panatang Makabayan" by heart.
As it happens, a lot of netizens commenting on the incident can't seem to remember the Patriotic Oath since they themselves haven't recited it for years.
NETIZENS ANNOYED AT MARCOLETA
Some are plainly annoyed at Marcoleta for asking what they deem to be a frivolous question when more important matters are awaiting to be discussed during the hearing.


At least two netizens point out that Marcoleta even cited the Philippine National Anthem as "Bayang Magiliw" instead of "Lupang Hinirang."
The House deputy speaker has actually clinched the third spot in Twitter's list of trending topics because of the same issue.