"'Lalaban natin ito!"
This was Samantha Panlilio's promise to Filipino pageant fans as she embarks on her journey to win the Philippines' first-ever Miss Grand International title.
On Friday, November 12, 2021, Samantha had her send-off party at Novotel, Quezon City, which was attended by her fellow Binibining Pilipinas 2021 winners and select members of the press.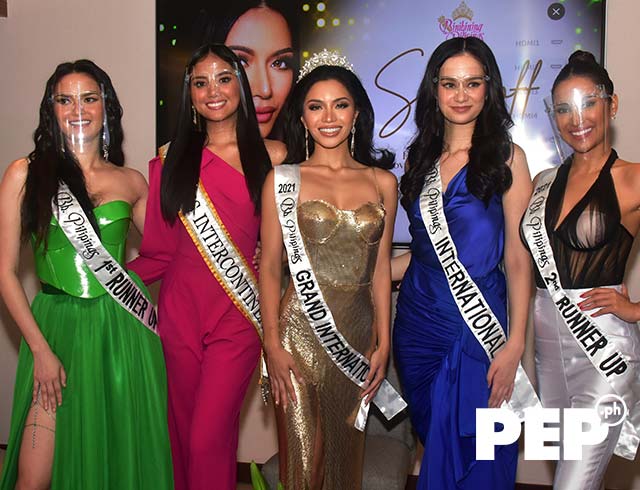 Samantha is the third Binibining Pilipinas 2021 winner to compete in an international pageant following the success of Cindy Obenita and Maureen Montagne who won the Miss Intercontinental 2021 and Miss Globe 2021 titles, respectively.
The 25-year-old model from Cavite admitted that her pageant sisters' achievements internationally made her feel the pressure of winning the country's first Miss Grand International title.
But instead of looking at their achievements as added pressure, Samantha said she takes it more as inspiration and motivation to do well in the Miss Grand International 2021 pageant.
"You know, at first, I'm only human, I did feel the pressure. But at the end of the day, I'd like to take it as an inspiration because they have done amazing.
"And that drives me even harder to do better for Miss Grand."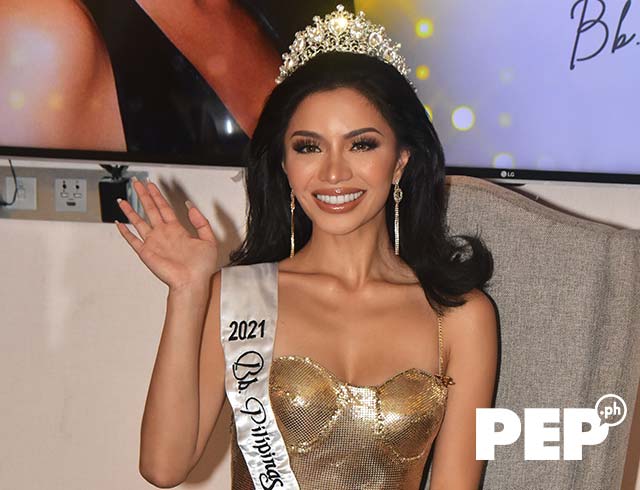 Asked if she learned anything from Cindy and Maureen's experiences from their respective pageants, Samantha answered, "Cindy and Maureen had been nothing but an inspiration to me.
"They give me motivation and when I witnessed their journey through social media and through chats, I saw that they were just so confident and they were able to keep everything together, so classy, and I really appreciate them for that as well."
PREPARATIONS FOR THE PAGEANT
With just a few days away from the pageant, Samatha is excited to show the fruits of her hard work at the Miss Grand International pageant.
"I'm honestly so excited. It's so exhilarating and I'm just so, so honored to represent the Philippines internationally. I'm so excited to see what they have in store for me."
How has she been preparing for the Thailand-based pageant?
Samantha said, "I'm working very hard. I'm practicing my passerella [walk] almost every day, taking makeup lessons, hair lessons, which kinds of hard but I think that we can manage."
Samantha, however, promised her fans that she will have many "pasabog" as she competes in the pageant.
"I'm actually looking forward to the preliminary event because I have something really good in-store and I can't wait for you guys to see it."
As for her national costume, Samantha remained tight-lipped but hinted that it's going to be something new and something huge.
"It's really huge and I have to get a special box for it. But, I will also reveal that this national costume hasn't been used on the international stage just yet."
What does she think the organizers of the pageant look for in a beauty queen?
Samantha answered, "I think that the one thing they're looking for is that 'X factor' where you come into the room and you're just so charismatic and you're able to give off that energy to the people around you because grand is grand.
"And there's a reason why they named this pageant Miss Grand International. So I really think it's the X factor. It's the grit, again, and personality, as well."
As for pageant fans who downplay the country's chances of winning the Miss Grand International title on social media, Samantha told the press she's not affected by the comments.
She related, "Pageantry is supposed to bring different cultures together and we should be respectful of that, as well.
"And you know, again, the Philippines has been doing great work in the pageant industry and I just hope that I can do that, as well."
Samantha will leave for Thailand on Tuesday, November 16, 2021, two weeks ahead of the pageant's official start on December 4, 2021.
We are now on Quento!
Download the app
to enjoy more articles and videos from PEP.ph and other Summit Media websites.