Steamy and sexy themes on television always bring in high ratings.
And in this digital age, clips from these shows—especially the steamy ones—also rake in high views on the Internet!
The thumbnails on YouTube videos help, especially when TV networks choose to display the steamiest part of each clip—couples kissing each other, baring skin, and even doing different positions, much to the shock and curiosity of the viewers.
PEP.ph (Philippine Entertainment Portal) lists 12 steamy and sexy scenes from teleseryes that raked in millions of views on ABS-CBN and GMA-7's respective YouTube channels.
It's getting intimate from I Heart Davao (GMA-7)
Views: 107M
The almost five-minute video featured a love scene of estranged couple Tom Rodriguez and Carla Abellana in their 2017 prime-time series, I Heart Davao.
The scene was an intimate moment between the show's leads, Hope (Carla) and Ponce (Tom) inside a hotel room while an instrumental, piano version of "Fallin" played in the background.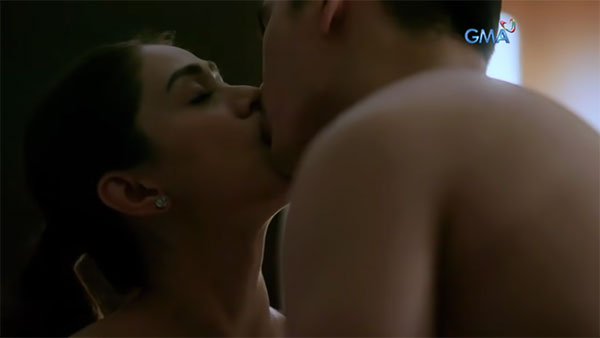 When Ponce took off Hope's top, he saw the scar on her chest, as Hope went through a heart transplant. After touching the scar, Ponce proceeded to kiss her and they made love.
The Honeymoon from Someone To Watch Over Me (GMA-7)
Views: 105M
This six-minute clip from the prime-time series Someone To Watch Over Me, headlined by Lovi Poe and Tom Rodriguez, was a moment from their honeymoon.
Before their lovemaking, Joanna (Lovi) asked her husband TJ (Tom) not to hurt her.
TJ teased, "Just a little bit."
The couple then started taking off their clothes and shared a passionate night together as they kissed each other endlessly.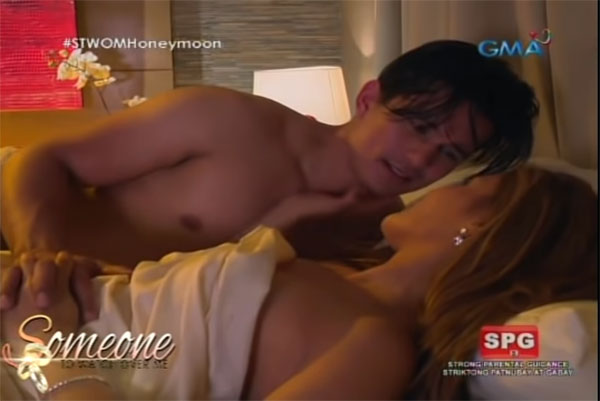 The scene ended with TJ sketching Joanna's sleeping figure.
Huli sa akto ang mga taksil from Ika-5 Utos (GMA-7)
Views: 87M
This scene from Ika-5 Utos showed how Kelly (Gelli de Belen) caught her two friends Clarisse (Valerie Concepcion) and Randy (Neil Ryan Sese) giving each other a passionate, steamy kiss by the beach.
The problem, however, was that both of them are married to their other friends. Clarisse is married to Emil (Tonton Gutierrez,) while Randy is married to Eloisa (Jean Garcia).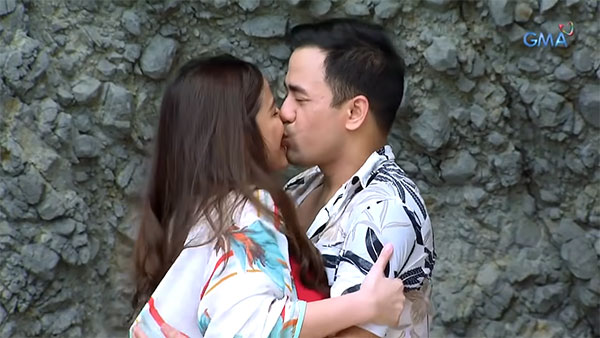 Kelly, being a concerned friend to Eloisa, immediately went up to her and told her what happened.
Not only did Emil and Eloisa catch their spouses having an affair, but it also cost the life of Eloisa and Randy's youngest daughter.
Apparently, Randy used their daughter as an excuse to go to the shore. Because Randy was busy with Clarisse, he neglected his daughter who went to the beach by herself and drowned.
Sari and Oscar's Honeymoon from Pasion de Amor (ABS-CBN)
Views: 79M
Sari and Oscar were the respective characters that Ellen Adarna and Ejay Falcon portrayed in the 2015 series Pasion de Amor.
The scene was about their honeymoon.
In the beginning, Oscar was teasing Sari and asked, "Ilang rounds ba gusto mo?" When he was about to proceed with kissing her, Sari stopped him and delayed their lovemaking.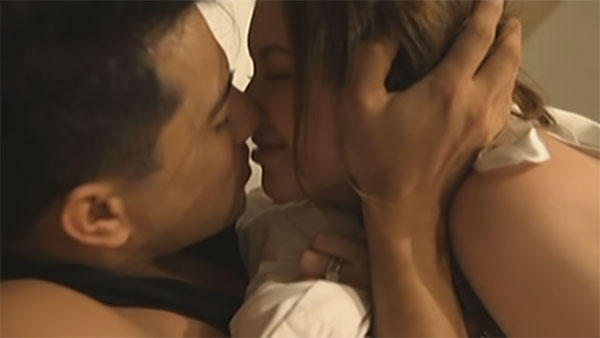 Apparently, Sari had other things in mind for their special night!
First, Sari gave Oscar a massage while pretending to be a girl named Joy. Then, when Oscar returned to their room, Sari grabbed him and took off his top.
Sari then wrapped a scarf around Oscar's neck and pushed him to the bed. She asked Oscar to do sexy poses in front of her camera. Sari then jumped at him and they started kissing.
But at the end of the video, it was Oscar's turn to have fun when he suddenly appeared as a topless Zorro and teased Sari.
Iris and Basti's Passionate Love from Till I Met You (ABS-CBN)
Views: 75M
James Reid and Nadine Lustre took their maturity to a new level when they did a sensual scene in Till I Met You, their second teleserye.
In the scene, Basti (James) and Iris (Nadine) ran away from their families and stayed inside the car of their best friend, Ali (JC Santos).
As the rain poured outside, Basti and Iris cozied up, started taking off their clothes, kissed each other, and made love inside the car.
Later, Iris would voice out her regret about giving herself to Basti, thinking that he might leave her because they already had sex.
However, Basti reassured Iris that he loves her.
A lot of viewers were surprised by the scene, including the MTRCB (Movie and Television Review and Classification Board), which called the attention of ABS-CBN for a meeting.
Pamangkin ni Mister, Suki ni Misis from Love Hotline (GMA-7)
Views: 56M
Aired in 2016 and hosted by Jean Garcia, this episode of GMA-7's docudrama, Love Hotline, featured Maui Taylor and Jak Roberto in an illicit affair.
Maui's husband, played by Rob Sy, had to leave home for a month.
Jak happened to be Rob's nephew.
The clip did not involve any sex or lovemaking, but it showed how Maui's character got tempted to be in an affair with Jak.
In most of his scenes, the Kapuso actor was topless, flaunting his six-pack abs.
The last part of the clip showed how Maui tried to seduce Jak's character while looking at his body.
The topless Jak then gave her a massage and told her, "Kaya siguro gigil na gigil sa iyo si Tsong kasi ang bango-bango mo, lalo na pag bagong ligo."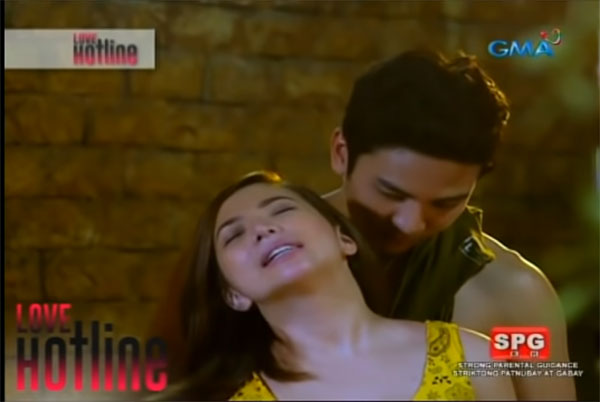 Maui warned him, "Huy bata ka, tigilan mo iyan ha, baka mamaya may makarinig sa iyo."
Jak teasingly replied, "Wala. At saka hindi na ako bata, Dolores," calling his aunt by her first name.
Top Secret from Pasion de Amor (ABS-CBN)
Views: 54M
The "Top Secret" that was being talked about in this clip from Pasion de Amor was the secret affair of Gabriela (Teresa Loyzaga) and Fernando (Ahron Villena), who happened to be the boyfriend of Gabriela's daughter, Norma (Arci Muñoz).
Gabriela and Fernando had already stripped off their clothes and were making love in bed when Gabriela's youngest daughter, Jamie (Coleen Garcia), knocked on the door.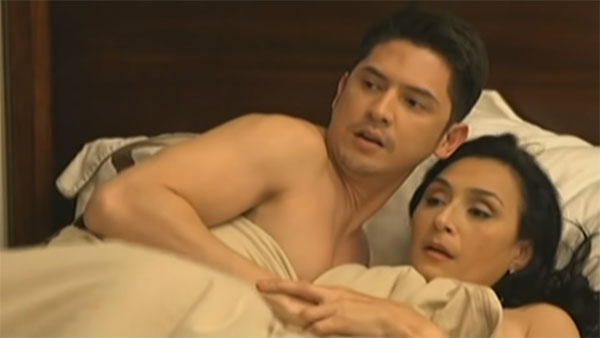 Gabriela and Fernando were forced to stop their intimate moment. The naked Fernando immediately got up from the bed, got his clothes, and left the room.
When Jamie entered the room, she was surprised to find a man's white sando on the floor.
Gabriela outsmarted her youngest daughter and asked Jamie if she and her sisters are bringing men to their room.
Jamie, of course, did not even bother asking her mom, who was obviously naked and just covering herself with a blanket.
My brother's dark secret from Karelasyon (GMA-7)
Views: 54M
The clip featured the former love team of Kim Rodriguez and Kiko Estrada, who played siblings Jane (Kim) and Julius (Kiko).
Aptly titled "My Brother's Dark Secret," this episode of GMA-7's sexy drama anthology Karelasyon (2015) tackled the incestuous, forbidden love story of the two.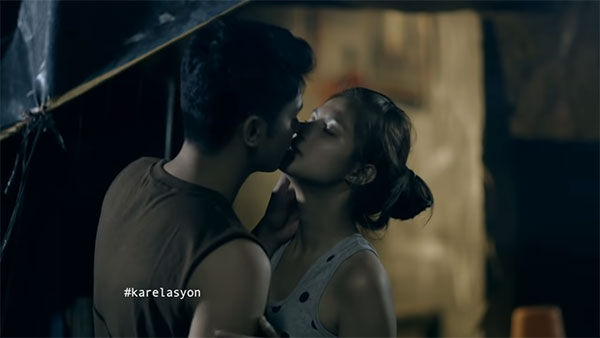 Their relationship was threatened by the arrival of Arthur Solinap, who played the new lover of Rochelle Pangilinan, who was their mom in the show.
Arthur became suspicious of the siblings' "too close for comfort" relationship.
Zoe's Tipsy Kiss from The One That Got Away (GMA-7)
Views: 53M
The clip featured the characters of Rhian Ramos and Jason Abalos in the Kapuso network's 2018 romantic-comedy series, The One That Got Away.
In the scene, Gael (Jason) brought home a heartbroken and tipsy Zoe (Rhian).
When Gael tried to move Zoe to a more comfortable position, she suddenly woke up, still feeling tipsy.
Due to the influence of alcohol, Zoe hallucinated and saw the face of her ex-boyfriend, Liam (Dennis Trillo), instead of Gael's. She caressed Gael's face and kissed him.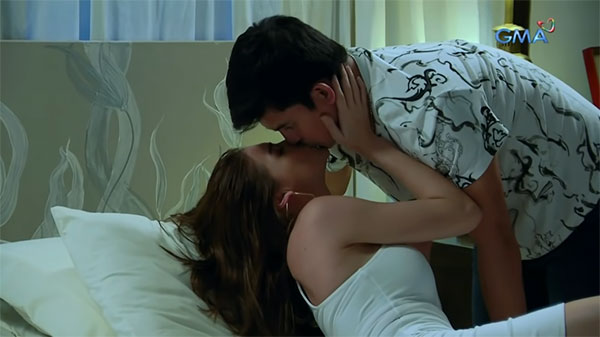 Gael, who actually has feelings for Zoe, was stunned by her act. However, the moment ended when Zoe went back to sleep, not realizing what she just did.
The Affair With The Maid from Karelasyon (GMA-7)
Views: 51M
The video featured the full episode of "The Affair With The Maid" from GMA-7's defunct sexy drama anthology, Karelasyon.
It was about a couple—Ces (Melissa Mendez) and Lloyd (Roi Vinzon)—who was trying to fix their marriage after she caught him being unfaithful.
However, their journey to rekindling their marriage faced a new challenge as a new maid, Jasmin (Mercedes Cabral) entered their household.
The whole episode centered on how Jasmin tried to seduce Lloyd and when he gave in, they made out by the staircase.
Ces caught them and witnessed everything, but instead of making a scene, she just cried and went up to her room.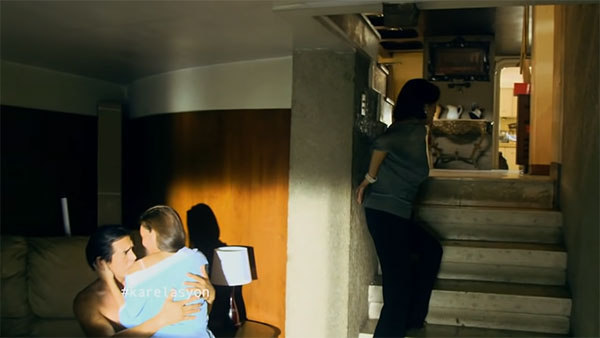 Ces was able to police Lloyd's affair with Jasmin after firing her, however, Jasmin got pregnant!
Ana and Gael's first night as married couple from Asintado (ABS-CBN)
Views: 47M
This three-minute clip from ABS-CBN's 2018 afternoon series Asintado showed a steamy night between the characters of Julia Montes and Paulo Avelino.
In the story, Ana (Julia) and Gael (Paulo) had just gotten married and were celebrating their honeymoon.
Ana, at first, was tense about her first night with Gael. But her worries eventually dissipated when Gael started caressing her shoulders and taking off her bathrobe.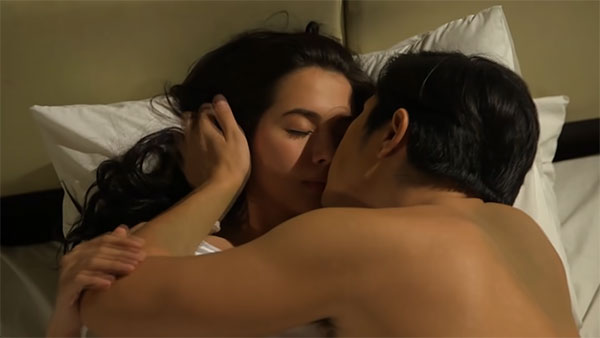 Ana and Gael then surrendered themselves to each other as they made love, while Jona's version of "Dahil Mahal na Mahal Kita" played in the background.
Rosette Wins The Battle from Impostora (GMA-7)
Views: 40M
GMA-7's 2017 afternoon series Impostora starred Kris Bernal in a dual role, playing both protagonist Nimfa and antagonist Rosette.
This five-minute clip showed how Rosette succeeded in taking over Nimfa's place as the wife of Homer (Rafael Rosell).
When Nimfa was about to call Homer, it was Rosette who answered the phone. Not only did she hide the truth from Homer, but Rosette also kept the line open as she seduced Homer and kissed him passionately, all for Nimfa to hear.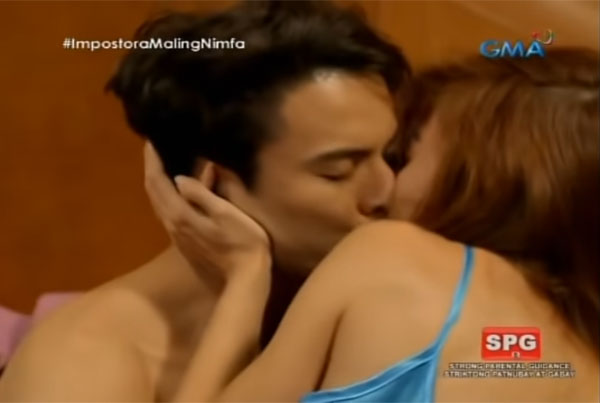 Like Till I Met You, Impostora was also summoned by MTRCB because of the steamy and love scenes that the show aired during its run.