Maureen Wroblewitz updates fans with how she's coping, eight months after her breakup with singer-songwriter JK Labajo.
JK was Maureen's first boyfriend.
On TikTok last Friday, January 20, 2022, the Asia's Next Top Model Cycle 5 winner posted a video of herself singing to Miley Cyrus' latest single Flowers—an ode to singlehood and moving on.
In Maureen's caption, she wrote (published as is): "i've never really spoken about my past relationship but thing song really speaks to me.
"that's the thing about being in a public relationship, no one really knows what happens behind closed doors.
"i have lost myself over the past few years and i'm finally realizing who i really am.
"i am working on myself and healing from past trauma because i don't want to make the same mistakes.
"maybe one day i'll be ready to speak about it because i know it could help a lot of people."
With the post drawing attention from netizens, the Miss Universe Philippines 2021 first runner-up takes the time to respond to a misleading comment, that insinuated a third party was the cause of her and JK's breakup.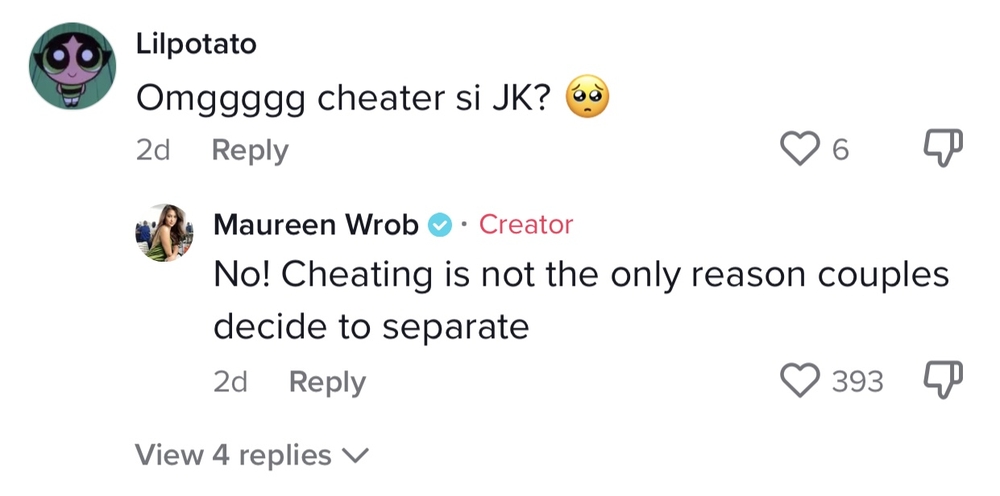 Maureen answered, "No! Cheating is not the only reason couples decide to separate."
maureen wroblewitz: "I was focused on pleasing my partner."
Today, January 22, 2023, Maureen eventually posts a follow-up video to clear the air and address the 'tea': "I am here to say that no, there is no tea to spill. I'm sorry to all the marites.
"I don't think that's fair because I cannot just blame one person.
"The point of my video wasn't to throw shade, but it was focusing on all the things that I have learned from my relationship."
Maureen continues, "I have lost a big part of myself and I'm only now starting to realize who I am and what I want.
"In my past, I have sacrificed my beliefs and my values. I did things that I didn't like. I enabled behaviors that I didn't like. I became someone who I dislike.
"That was because I was so focused on pleasing my partner, that I forgot about myself. I wasn't assertive enough.
"I did not take accountability for what I want, and I'm just learning that I was doing that for years."
While she admits that not just one person is to blame for a breakup, Maureen talks about the importance of acknowledging and handling toxic behavior, and learning to compromise.
"Also a reminder that everybody has toxic traits," she says.
"But what is very important is that we're aware of them, and we're willing to change for the better.
"A toxic trait only becomes a red flag if the person says things like 'Take me as I am,' 'This is just who I am.'
"We were both very young when we got into the relationship, and I don't regret those years.
"From that experience I have learned so many things. I have found out a lot of things about myself, and things that I want for my next relationship.
Read also: JK Labajo posts cryptic message after ex-girlfriend Maureen Wroblewitz flexes new boyfriend
MAUREEN ON BREAKUP WITH JK: "SAD, BUT IT WAS FOR THE BEST"
Still talking about her past relationship with JK, Maureen adds, "It's sad that it didn't work out, but it was for the best.
"The past eight months haven't been easy, and until today I still cry over past trauma.
"But I am healing every day, and I'm working on myself every single day.
"I always wanna have a positive outlook in life. Even though it wasn't the healthiest relationship, again I'm not blaming just one person.
"With every bad thing that happened in our life, I know there's always a lesson to be learned, and that's what I want to focus on."
The 24-year-old model and actress ends her video by stating, "There are a lot of lessons that I've learned, which I will, if you want, I will share with you guys."
Along with her TikTok post, Maureen uploaded an IG story of buying herself flowers after going on a walk, reminding everyone to "do something for yourself everyday."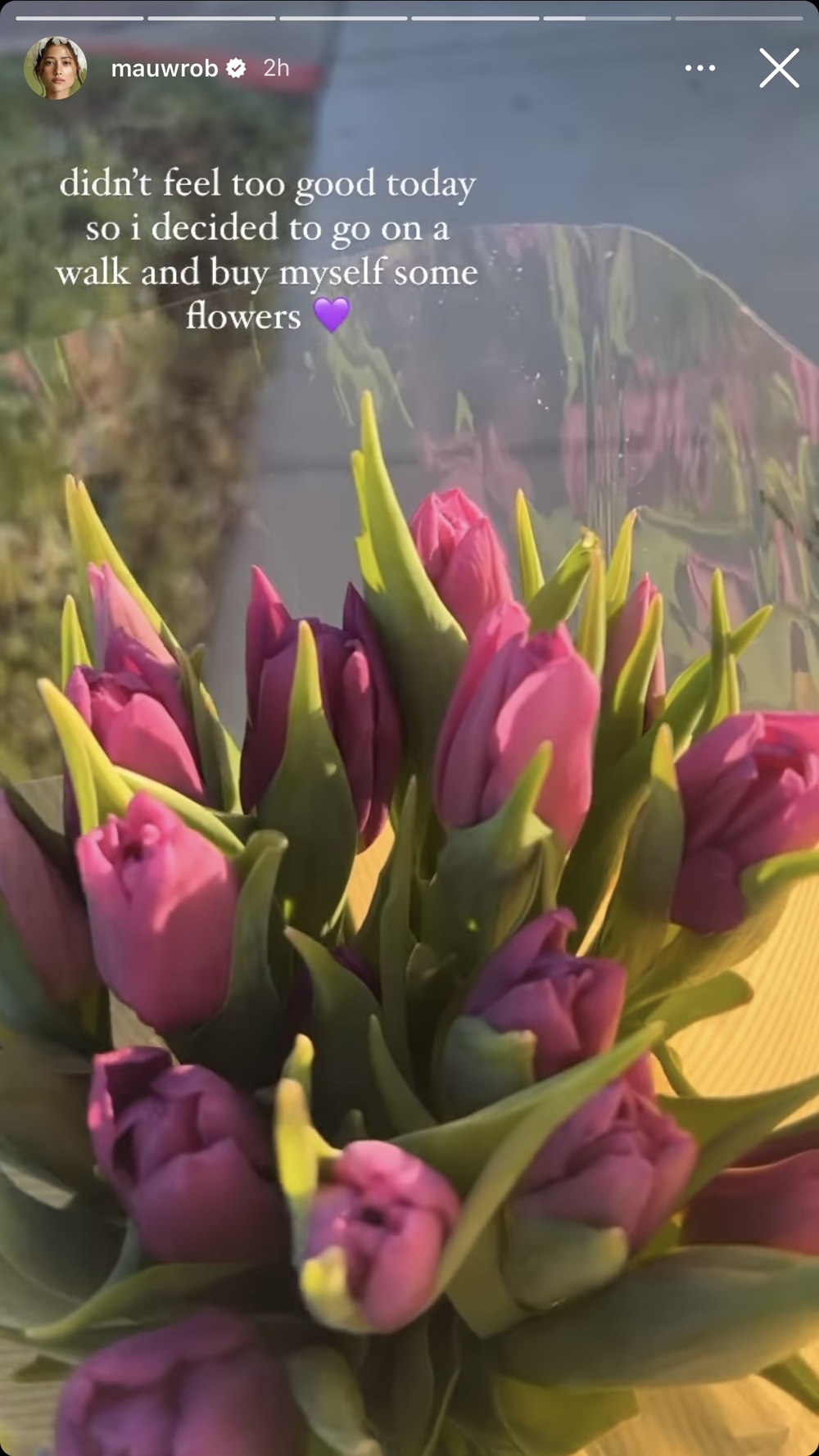 READ MORE: