In 2017, confrontation scenes continued to trend and make noise on Philippine television.
These scenes, which had a rebirth in 2016 since romantic-comedies and light dramas dominated TV, were mostly seen in afternoon shows of ABS-CBN and GMA-7.
To differentiate these scenes from the ones that aired in the past, TV networks injected more campiness and creativity in terms of execution.
A lot of these confrontation scenes became memorable for their witty, quotable quotes.
These famous lines from Filipino teleseryes usually become sources of memes online.
PEP.ph (Philippine Entertainment Portal) selected several fierce, witty, and savage quotes from Filipino TV shows that became popular among viewers this 2017.
IKA-6 NA UTOS is one Filipino teleserye that definitely made a mark on viewers for its campy yet creative execution of confrontation scenes.
The show is known for using various weapons such as nerf guns, balut, gym equipment, photocopying machine, and even lobsters and crabs.
Before each fight scene, the lead characters Emma (Sunshine Dizon), Georgia (Ryza Cenon), and Geneva (Angelika dela Cruz) would have a fiery exchange until one of them loses her patience and starts hurting her enemy.
Sometimes, a physical fight would happen first before the word war.
One such scene happened in a cemetery after Angelo's (Mike Tan) body was laid to rest and Geneva confronted Emma, blaming her for the death of the guy they both loved.
Emma pointed out, "Masakit para sa 'yo ang mga nangyari, dahil kahit hanggang sa huli, namatay na lang lahat si Angelo, wala man lang siyang iniwang pagmamahal para sa'yo. Kawawa ka naman."
A physical fight ensued between the two rivals. Georgia later joined them after she saw Emma hurting her sister.
In the end, both Geneva and Georgia fell in a deep pit.
Emma then told her enemies, "Tawagan niyo na rin kaya si Satanas? Magpareserve na kayo ng slot, dun kayo magpaparty, magsama sama kayo!"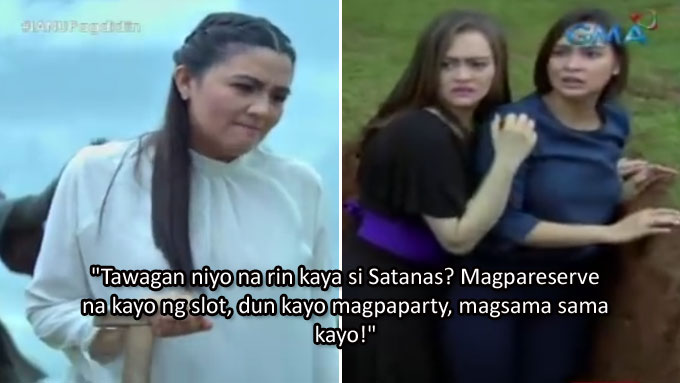 In another scene, Geneva got irritated with Emma after seeing her with her niece Sydney (Angelica Ulap), who turns out to be Emma's missing child.
Geneva asked Emma, "Lamok ka ba noong past life mo? Wala ka kasing ginawa kundi umaligid kay Sydney, e. Wala ka namang point sa buhay niya!"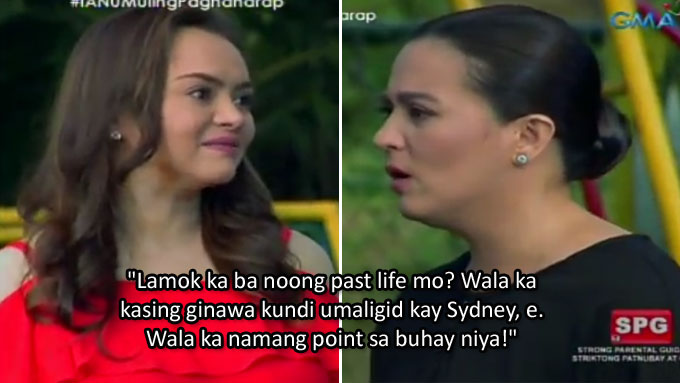 Emma retaliated by tracing Geneva's life in Japan.
She said, "Hindi kasi ako lamok na pwede mo lang itaboy at patayin. Sa ating dalawa, ikaw ang lamok, lamok na may kasamang Japanese Encephalitis."
After a heated confrontation between Emma and Geneva in their office, people were able to stop them.
Geneva then blamed Emma for starting the fight, which is very unbecoming in an office setting.
Emma contradicted her claims and said, "Hoy! Maayos akong pumapasok sa opisina na ito pero hinaharang ako ng sungay mo na kasing haba ng MRT!"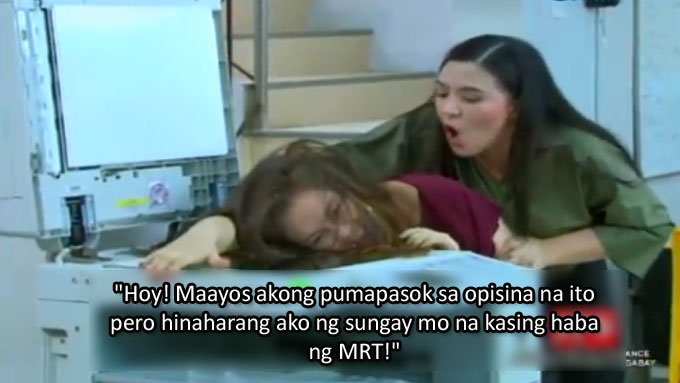 Currently, intense fight scenes can still be seen in Ika-6 Na Utos, which celebrated its first year on the air last December 5.
WILDFLOWER also made a mark on viewers because of the witty word wars between its characters led by Ivy Aguas, who later revealed herself as the real Lily Cruz (Maja Salvador).
In fact, memes surfaced on social media bearing her now-famous two-word line: "Huwag ako!"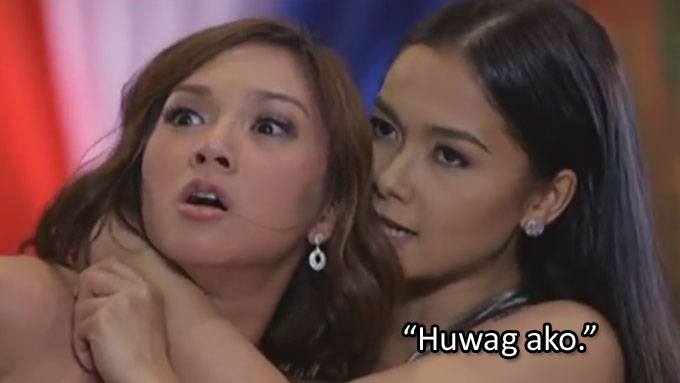 Ivy/Lily often engaged in confrontations against her main nemesis Emilia Ardiente-Torillo (Aiko Melendez).
One instance was when Emilia thought that Ivy would support her in her senatorial bid. Ivy changed her mind and instead, expressed support for Emilia's son Arnaldo (RK Bagatsing).
Emilia confronted Ivy and told her, "You're a two-faced bitch. Noong una, paaasahin mo na ako ang dadalhin mo, tutulungan mo? Pero what? You dropped me like a hot potato!"
However, Ivy was not one to keep silent.
She answered Emilia, "Tignan mo, ang ganda ganda mo, Emilia. Ang ganda ng mga suot mo pero ang boring lang dahil wala kang posisyon, wala kang kapangyarihan!"
She even talked to Emilia's Tita Claire (Isay Alvarez) to insult her further: "Tignan mo siya Tita Claire, mukha na lang siyang kamatis na pabulok na!"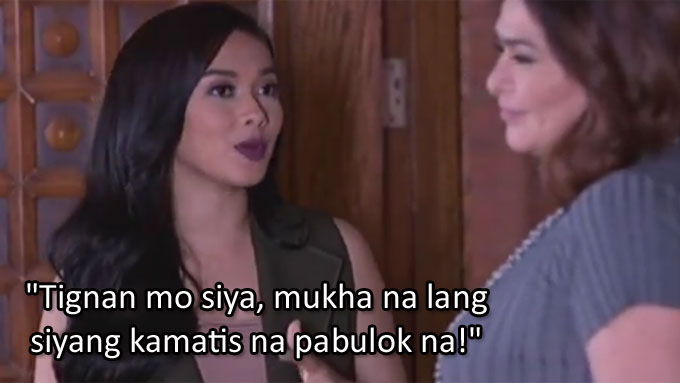 Other characters, such as Nathalie (Roxanne Barcelo) and Camia (Sunshine Cruz), also engaged in word wars with Emilia.
In one instance, Nathalie kidnapped Emilia and tried to kill her. To do it with flair, Nathalie asked Emilia how she would want to die.
She then gave the most gruesome option Emilia deserved: "Better yet, balatan kaya kita ng buhay, at sabuyan ng asido, at saka liliyaban? Para naman bonggang-bongga ang entrance mo sa impiyerno! I like that!"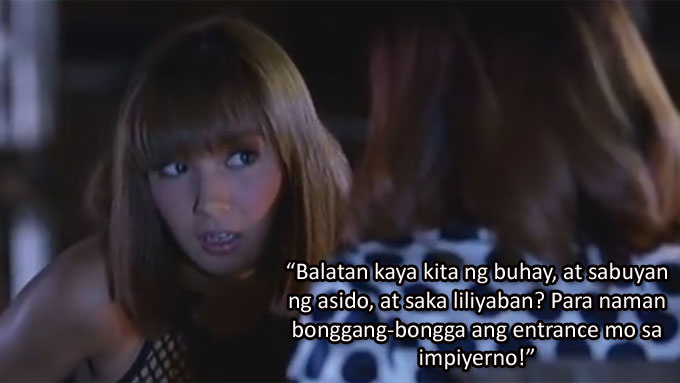 From the start of this Filipino teleserye, Camia already earned the ire of Emilia, that's why the latter decided to give her a "good job," or in simpler terms, kill her.
That's why Emilia was surprised to see Camia resurfacing after many years, and raring to fight against her.
Emilia remarked, "Wow, Bravo, Bravo! Ang tapang, that's what I love. Sabagay, dati nakasalubong mo na si kamatayan hindi ba? Oops… almost. E, paano kaya kung ngayon, gawin ko kayang mas close?"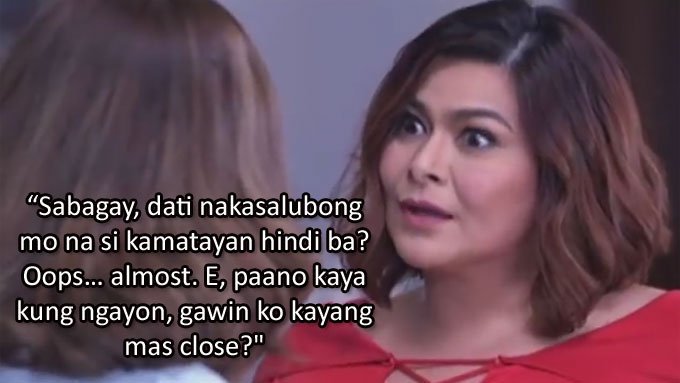 Camia didn't flinch when she referred to Emilia as death incarnate, "Close? Ito na siya, o. Nasa harapan ko na!"
One of the highlights of the show was Lily's fierce lines to the Ardientes upon her revelation that she is the real Lily Cruz while wearing her gold gown!
"Pagluksaan man kayo ng iba pero kayo hinding hindi ko kayo pagluluksaan. Kaya nga hindi ako nakaitim, 'cause black is out, gold is in! Yes, just like gold, I am indestructible!"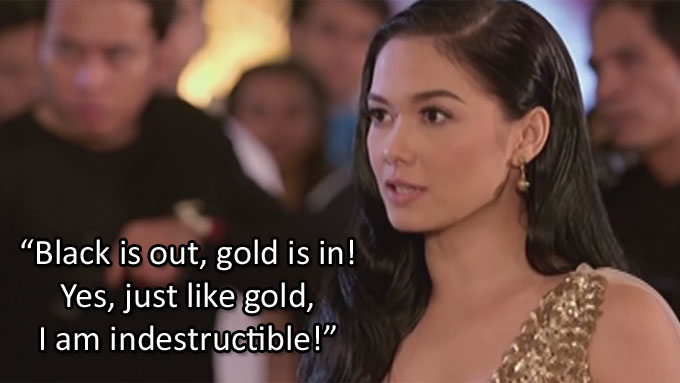 THE BETTER HALF, which aired on ABS-CBN from February to September 2017, did not have as many confrontation scenes as the two shows mentioned earlier.
However, the writers of the show made sure that the exchange of dialogues between Camille (Shaina Magdyao) and Bianca (Denise Laurel) would be witty and intense.
An example of this was when a catfight ensued because Bianca accused Camille of being Marco's (Carlo Aquino) mistress.
The truth is, Bianca just fabricated the whole story about Camille and Marco's "betrayal."
Bianca told Camille, "Alam mo, kung estudyante mo ako, hindi Miss Camille ang tawag ko sa 'yo. Mistress!"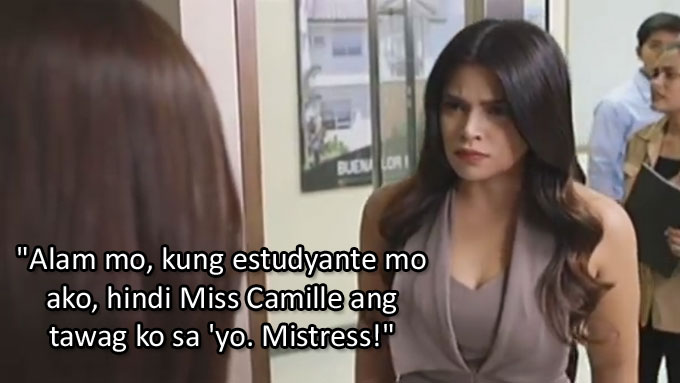 Camille then answered her, "At kung ako naman ang teacher mo, ipapasa kita sa English composition dahil napakagaling mong gumawa ng kwento!"
In their next encounter, Bianca brought a cake to Camille as a peace offering.
After everything that they've been through, Camille didn't believe that Bianca would bring peace to their lives.
Camille claimed that she had no intentions of taking Bianca's husband away from her, and that they are finally pursuing the annulment case.
Bianca promised, "Well, I do hope you win that case, magno-Novena ako para sa 'yo."
Camille was surprised to hear those words from Bianca so she asked, "Marunong ka pala mag-Novena?"
She immediately realized, "Well, kung sabagay, ang demonyo marunong magdasal. Hindi nga lang umaabot sa langit."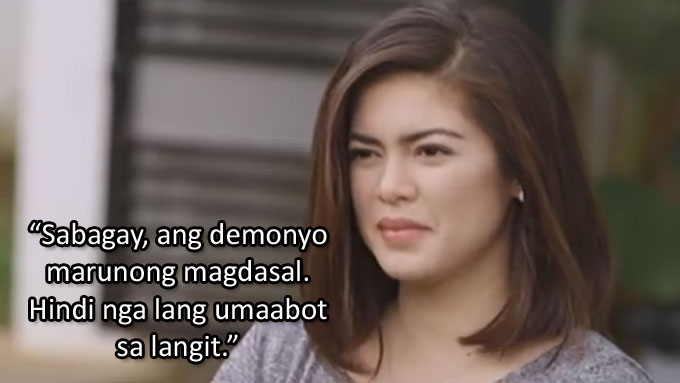 GMA's afternoon drama IMPOSTORA featured a different kind of confrontation scene compared to the other shows mentioned in this list.
It's because the characters involved in fight scenes are only portrayed by one actress: KRIS BERNAL, since she portrays the kind Nimfa and the evil Rosette.
After getting the same face due to reconstructive surgery, the two have become bitter rivals.
At one point, Rosette regretted allowing Nimfa to look like her since she can't have her life back.
Even though she tried to get back what is hers, Nimfa wouldn't allow her.
She told her impostor, "Para kang ipis na nagpi-feeling na maging butterfly. Ang sarap mong tsinelasin para mamatay!"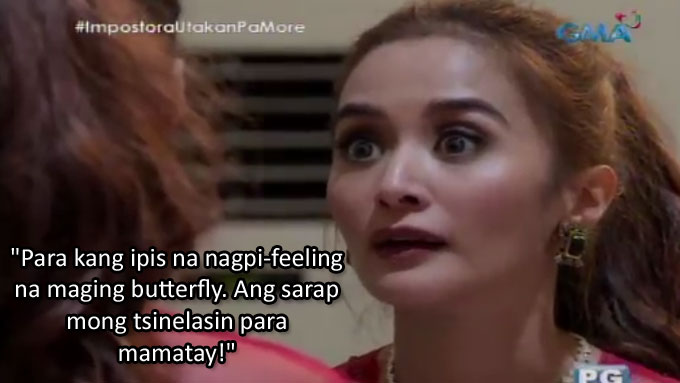 In another scene, Rosette flaunted her sexy body to make Nimfa realize that even though they have the same face, they do not have the same body.
She insulted Nimfa's conservative choice of swimwear.
Rosette said, "Mga tao nga namang walang taste… kahit sarili nilang kabaduyan, hindi nila malasahan."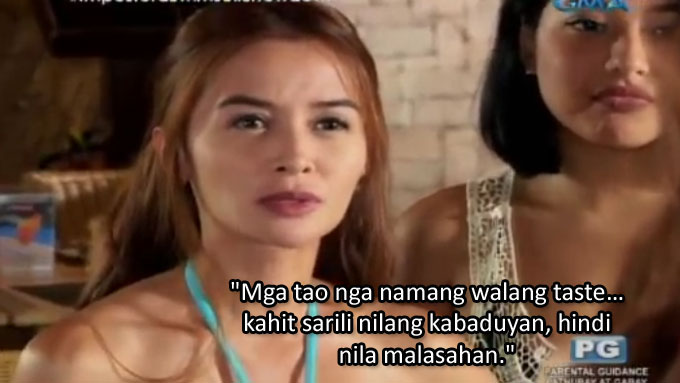 However, Nimfa proved her nemesis wrong when she took off her cover up and bared her equally sexy body.
After hearing Rosette's insults, Nimfa gave her unsolicited advice: "Alam mo Rosette, ang hirap sa 'yo, sobrang ganda mo pero lahat na lang napunta sa mukha mo. Bakit kaya hindi ka magtira diyan sa ugali mo, ano?"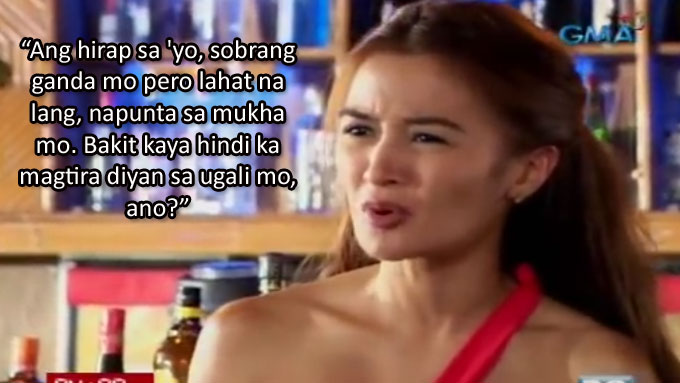 In their latest confrontation scene, Rosette blamed Nimfa for letting her own baby drink spoiled milk.
However, Nimfa and her husband Homer (Rafael Rosell) believed that Rosette is behind the incident.
Nimfa told her, "Paano ba namin pagkakatiwalaan yang ganyang mukha?"
Rosette then reminded her, "Duh? Iisa lang ang mukha natin."
Nimfa then argued, "Yun nga lang, yung sa 'yo, mas makapal."
Rosette then reminded Nimfa about her biggest insecurity. "Oh, because mine is original. And yours is like, Class A—Ambisyosa. Ambisyosang maging ina!"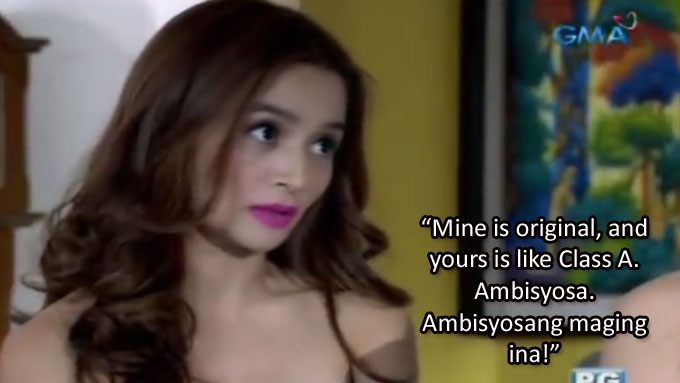 But Nimfa wouldn't let her nemesis have the last word, "E, kaysa naman sa 'yo, Class B! B for baby killer!"
Impostora, which still airs on GMA's Afternoon Prime block, is expected to run until January 2017.
Since the dramedy D' ORIGINALS, produced by GMA News and Public Affairs, talked about the infidelity of husbands, people already expected that it would have intense confrontation scenes between the legal wives and the mistresses.
True enough, this defunct afternoon show featured showdowns between Josie (Jaclyn Jose) and Yvette (Katrina Halili), and Sofia (Kim Domingo) and Alice (Meg Imperial).
What made the show even more interesting were the comedic touches added to the scenes.
One scene was when Josie caught Yvette and her husband Lando (Jestoni Alarcon) doing something by the seaside.
Yvette pulled Josie out of the ocean to admit that she and Lando are having an affair.
Josie then told the mistress, "Ikaw, hindi ka dapat sa tubig alat dahil ahas ka! Anaconda! Dapat dun ka sa bundok!"
Unfotunately, Josie lost the showdown when Yvette said, "Bakit, may ahas din naman sa dagat, di ba?!"
When Sofia saw her husband Art (Archie Alemania) and his ex-girlfriend Alice (Meg Imperial), she was already suspicious.
Though her friends Josie and Marge (LJ Reyes) assured that Art won't leave her for a woman like Alice, Sofia wasn't complacent, especially since Art and Alice were exes.
Sofia said, "Alam niyo ang mga ex, parang kabute. Bigla na lang sumusulpot tapos nang-aagaw ng pwesto."
She approached Alice to confront her.
The wife picked at the changes Alice went through: "Ikaw, malandi kang babae ka, pumayat ka lang, naging higad ka na!"
However, Alice retaliated by saying, "At least ang higad, nagiging butterfly. Ikaw, ahas. Kahit balatan mo, ahas pa rin!"
Of course, a big catfight happened right after!


GMA-7's remake of PINULOT KA LANG SA LUPA was highly anticipated for its iconic pool scene. In the original version, Maricel Soriano and Lorna Tolentino had the showdown. In the TV adaptation of Pinulot Ka Lang sa Lupa, Santina was brought to life by Julie Anne San Jose while Angeli was played by LJ Reyes.

Angeli took off her towel, revealing her backless bikini to match Santina's one-piece striped bathing suit.

Angeli told her nemesis, "Bilib din naman talaga ako. Saan ka ba kumuha ng Masters' degree on social climbing? Kasi ang bilis ng promotion mo.

"From a kusinera to Ephraim's girlfriend at ngayon, donya-donyahan ka pa dito. Nagsiswimming ka nga sa pool namin!"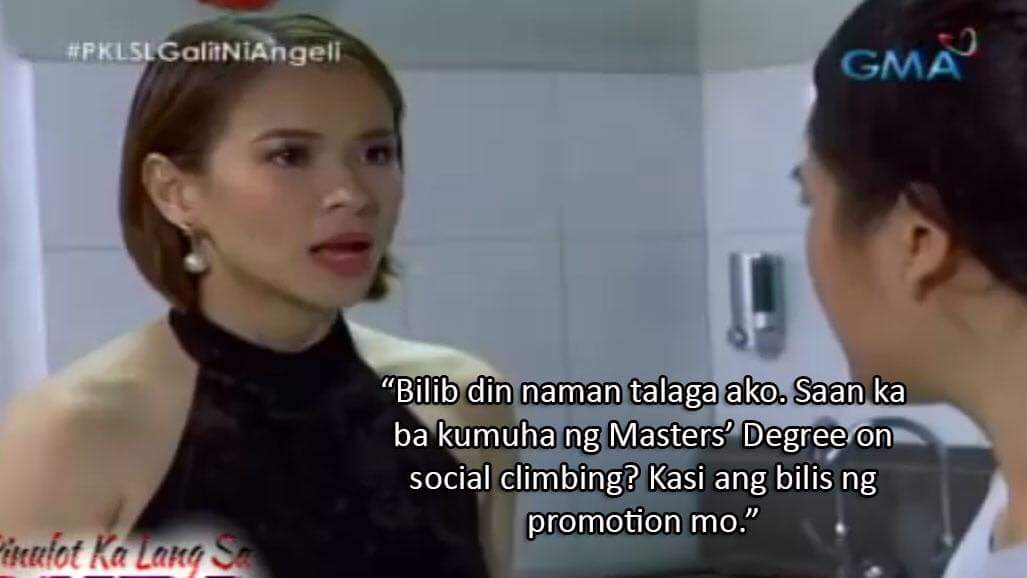 (Read: 10 Famous Lines from Filipino Teleseryes)
PEPsters, what were your favorite quotes from Pinoy TV shows this 2017?
Share your thoughts in the comments section below.
All photos from ABS-CBN and GMA-7.