A generation of OPM fans are in for a treat because the band Eraserheads just made a big announcement.
The still widely-popular disbanded group revealed today, November 20, that they are releasing a special remastered edition of their debut album Ultraelectromagneticpop!, released 25 years ago in 1993.
Yesterday, November 19, Eraserheads frontman Ely Buendia posted on Twitter and asked his followers to follow his Instagram account, as well as the social media accounts of Offshore Music Philippines for an important announcement.
The enigmatic singer then followed up with another tweet, "Trust me, you don't wanna miss this."
Fans of '90s music were not disappointed because this afternoon, as promised, Ely uploaded a painted rendition of the Ultraelectromagneticpop! album cover.

However, there was a noticeable difference: the album name is located at the bottom of the cover, in colorful block letters.
The remastered edition, out on Spotify and other digital streaming platforms on November 23, was done by award-winning American audio engineer Bernie Grundman.
It will be released by Sony Music and Offshore Music.
Ely uploaded the new album cover in bits and pieces first, teasing the band's followers and getting them into a tizzy.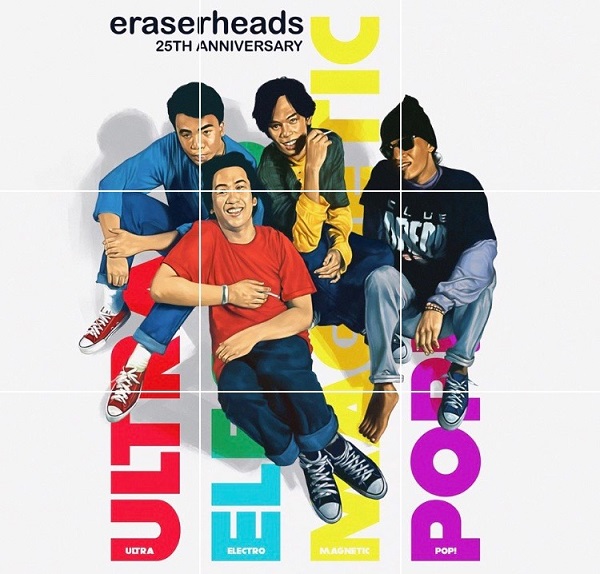 Loyal supporters were quick to guess what it was though, even with just the art text "POP!" and a part of a sneaker peeking through the first photo posted.
But guesses abound as to whether the band is reuniting again in a concert, or releasing a vinyl record.
The excitement shot up a notch when the other band members, including drummer Raimund Marasigan and bassist Buddy Zabala, uploaded photos of Chuck Taylor sneakers on their respective Instagram accounts.

The Eraserheads all wore Chuck Taylors on the original album cover.
Lead guitarist Marcus Adoro, meanwhile, reposted Ely's Instagram uploads and captioned the first one with, "Magdala ng 2 valid ids."
Offshore Music also asked asked their followers via Instagram Stories about their favorite Eraserheads album.
One of the most famous Filipino bands of all time, Eraserheads shot to fame in the early '90s and enjoyed success until the early 2000s, churning out alternative rock hits like "Magasin," "Alapaap," and "Ang Huling El Bimbo."
Ultraelectromagneticpop! included many fan-favorite songs such as "Pare Ko," "Toyang," and "Ligaya."
The group disbanded in 2002 and went their separate ways. The members then became part of other bands.
In 2008, they staged their reunion concert. The supposed one-night-only concert on August 30, 2008 was cut short when Ely was rushed to the hospital after suffering chest pains. The band then restaged the concert, dubbed The Final Set, at the Mall of Asia concert grounds on March 7, 2009.

The band continued to perform periodically in tours abroad from 2012 to 2014. In 2016, they had a surprise performance during an event for a telecom company.
Should we hold our breath for upcoming gig announcements?