On a rare occasion, Maricel Soriano and Zsa Zsa Padilla were seen together on screen.
This happened during ABS-CBN's 2018 Christmas station ID, where the two actresses were seen standing beside each other.
Maricel and Zsa Zsa were co-stars in the 1994 film Minsan Lang Kita Iibigin, where they played friends-turned-rivals. Zsa Zsa's character had an extramarital affair with Maricel's husband, played by Gabby Concepcion.
In the movie, Zsa Zsa portrayed Monique while Maricel's character was named Terry.
This movie became famous for Maricel's popular line "Huwag mo 'kong ma-Terry Terry!" to Zsa Zsa during their bloody confrontation scene.
A netizen with the Twitter handle @eunanga posted a screenshot of Maricel and Zsa Zsa's hugging moment at the station ID.
She wrote in the tweet, "Ito talaga ang totoong highlight ng ABS CBN Christmas Station ID this year. Ang pagbabati nina Monique at Terry. Charot."
As of this writing, the tweet has already received 631 retweets and 5,618 likes.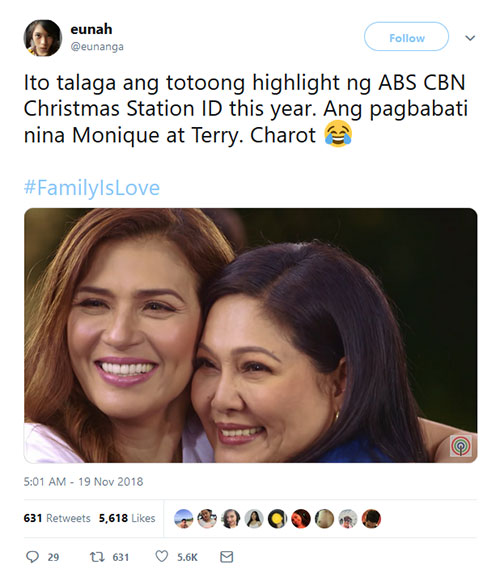 Another netizen, using the handle @RealBugs17, replied with an Instagram Story version of the photo with the caption: "wag-mo-kong-ma-terry-terry kind of X-mas."
The netizen also added a knife emoji to the picture.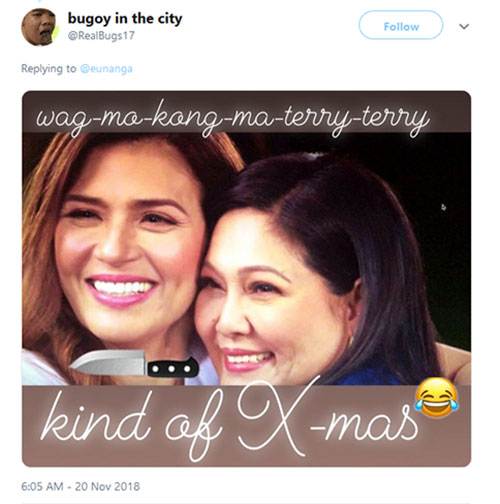 "TERRY" CONFRONTATION SCENE
The confrontation scene of Maricel and Zsa Zsa in Minsan Lang Kita Iibigin is considered one of the earliest legal wife-mistress face-offs in Philippine cinema. The scene eventually became a viral meme in the Internet age.
In that scene, Terry (Maricel) went to Monique's (Zsa Zsa) house to ask if she is having an affair with Dave (Gabby Concepcion), Terry's husband.
The two talked in the kitchen, where knives are easily accessible.
Terry asked her best friend, "May relasyon ba kayo ng asawa ko?"
Monique asked back, "Relasyon?"
Terry explained, "Relasyon. Kerida, kabet, number two, mistress, relasyon."
Monique raised her voice a bit as she called her name: "Terry."
Terry became furious and shouted, "Huwag mo 'kong ma-Terry Terry! Yung tanong ko sagutin mo! Are you f*ck*ng my husband?!"
Monique paused before admitting: "Minsan!"
The mistress tried to explain her side, but Terry was so angry that she grabbed a knife and threatened to stab her best friend.
Monique tried to stop her, but the infuriated Terry did stab Monique numerous times until she bathed in her own blood.
People who haven't seen the movie might think that Monique died because of the incident, but she survived.
In the end, Monique left the country for good while Terry and Dave settled their differences and started anew.
Here's a video of Maricel and Zsa Zsa's confrontation scene in Minsan Lang Kita Iibigin: