Drama filled the latest live episode of Pinoy Big Brother Otso tonight, December 16, as this week's Decemversus challenge led to the eviction of Ali Abinal.
The 16-year-old MMA fighter from Las Piñas gained many haters due to his actions during the Decemversus challenge. PBB viewers called him dishonest and even a traitor for turning his back on his fellow teen housemates.
Thus, it was not surprising when Ali garnered the very least amount of SMS votes to save in this season's history. He only received 1.69% of the public votes, while his four co-nominees all got above 20%. Seth got the highest percentage at 29.88%, while Lie got 23.78%, Jelay got 22.68% and Karina got 21.97%.
Meanwhile, the ABS-CBN reality show also revealed the last Star Dreamer from Camp Star Hunt that became a teen housemate. It was Missy Quinio, the 17-year-old academic achiever from Cebu, whom the public chose to move into Bahay ni Kuya.
Missy got 37.49% of the public votes. She beat her seven fellow Star Dreamers: Kurt (35.10%), Lienel (5.84%), Gian (5.77%), Sansan (5.10%), Achilles (4.59%), Gabby (3.95%) and Krist (2.17%).
A twist was also revealed. Since Missy is the last Star Dreamer who can become an official housemate, the remaining Star Dreamers in Camp Star Hunt have a new job. They have to help Kuya test the teen housemates by becoming house players.
Then there was a last twist. Aljon Mendoza, a teen housemate who was evicted last week, will enter Camp Star Hunt to get a chance to become a house player.
HOW ALI WAS EVICTED.
The main twist of PBB Otso is that there are two houses. The first one is Bahay ni Kuya, where there are eight teen housemates. The second is Camp Star Hunt, where there are eight Star Dreamers.
Star Dreamers are teenagers who also auditioned for the show but they did not make it into Bahay ni Kuya. Instead, they have to compete in challenges in the Camp to be able to move into the main house. Every week, one of them becomes an official housemate to replace the housemate who gets evicted.
In the past week, there are already three teen housemates who came from Camp Star Hunt. They are Rhys Eugenio, Reign Parani, and Ali Abinal.
Since the three are not teen housemates originally, they had a hard time getting along with the housemates who entered on day one. They feel a better sense of kinship with the Star Dreamers that they left behind.
Thus, Rhys, Reign and Ali faced a dilemma when Kuya revealed to them that the housemates' opponents for the Decemversus were their old family, the Star Dreamers in Camp Star Hunt. Kuya told them that if the Star Dreamers win Decemversus, two of them would enter the house because two housemates would be evicted.
After some consideration, the three housemates decided to stop helping their five fellow housemates—Lie, Seth, Karina, Kaori and Jelay—so that the Star Dreamers will have better chances to join them in the PBB house. The three were even allowed to physically help Star Dreamers in the Decemversus challenges.
This decision angered many viewers. There were a lot of PBB fans posted in social media that Rhys, Reign, and Ali are "traitors" because they had actively ruined the chances of their fellow housemates to win Decemversus. Many also said the decision was unwise because it would only lead for the three of them to be nominated and eventually evicted.
In th end, Ali was nominated along with Jelay, Seth, Karina and Lie. Rhys and Reign escaped nomination along with Kaori.
Ali got the most nomination points at 10. He was nominated by Seth, Kaori, Reign, Jelay, Karina and Lie for his decision to go behind the housemates and for his hurtful jokes.
Lie got six nomination points. She was nominated Kaori, Jelay, Karina and Rhys for not acting more like a leader for the Decemversus task, and for not listening to the advice of older housemates.
Seth, Jelay and Karina received two nomination points each. Ali and Rhys gave one point each to Seth for his laziness and hurtful jokes, Reign gave two points to Jelay for hiding her true feelings, and Ali gave two points to Karina for not listening to his reasons.
Ali may have come out to cheers during the live show, but netizens were not as kind.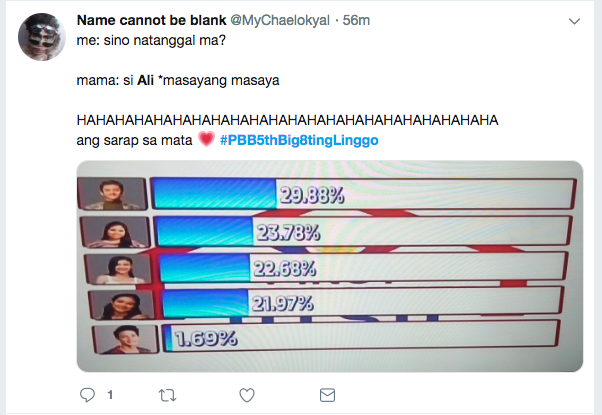 PEP.ph is open to any statement from Ali regarding this backlash for his appearance in PBB Otso.