Shay Mitchell and Penn Badgley, the lead stars of Netflix's new series YOU, are currently in the Philippines to talk about their Hollywood project.
The two stars faced members of the Philippine media during their "In Conversation with YOU" event held earlier today, January 14, at The Peninsula Manila.
Shay, who rose to fame via the hit series Pretty Little Liars, marks her third time to visit the Philippines. Meanwhile, this is Penn's first time in the country.
As part of their visit to the Philippines, Shay and Penn had a chance to eat the famous Filipino dessert, halo-halo.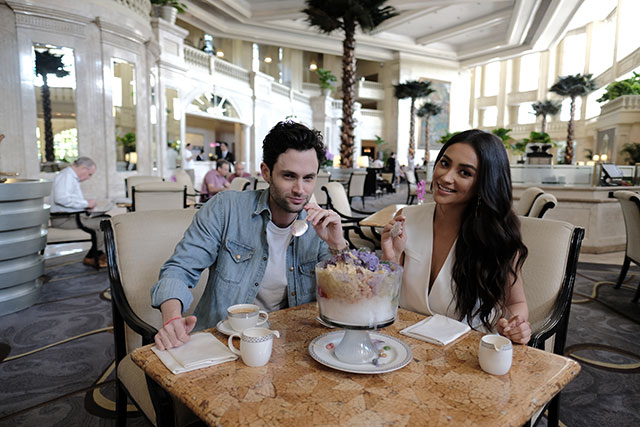 During the panel discussion, Shay and Penn gave their insights about social media, which is part of YOU's milieu.
In YOU, Penn's character Joe used social media sites to stalk a woman named Beck (Elizabeth Lail).
According to Shay, it is important for social media users to be aware of the difference of reality and "people's highlight reel."
"I think as long as you can use it in a way to know that the images you are seeing are people's highlight reel, it's not reality.
"It's the best of the best moment of that day, that's been curated and perfected and filtered a million times. If you could go into it knowing that, then you can use it appropriately."
Shay isn't new to projects tackling social media issues because Pretty Little Liars also discussed it in some episodes.
She pointed out, "I feel like my previous show kind of touched on using technology and social media a little bit, but when I ready the script [of YOU], I was like, 'Wow, the show is really using what's available—these social media platforms, it's really using, showing just how we use it today."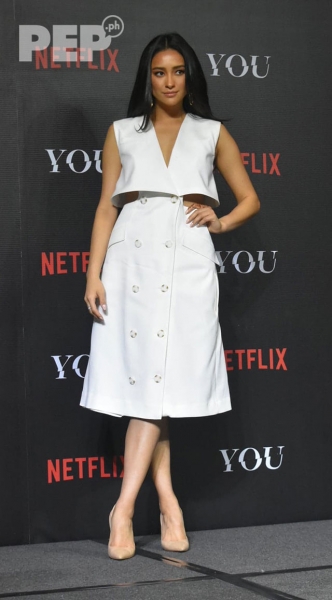 Penn, who is known for his Dan Humphrey character in Gossip Girl, believes that the actions of his character, Joe, are becoming common on social media.
"I actually think what Joe is doing is, in a way, quite normal, that's the most disturbing part. He really isn't doing anything that's super high tech.
"I think, in a way, Joe is like, 'I'm courageous. Everyone else is doing this behind close doors with their phone but I'll do it in real life because I'm brave!'
"His logic is interesting. I think Joe reveals the unsettling logic that actually lot of us are following, in the worst way in social media.
"But I think, in the best way, it is a tool and there's nothing inherently wrong about the tool at all."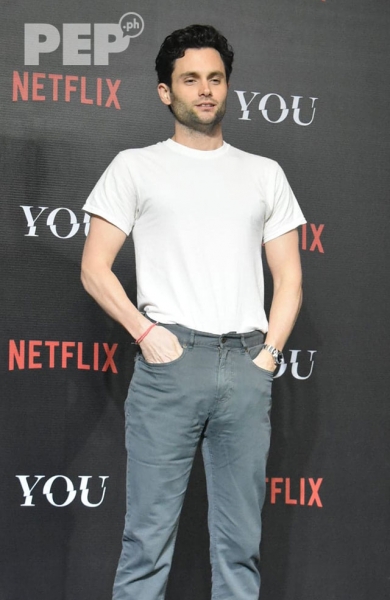 With his use of social media, Penn said, "I really admire people like Shay who have an authentic relationship, it's like fluid. See me when I'm trying to do something on social media? It's pathetic."
YOU CHARACTERS
Host Joyce Pring then asked Shay and Penn to describe each other's characters in YOU.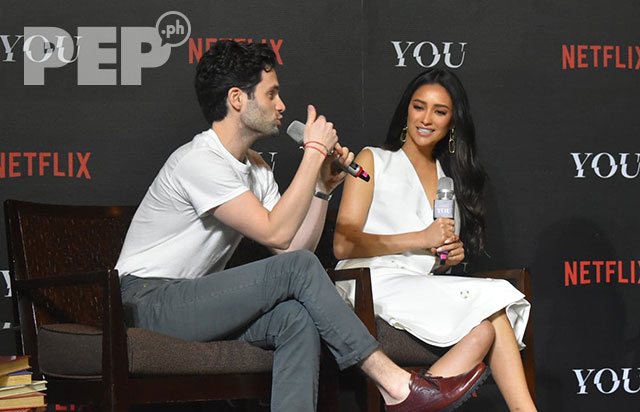 In the series, Shay plays Peach, one of Beck's friends who has a complicated relationship with her.
Penn said about Shay's character, "She's quite sensitive, she's longing for human connection. She's strong, she's extremely strong, she's extremely smart. She's successful. She's almost like a detective, actually. And she looks like Shay Mitchell, so it's not bad!"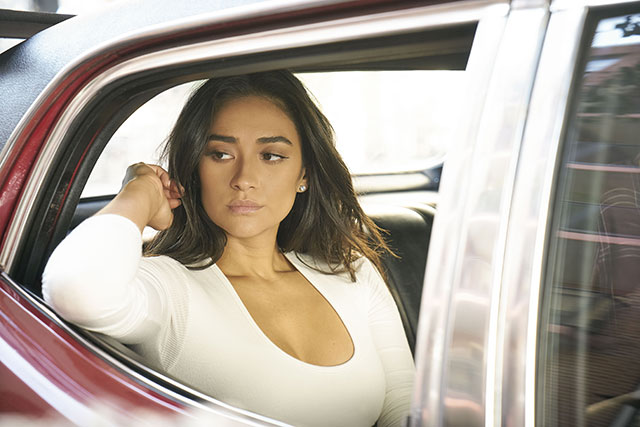 When it comes to Joe, the lead character in the series, Shay had a lot to say about him.
She explained, "With Joe, this is what I always ask my friends, because you know, [they say], 'Is it bad that I find him attractive?'
"No, because you're looking at this [points to Penn], so yes.
"If it wasn't that case, you'd find it very creepy. But I would say that Joe is a psychopath, I mean he is.
"And I have to be honest because I have to fend that side of him because so many people are falling in love and, wait, are we watching the same show?
"I know he has a lot of likable characteristics to him, but you can't have the rest of it not be seen. You know, he killed people!"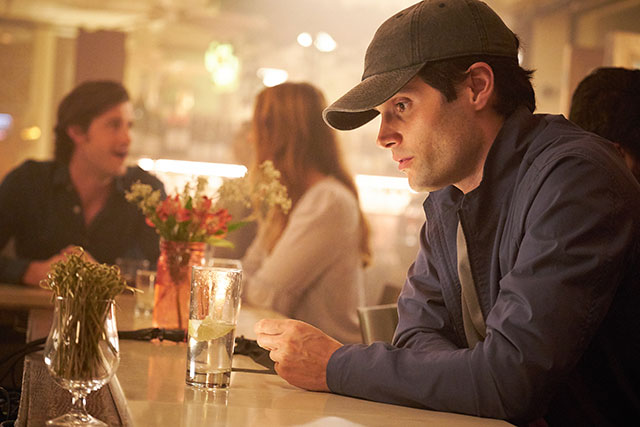 Penn added, "But I also think that real people do have this psychological profile, people who are really capable of stuff like this, they often can be quite charming.
"And if they're attractive, I think that's definitely part of what we're trying to think about of this show, like, how far are we willing to go to forgive an evil white man? Quite far, apparently!"
Shay admitted that she enjoys playing an edgy character, which is very different from her Emily character in Pretty Little Liars.
In Pretty Little Liars, Emily is known to be sweet, loyal, and kind-hearted.
Talking about the difference between Emily and Peach, she said, "The writing on our show [YOU] was so incredible, it was so funny, her lines.
"And I played such a nice, sweet, character for so many years that to be able to play on the other side, I enjoy.
"I get why people enjoy playing the bad girl, it is fun. And just to have that sort of back and forth with Penn's character, it was hilarious. I really enjoy playing her!"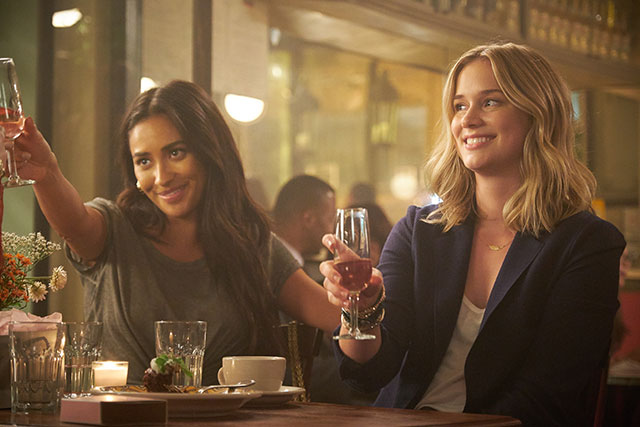 FILIPINO WORDS
At the end of the panel conversation, Joyce asked Shay and Penn to say "Mahal namin kayo."
Shay, who is a half-Filipina, then recalled her Filipina mom's reminder before arriving in the Philippines.
The 31-year-old actress-vlogger said in jest, "I only know the bad ones. Literally my mom was like, all those words you heard me saying in the house, do not repeat them when you go to the Philippines!"
After saying "Mahal namin kayo" perfectly, Shay and Penn also did the pose for finger hearts!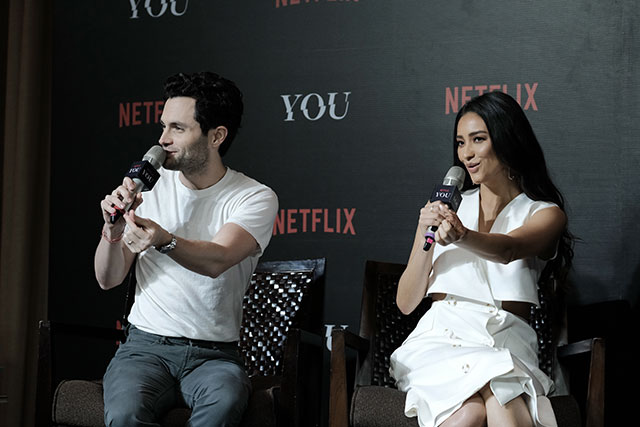 Tomorrow, January 15, Penn and Shay will take part at a special fan event at The Greenbelt Gallery in Greenbelt 5, at 5:30 p.m.
The venue will be set up like Mooney's, the fictional bookstore where Joe works in the series.