In what seemed to be a response to curious followers, Maricar de Mesa posted on Instagram a photo giving a glimpse of her baby's father.
It was a side-view shot of her beau kissing the actress' baby bump.
Maricar did not give further details.
On the caption, she simply said, "Happy birthday to this soon-to-be daddy."
It may be recalled that Maricar began showing off her baby bump over a month ago at a fashion magazine's silver anniversary event.
But it was only this week that news websites reported about her pregnancy, and asked, "Who's the father?"
Based on one of the comments on her recent Instagram post, a certain @ivysuason seemed to know the guy's identity.
She wrote, "Isn't that the model / actor Graham?"
Another follower with handle @beachslap confirmed, "@ivysuason it's definitely him. isn't he just 25? going 26?"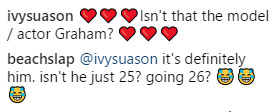 Maricar has yet to respond to PEP's private message sent to her last Thursday, May 11.