Sharon Cuneta clarified her earlier Facebook post where she wrote about "owing so much money" and being "the poorest, most cash-strapped billionaire."
In another lengthy Facebook post today, May 16, Sharon said that she is financially capable of paying her obligations, but with liabilities, mostly in her prime real estate investments.
The Megastar reiterated that she's okay and there's nothing to worry about.
"Specifically for those I do business with. Don't panic utang na loob! Hahaha!
"On May 14, I wrote, 'In the past few weeks I've had two people die on me. A favorite auntie is sick. The start of filming for my movie with Star Cinema has been moved to September. I owe so much money (on very good investments not stupid stuff) and I have NO ONE IN THE WORLD TO HELP ME. I am probably the poorest, most cash-strapped billionaire you know (!). Etc., etc., etc.' (By the way, all my utang is for very prime real estate investments. Nothing else.)
"(Today I write: I already said in so many words that this is to correct those who've already come up with their own conclusions about my first post (May 14). I hope this is enough.
"If you don't understand, please ask someone who knows about investing in real estate, being liquid, timing, forecasts, cash flow, etc.. Thank you.
"Besides, over my lifetime, it has always been other people who have caused me problems. My decisions have always been responsible, as all of ours should be.)
"Apparently, some people became so concerned, mostly thinking that I had no more money left (especially to pay for my obligations!)."
The 51-year-old singer-actress further explained: "Okay -- please understand that when wealthy (derechahan na, walang halong pagyayabang na kahalo but only stating facts and, well, matter-of-factly. Napaka-arte ko naman if I make pa-cute pa when you know naman I was born with the proverbial silver spoon, etc., etc.!) people say they owe money and have no one to help them, all they mean is that 'THEY HAVE NO ONE TO HELP THEM,' and that 'THEY ACTUALLY HAAAAAAAVE MONEY TO PAY FOR WHAT THEY HAVE TO (KAYA NGA NAKAKATRAVEL PA NG 'MAGANDANG' CLASS SA EROPLANO PAPUNTANG IBANG BANSA!), BUT JUST DO NOT HAVE ENOUGH CASH TO BUY THEIR DREAM HOUSE IN, LET'S SAY AMERICA, WHICH COSTS ANYWHERE BETWEEN UNDER US$4 MILLION TO US$15 MILLION.
"(I'm NOT telling you how much my dream house costs!:-))"
Sharon traveled alone to the United States without disclosing the reason behind it.
MUCH RICHER THAN DAD. In her post, The Voice Teens coach also clarified that she is really "matipid" in spending her hard-earned money.
Sharon also disclosed her secret in getting wealthier than her dad, the late Pasay City Mayor Pablo Cuneta.
"All it means I guess is that you are just smarter about what you buy now, and about the timing of things. O-K-A-Y?!!! I just wish my Dad was here to help me.
"He always took care of everything. But wait -- ay, modesty aside -- I became much wealthier pala than my Daddy. Nyahaha.
"Because I LEARNED about stuff like real estate from him! I have a knack for it, apparently. And I'm really matipid. I wouldn't buy a Benz if I couldn't afford to buy 10.
"And I don't own luxury cars kasi only I, my bags and books lang would fit! I have working vehicles. And my E150 is 150 years old.
"Which means I don't buy a new vehicle just because there's a new model. But I do save more than I spend so I spoil myself (we are the masters of our money, it should never be the other way around. And that can only happen if you manage your finances well.)
"Please don't worry. Just please don't kidnap me. Kasi all my cash is nakalaan for my pambayad utang, and wala po akong maibabayad sa ransom kundi titibagin pang cemento at bakal!"
"MEMA. MEMASABI LANG." In the comment section, an avid fan suggested that she should have handled the matter in private.
Part of the follower's comment read: "Go to a secluded place, pray to God and after tyou talk to Him, you might get the serenity you're looking for.
"You don't owe us, your fans, an explanation.
"These things should be dealt in private."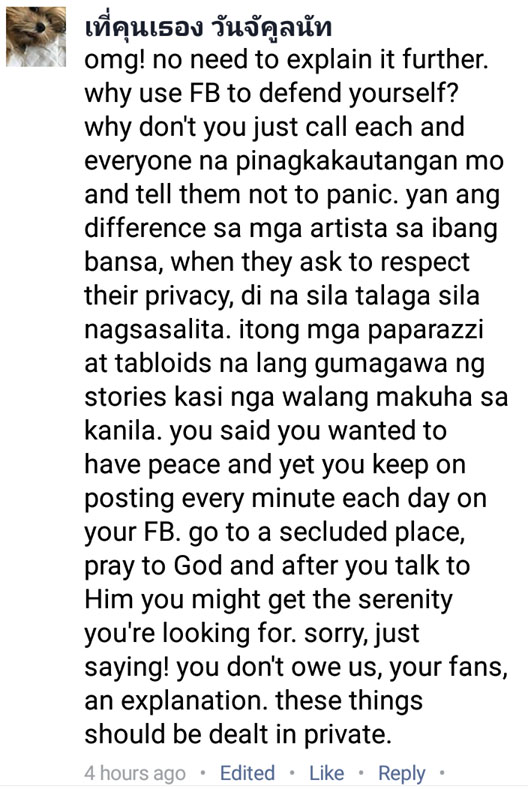 To which, Sharon replied, "Mema. Memasabi lang."

That same follower expressed happiness after the Megastar's reply.
The netizen said: "I will still pray for you, even if mema lang ako.
"All these things you have, you need not have to flaunt.
"God knows what you're going through and He's the only One who could help you not us."