Ellen Adarna has posted on Instagram a quote by Australian writer Beau Taplin warning about being used by manipulative people.
The 29-year-old Cebuana posted the quote last night, September 28, around the same time she deleted her Instagram photos showing her and rumored flame John Lloyd Cruz getting down-home cozy.
Taplin's quote reads: "Immediately leave behind those who use manipulative behaviour to convince you to change or lose your identity.
"You are not putty to be played with or a project to be perfected, but a magnificent and unique manifestation of the universe.
"You have the right and responsibility to Yourself."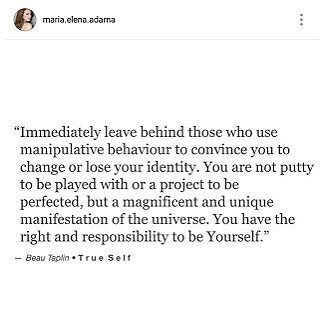 DELETED POSTS. The post seen above, however, has been deleted from Ellen's Instagram feed since this writing.
Both Ellen and John Lloyd have also taken out photos from their respective Instagram accounts.
The photos, which showed the rumored sweethearts huddling and cuddling together, had gone viral and were seen by the actor's 120,000 followers, the sexy star's 2.8 million followers, and hundreds of netizens peeping at their feeds.
Are the two Home Sweetie Home co-stars now trying to cool down the heat generated by their online display of mutual affection for each other?
JOHN LLOYD'S "TRUTH." John Lloyd, however, continues to post random photos and videos on his Instagram account.
His Instagram post today, September 29, shows a contemporary art work of a human figure holding a knife to his or her head.
His short caption reads, "t. Ru .tH"
Another photo shows a facade of a house, with the actor's caption, "Wising i survive"