Weeks after their Bantayan Island videos went viral, Ellen Adarna has posted on Instagram a selfie video showing her and rumored boyfriend John Lloyd Cruz nursing a "hangover from hell."
As seen in the video, Ellen pans the camera to the right showing John Lloyd, who's lying beside her in bed and tinkering with his mobile phone.
Below are some screencaps: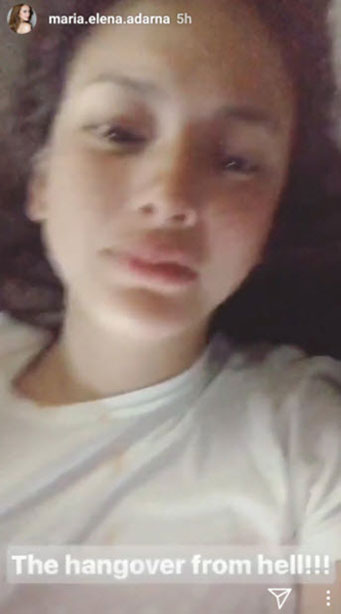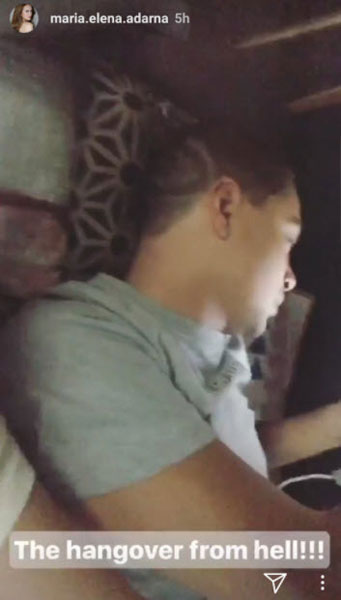 Then, the 29-year-old sexy star points the selfie video back to her face and shows what seems to be her just-woke-up look sans makeup.
Ellen posted the video via her Instagram story at around 9:30 this morning, October 2.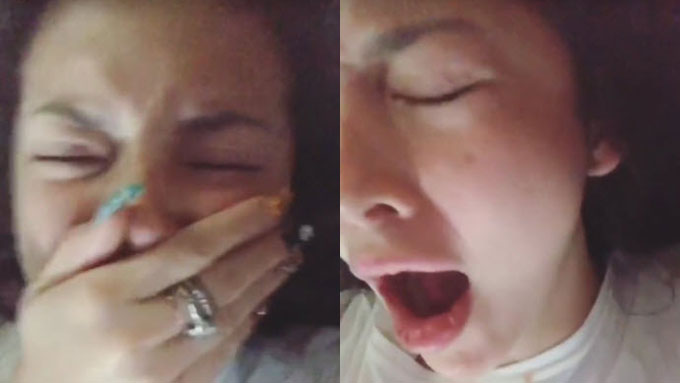 In a separate video, Ellen gives an unabashed glimpse of how she looks the morning after a hangover, with her messy hair and I-can-barely-open-my-eyes look.
Describing her current state, Ellen tells her Instagram followers, "I'm so hangover. I don't know what to do with my life."
Her Instagram story also carried this caption: "Fast forward to tomrw pls!"
It is not clear if the photo was taken at either Ellen's place or John Lloyd's apartment or at some other location.
Only that John Lloyd has a separate Instagram post expressing his shock at finding a woman's hair extension cluttered on his bed last night, October 1.
SOLO FLIGHT. Earlier that day, both John Lloyd and Ellen resumed posting photos where they can be seen getting down-home cozy with each other.
Last Thursday night, September 28, the rumored couple made headlines after they deleted all their sweet photos on Instagram, fueling speculations that they could be downplaying their controversial-but-still-unconfirmed romance.
Then, on the night of the Star Magic Ball, John Lloyd went solo.
He flew under the radar by skipping the red carpet and the holding area where entertainment reporters were allotted time to interview celebrity guests.
But he did make an appearance at the annual star-studded event of ABS-CBN's talent arm, Star Magic.
Ellen was a no-show for still unknown reasons.
"F*CK FAKE NEWS." Although John Lloyd attended the ball without Ellen by his side, the actor seemed to have spent time with her a few hours after the ball.
The 34-year-old actor showed, in his own Instagram story, a video of himself and Ellen holding hands while taking an early-morning walk at an undisclosed residential area.
Their faces were obscured and only the shadows of a guy and a long-maned girl can be seen in the video.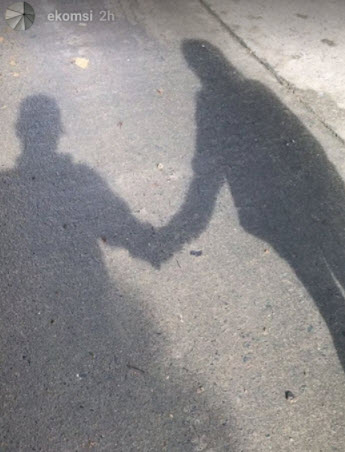 Later that night, John Lloyd posted a picture of himself and Ellen looking happy while eating a festive meal.
His caption was short, but firm: "f*ck fake news"