John Lloyd Cruz and Ellen Adarna seem to be taking their relationship to the next level: they've gone on an ocular visit to a home.
Speculation is rife that this could be their future home as a couple.
Thus far, the two have not said anything about the news that they're expecting their first child.
Neither have they confirmed talk that they're already engaged, with John Lloyd reported to have given Ellen a P3-million diamond ring.
And now John Lloyd, 34, and Ellen, 29, have their Instagram followers guessing about them yet again with their latest Instagram posts showing them doing an ocular of a still-vacant property in an unidentified location.
It started with the couple's identical Instagram posts of a property in a wooded area overlooking mountains and trees.
John Lloyd's caption was short but telling: "mine. yours."
Ellen was a little more to the point, writing "Our Future view," followed by house emojis.
OCULAR OF THEIR FUTURE HOME? Ellen also posted Instagram stories showing videos of herself and John Lloyd in a makeshift pedicab on their way to the property.
The couple were clearly in high spirits. John Lloyd called Ellen by their term of endearment as they took their joy ride in the woods.
John Lloyd, looking camera-ready, told Ellen, "Hi, Love!"
The occasion was also the first time John Lloyd's elder brother, Allan Cruz, and two other male relatives were seen in the company of Ellen.
John Lloyd's own Instagram post showed that they stayed at the actor's still-vacant property until nighttime.

MORE CLUES FROM ELLEN'S FRIENDS. Meanwhile, a number of Ellen's closest non-showbiz friends reacted to the sexy star relocating to her "future home" with John Lloyd.
Ellen's friend, Nivien, commented, "Future home"
Nivien pointed out that Ellen's pet cats are also "migrating" to a new home.
"Migrate nasad silang Catring and Diablita (migrate na rin sila Catring and Diablita)"
Ellen agreed that she is bringing with her all her pets.
"@nivien tanan pets besh relocate hahahahahaah (@nivien lahat pets besh relocate hahahahahaah)"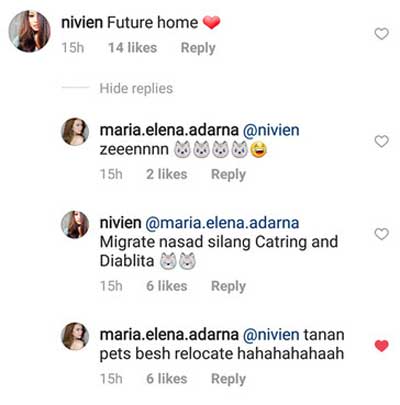 Another non-showbiz friend of Ellen, Doreen Ting, left a comment which alluded to her being part of Ellen and John Lloyd's extended family.
Doreen is Ellen's non-showbiz friend who was with the sexy star and John Lloyd when they vacationed in Bantayan Island, Cebu, in September 2017.
Doreen wrote to Ellen, "Apil sad ko! My future view... what is yours is mine (Kasama rin ako! My future view... what is yours is mine)"
Ellen simply replied with laughing emojis.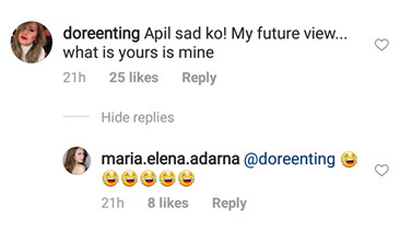 Another friend of Ellen, Madel Mangubat, jokingly commented, "game over na talaga tayo"
To which Ellen replied with a laughing emoji.