Rachelle Ann Go exchanged I do's with American boyfriend Martin Spies at Shangri-La Boracay Resort & Spa today, Wednesday, April 18.
Making the occasion more special was the presence of her fellow singing champions Sarah Geronimo, Mark Bautista, and Erik Santos.
Kyla, who is under the same talent management as Rachelle Ann and Erik, was also among the wedding guests.
The couple arrived in Boracay last Sunday, April 15.
They stayed at Discovery Shores Boracay, where some of their wedding guests also registered the following day, April 16.
Last night, April 17, the couple threw what appears to be a welcome dinner for their guests who were all wearing white just like the couple.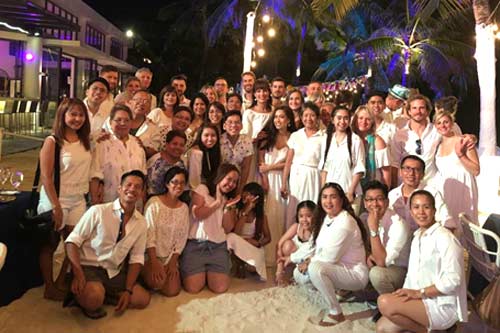 "GOD IS HERE." Earlier this morning, Rachelle Ann posted on her Instagram story a short video showing the view outside her hotel room with a caption that read: "God is here."
Those were the same words she uttered minutes before Martin went down on his knees and proposed marriage to her during their vacation in Boracay in September 2017.
It seemed like Rachelle Ann also saw it as a good omen when she saw a rainbow early this morning.
ANSWERED PRAYER. Rachelle Ann once described Martin's marriage proposal as an answered prayer.
She wrote on her Instagram last September 8, 2017, "I just prayed for this on my 31st birthday and just like that this happened.
"What an amazing God we have. Thank you Father God for this man. A man who loves you first. I still cannot believe this!!! Aahhh!"
Although theirs was a whirlwind romance, Rachelle Ann has been vocal about Martin possessing the qualities that she looks for in a lifetime partner.
She said that his God-centered attitude translates to the way he treats her from the start of their relationship.
"If he loves God first he will also honor & respect you all the days of your life!"
Martin is a general manager in a luxury fitness company in New York.
Rachelle Ann met him through a common friend who introduced them to each other during her Miss Saigon tour in New York in early 2017.