Janella Salvador and Elmo Magalona were spotted separately at the airport, leaving for their scheduled participation for a Kapamilya concert tour in Canada.
A photo of Elmo's arrival at the airport made the rounds among his Twitter followers last night, October 31.
His fan group also posted via Instagram Story a short video clip of Elmo smiling and waving to the camera.
The fan-made video had an attached text that read: "Hello, Team Canada! @elmomagalona is excited to see you all!"
Janella, on the other hand, was spotted with Daniel Padilla and Kathryn Bernardo just before they were about to board the plane.
View this post on Instagram
Reposted by KathNiel fans, another video showed Janella smiling and waving to the camera as well.
It was not clear if Janella and Elmo crossed paths at the airport in Manila.
But this was the first time Elmo was seen in public eight days after Janella revealed in an interview that there were two separate incidents when he allegedly hurt her physically amid an "argument."
Elmo has yet to issue an official statement in response to Janella's allegation.
Janella and Elmo are expected to be seen together for the One Magical Night concert tour in Canada—headlined by Daniel and Kathryn—on November 2 (Calgary), 3 (Vancouver), and 10 (Toronto).
Live Instagram updates from hair stylist John Valle—who was among the companions of Janella, Kathryn, and Daniel—showed that they arrived in Canada four hours ago.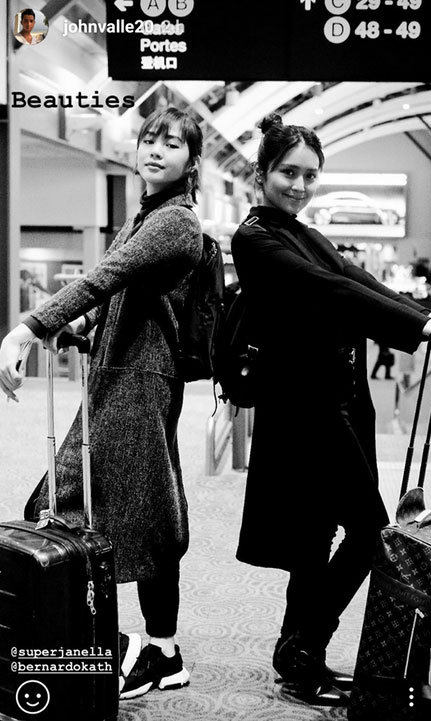 JANELLA AND ELMO'S SPAT
Rumors of Janella and Elmo's spat made the rounds on social media soon after Janella tweeted a cryptic message, dated September 8, saying, "Men who are raised properly are never supposed to hurt women no matter what."
Netizens began to guess that the cryptic tweet has something to do with Janella and Elmo, especially after her mom Jenine Desiderio posted similar cryptic messages using hashtags "#NOtophysicalviolence #NOtomenwhophysicallyabusewomen #justiceforjanella."
Then in a series of tweets, dated September 25, Jenine tagged Elmo as the person who allegedly hurt Janella.
Jenine also alleged in her tweets that Elmo's mom, Pia Magalona, has been trying to "clean up her son's image" with a "twisted cover-up story" in a showbiz gossip site.
Jenine went on to say in her tweets that Janella and Elmo allegedly had an argument that ended up with her daughter getting pushed outside a van and falling on the street.
JANELLA'S CONFIRMATION
By October 20, PEP.ph (Philippine Entertainment Portal) received confirmation from a source that Janella had issued a statement, hinting that she has "actual proof" of what her mom Jenine said about Elmo.
This was based on screen shots of Janella's "legit" correspondence with an unnamed netizen via Instagram direct messaging.
Janella's statement read in part: "Do you think my mother would react the way she did if it's all coming from nowhere?
"I may not agree with the way she posts everything but at least, she isn't a mom/manager who only cares about her image and PR and resorts to 'damage control' instead of owning up to their mistakes.
"Decent, clear-minded people would notice how fake a person is if he /she acts nice to you infront of everyone and says horrible things behind your back."
READ CABINET FILES: Pagtatanggol ni Janella Salvador kay Jenine Desiderio, hindi fake news
Then on October 24, in an interview with Ricky Lo for The Philippine Star, Janella confirmed that she and Elmo had an argument that ended up with him hurting her physically.
In a separate interview with PEP.ph, Jenine revealed that Elmo went to visit her three weeks earlier to apologize for what transpired between him and Janella.
Jenine said, "That's when he promised me to post a video apology of himself.
"We waited for weeks but nothing came out so I guess that's what prompted Janella to speak up."
Meanwhile, Elmo's mom, Pia Magalona, gave a short response to a netizen asking how are things with the young actor amid the controversy.
Based on their exchange of tweets last October 26, Pia's answer was "Thanks Tita Rose. Don't worry... [heart emojis]"