Alexa Ilacad clarified there was no truth to allegations pointing to Mika dela Cruz as the third party in her doomed romance with Nash Aguas.
"No, no, no, no. There was no third party," said Alexa about her unexpected breakup with Nash.
Alexa said for the record that she and Nash started with a "mutual understanding," but that it didn't really develop into a deeper romantic relationship.
Alexa went on to say that things just did not work out between her and Nash because of personal differences.
"It started to go on the rocky road when I started my music career. We both got busy.
"I knew I wanted different things. We had different priorities. We thought it would be better to just stay as friends.
"Like me, I don't want a relationship."
Despite what happened between them, Alexa maintained that she and Nash remain "on good terms" with each other.
"Of course, there were times na may samaan ng loob.
"But since we've established that respect within ourselves and within each other, it wasn't something na we both damaged each other or if we see each other magbabastusan. It was nothing like that.
"We're both professional artists. When we see each other, kahit na may konting tampuhan, we smile at each other and we finish our work then we go home."
PEP.ph (Philippine Entertainment Portal) had an exclusive interview with Alexa at the sidelines of Star Magic Gives Back event, held at The Good Samaritan Nursing Home in Marikina Heights, Marikina City, last December 1.
NLEX LOVE TEAM FOR FIVE YEARS
Alexa and Nash were a teen love team known for the uniname NLEX at ABS-CBN.
Their pairing lasted for past five years. The last time they worked together was in the Kapamilya prime-time series The Good Son, which ended in April 2018.
In July 2018, Alexa revealed in an interview with PEP that her love team with Nash was not working out anymore so they decided to end it.
At the time, she did not mention anything about real-life love troubles with Nash that resulted in their parting of ways.
Their covert relationship came to light only when Nash admitted in October 2018, in a separate interview with entertainment reporters, that he and Alexa had a "mutual understanding" all those years they worked closely as a love team.
According to Nash, what they had fell short of a romantic relationship and things just did not work out between them in the end.
The Kapamilya actor also revealed in the same interview that he and Mika are already a couple, adding that the Kapuso actress said yes to being his girlfriend only a few days before that presscon.
Alexa, for her part, maintained that she and Nash had a good run as a love team and that she would always treasure their memories together.
"Nung nag-Goin Bulilit kasi naging crush ko na siya. So, I consider five years talaga. Crush ko siya simula bata talaga."
When did she and Nash become an item?
"Matagal-tagal. I just don't remember exactly when."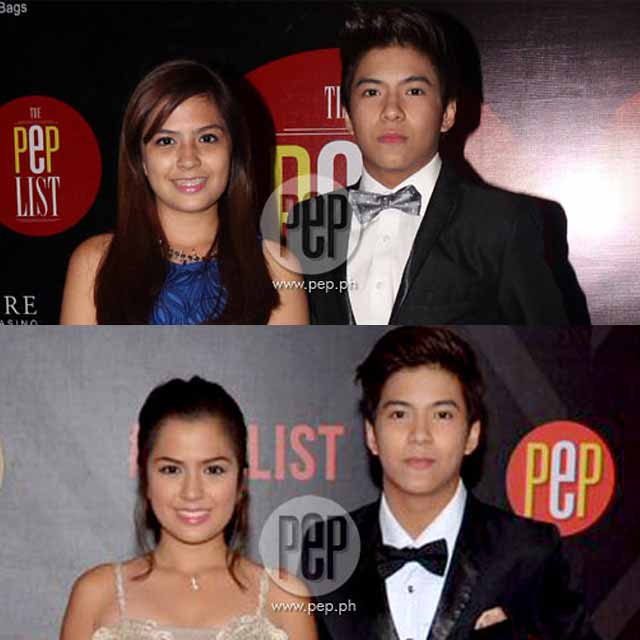 (Seen in the photos were Nash and Alexa's happier days during the red-carpet events for The PEP List in 2014 and 2015.)
CIVIL WITH NASH AND MICA
Alexa also shared that she knew about Nash's childhood crush with Mika as they were all batchmates in ABS-CBN's kiddie gag show Goin' Bulilit.
"Yeah, everyone knew. Andaming nangyari noong Goin' Bulilit. Mga away-away ng mga bata, ganyan… It was all because crush ni ganito si ganyan.
"I wasn't part of those fights. I was always quiet."
How does she feel about Nash and Mika eventually becoming a couple after all these years?
Alexa replied, "Well, if they're both happy, then that's fine. We should all aspire for happiness, kung saan man nanggagaling ito."
She added, "I'm okay with them. I wouldn't say were friends. I wouldn't call them friends. I want nothing to do with them.
"But I respect them. And if I were to work with them, it would be fine. If I were to see them, I would smile at them.
"It's okay. But as much as possible, I hope to distance myself. I wanna be in a better place.
"Majority of my life, I've spent with them, so I want something different."
Alexa explained all she wanted was to draw a line between her work and personal space.
"Yeah, for peace of mind and heart. Even if I say I'm okay with them as people, I still want to be somewhere na mas wala na lang kahit ano.
"I'm in a place right now where I'm far from them, and that's how I wanna keep it, because I'm at my happiest."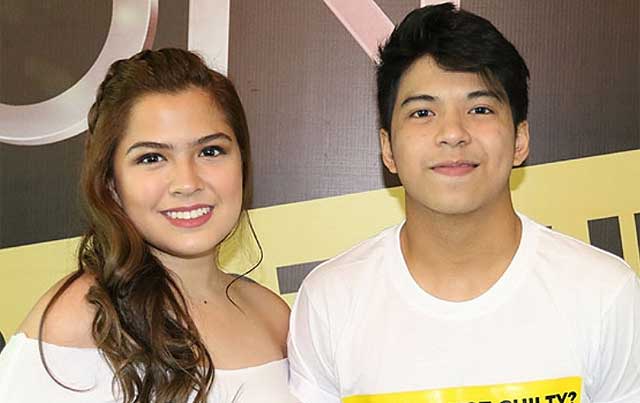 (This photo of Alexa and Nash was shot during the press visit for ABS-CBN's prime-time series The Good Son in March 2018.)
SINGLE FOR NOW
As for her own love life, Alexa said that she's not yet ready to be in a boyfriend-girlfriend relationship.
"After everything that happened with Nash, I'm not ready. And that's another reason why we just didn't push through with anything.
"I'm only 18. If some people choose to have a relationship at my age or earlier, good for them.
"But I know myself, I'm not ready."
For now, Alexa wants to juggle her showbiz career with her studies.
She is now in first year college, taking up Business Administration, at Treston International College in Bonifacio Global City, Taguig City.
"There are so many things I wanna accomplish on my own right now. Making myself whole, self love, and whatever.
"So I don't think I'm ready for a relationship," Alexa concluded.