Filipina singer Morissette Amon is one of three co-hosts of Michael Bolton in his upcoming pan-Asian talent search series.

Through his new show titled Bolt of Talent, the Grammy Award-winning American music icon embarks on his search for undiscovered gifted singers across Asia.

Morissette became part of Team Sarah Geronimo on The Voice of the Philippines Season 1. In 2015, she released her self-titled studio album. She is part of the "Birit Queens" who regularly perform on ABS-CBN's Sunday noontime show ASAP.

The other co-hosts are Sandra Riley Tang from Singapore and Lydia Sarunrat Deane from Thailand.

In Bolt of Talent, eight singer-songwriters from Malaysia, Taiwan, Thailand and the Philippines have been chosen to compete in rigorous musical challenges.

The seven-week journey will culminate with four musically gifted finalists being handpicked by Michael.

These four contestants will be asked to reinvent, rearrange and reproduce a range of Michael's Greatest Hits. The winner will get a recording deal and the chance to be part of Michael Bolton's world tour.

Michael already won 2 Grammys for Best Pop Male Vocal Performance. His latest album Songs Of Cinema was released in February 2017, the single from which will be one of the final contestant challenges.

He is behind the hit songs "How Am I Supposed to Live Without You," "How Can We Be Lovers," "Steel Bars," and "Said I Loved You But I Lied," among many others. His song "Go The Distance" was used in the 1997 animated movie Hercules.

Exclusively on Star World, the seven-part series will take viewers to four major cities: Bangkok, Kuala Lumpur, Manila and Taipei in this original production that will air its pilot episode on August 16, 2017 at 9:30 pm.

Two of the 8 contestants hail from the Philippines: Lance Busa (who previously joined GMA-7's To The Top) and Hans Dimayuga (who was also part of Team Sarah like Morissette in The Voice PH Season 1).

Meet the contestants of Bolt of Talent:

Lance Busa – Philippines

Singing since the age of five, Lance is a singer-songwriter. He has had no formal training but performs in bars and at small corporate events regularly. Lance joined the Philippines' first-ever multi-platform boy band competition--To The Top--and his dream is to sing on stage at a sold-out concert.

Hans Dimayuga – Philippines

A 28-year old soul singer-songwriter, Hans has tried his hand at Real Estate, IT and F&B in the past ten years before going all-in to pursue music. He has mostly played at weddings, hotels and in restaurants. A past member of Team Sarah, he was beaten by Maki Ricafort during The Battle rounds of The Voice PH Season 1.

Tsui Fang Chang (Dena) – Taiwan

Dena is a pop and country singer. Dena learned to play the piano at age seven and taught herself to play the guitar at thirteen. Deeply inspired by Taylor Swift, she went on to compose her first English song at just 15-years old. She continues to pursue her dream of becoming a singer, despite her parents' objections and is looking forward to showing Michael what she is capable of.

Wei-Chen Lou (Holly) – Taiwan

At 24 years old, Holly splits her time between teaching English and singing. A huge introvert, Holly performs her own music which is made up of quirky, light-hearted pieces of music influenced by Ellie Goulding and Coldplay. She learned to play both classical piano and violin as a child and both skills are evident in her own songs.

Nawinda Sittatikarnvech (Mild) – Thailand

A Marketing Analyst from Thailand, Mild trained in singing as a child at the request of her mother who loved music. She is known as a perfectionist, practicing everywhere – even in the shower! With a powerful voice, Mild loves to sing Soul and R&B. She is a self-confessed fan of Whitney Houston.

Jutarat Mangkalarangsee (Paige) – Thailand

Paige is a marketing and sales executive at her father's printing company. Her passion for singing was sparked when she discovered Disney movies as a child. She started taking singing lessons at age ten, but only lasted a year. She sang on her own for the next few years joining a band and competing in school competitions.

Cassandra Anne – Malaysia

A full-time student, Cassey sings part-time. She started getting booked for jobs during high school and has seen herself improve every day since then. Cassey loves to sing contemporary R&B because of the depth, feeling and meaning. She has a large vocal range and believes that her strength is her adaptability – she shouldn't be confined just to R&B and looks forward to showing off her versatility.

Gregory Ramanado – Malaysia

As the oldest in the competition at 30 years of age, Greg is not only a singer, but also one of the only songwriters in the series, and also teaches English through the medium of music. He was a contender in Malaysia Idol over 12 years ago, but this is his first competition since then. He is a focused individual with drive and passion for singing. He takes great joy from writing, to being on stage and singing for audiences.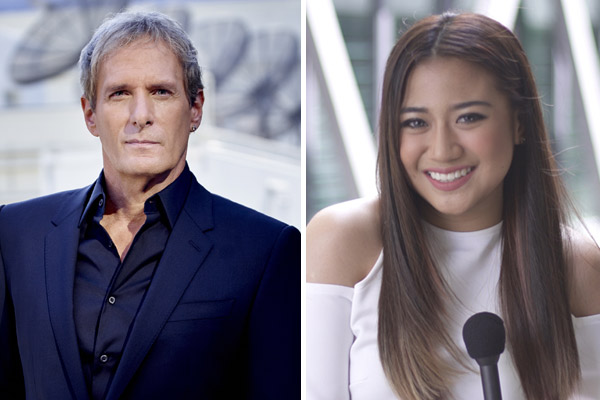 Morissette Amon (right) is one of the three co-hosts of Michael Bolton in Bolt of Talent.