Hello po. Welcome ulit, to Labandera Chronicles.

Bago ninyo husgahan itong aking halos cut-and-paste from past Facebook postings, pakibasa muna nang buo. This is about my father Cornelio Miranda Orteza, born Sept 14, 1917, with his identical twin, Leoncio.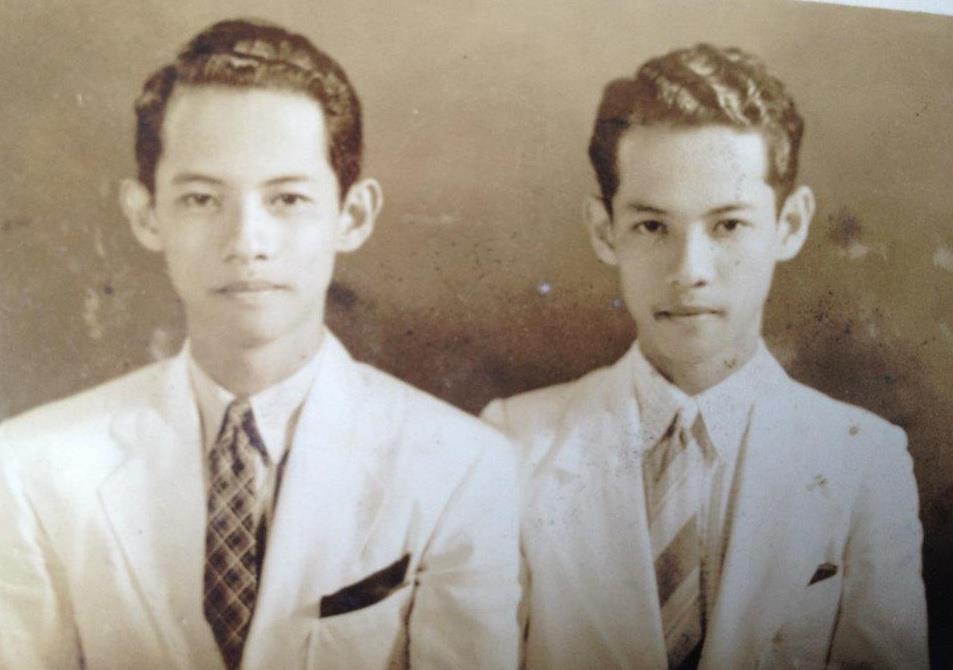 Daddy was a church deacon, a lay minister, at one time president of the Christian Lawyers Association of the Philippines. He prayed like he would never stop; the joke in our family was that you could nap while he was praying, dream, wake up, and he wouldn't be done yet.

In the summer before I got into Grade IV, he sent me to put in loose change in his trouser pocket upstairs. I did as told, but discovering a lot more ten and five centavo pieces there, I got tempted, took several, turned, and there he was, standing behind me.
I do not know how he noiselessly got in. He was just suddenly there. He got his belt off the hook where he'd always hung it, rolled it. I was shaking in fear; he'd never belted me and now it looked like I was going to get it.
Except he put the rolled-up belt in my hand, and said, "Hit me."
"Hit you?" I quavered.
"Spank me," he insisted.
So I did.
"Stronger!" He declared. "Lakasan mo! Mas pa!"
"Masasaktan ka!" I cried. I threw the belt aside and rushed into his arms, wildly sobbing. "Sorry, Daddy! Sorry!"
He comforted me, wiped my tears away, and gently explained: "Mas pa ako na-hurt sang nakita ko ikaw nga ga-pangawat sang akong sinsilyo. Kun ako nga tatay mo diri sa duta na-hurt, mas pa ang Dios Amahan." Only then did I see that he, too, was crying.
The lesson stayed with me; I put the scene in an episode of Hapi House, sometime late 1987, on IBC-13.
When I took on the mantle of family breadwinner soon after college, I did so without resentment. But there were little things that bugged me as a young girl.
Call it petty, but I never saw Daddy drive a car. He never got himself a burger all the times I suddenly popped in his office and always just had a potato fry while I ate. All he could get me was a pair of shoes I was expected to make last until the next school year.
One night in 1990, he was just suddenly there, driving the blue Plymouth that his brother left in our care. He took me out, past the old COD Department Store where the yearly Christmas display was all he could treat all of his seven children to. We went to my favorite Savory restaurant near Escolta where we both had burgers, oh how his eyes twinkled! Then he brought me to Gregg's Shoes and got me two pairs of shoes. Two pairs of shoes!
After which he brought me home, to the apartment where I lived as a married woman of a little over two years.
Then he hugged me, kissed me on the forehead. And said: "I never got to thank you for taking over what should have been my responsibilities. But I thank you now, and I want to let you know how much I appreciate all that you've done. I love you and I'm very proud of you."
We had just buried him morning of that day I had my dream.

There was nothing fancy in the burial rites. It was quiet. It was decent. My siblings and I honored the father who taught us how to share and how to care for others without fanfare, without scandal, for, really, how else do you proclaim to the world how well your parents raised you?