AL stands for Alden, the screen name of actor Richard Reyes Faulkerson Jr.

DUB stands for Yaya Dub, the character played by Maine Mendoza, the screen name of Nicomaine Dei Capili Mendoza, who was first introduced on television through Eat Bulaga!, which airs on the GMA Network.
BACKGROUND
By 2015, Jenny Ferre had been working for 21 years for Eat Bulaga! Yet it was only that year that she saw so many people noisily raving about the show. Eat Bulaga! is a noontime variety show that, by 2015, had been running for 36 years. (It is still running today.) It has become part of the lives of many Filipinos, a staple program they watch while having lunch. But in its almost four-decade run, Eat Bulaga! has never had so many screaming fans. Not until then.
"Never ever in my many years in Eat Bulaga!—we never got that kind of audience reaction," Jenny admits in her 2015 interview. Of course, she says, the studio audience has always been responsive, dancing, clapping, and cheering during the different segments of the show. But this time around, the fanaticism has become more widespread and has actually gone global.
Jenny is the senior vice-president for creatives and operations of Television And Production Exponents Philippines Inc. (TAPE Inc.), producer of Eat Bulaga! Her job requires her to work behind the scenes, and she has never watched the show up front. Backstage is her turf.
"Hanggang do'n sa area ko, grabe 'yong tili," she tells us. "Naririnig ko."
The crowd often chants one single word: "AlDub!"
EAT BULAGA!, NOONTIME SHOW
In 2015, EB is dominating the advertising-rich noontime TV programming. Give or take incursions into the noontime slot by shows that came and went in the rival networks, EB—top-billed by Vic Sotto, Joey de Leon, and Tito Sotto—has prevailed. Up to this point, to have lasted 36 years on television is an achievement in itself. But keeping the show attuned to changing public tastes is what the Dabarkads, as the show's cast and crew are called, has always been about.
To stay relevant, Jenny and her team are always looking for ways to improve segments of the show. An example would be Wally Bayola's Doktora de Explorer character, who gives out advice during the "Juan for All, All for Juan" segment, which is shot on location in various barangays. "Na-realize namin na dumi-dead-end na," Jenny reveals. "We had to cut it. Reinvent, reinvent. Come up with new characters."
They thought of making Wally a lawyer who would mediate in barangay problems. He would have an assistant who would read the law, which Wally would interpret incorrectly. But Jenny decided against this concept in the end because "mahirap pag batas, hindi ko puwedeng lokohin 'yon, e."
One rainy Saturday, the lady executive, "out of desperation," thought of transforming Wally into a "donyang mayaman na may kasamang yaya," a nanny who would give a different perspective in the advice portion of the segment. Jenny got the idea from the rich lolas she saw in malls, lolas who looked "matapobre" and "masungit." More often than not, she says, these women had yayas who looked just as "masungit" as their employers.
The donyang mayaman would become Lola Nidora, an allusion to the original Doktora de Explorer. Jenny envisioned a Lola Nidora who would be "medyo outrageous o kaya fascinator," hence the wig and the out-of-this-world outfits.
The description fits not only Lola Nidora but also her outfit, since a fascinator, besides being defined as "someone or something that fascinates," is also a decorative headpiece, like the one Lola Nidora wears. In terms of mannerism, Lola's peg was veteran actress Celia Rodriguez, who speaks slowly, prolonging her enunciation of words.
(Incidentally, EB later tapped Celia to appear in one episode of what had by then developed into a kalyeserye, as the grandmother of Alden Richards.)
With Wally already on board as Lola Nidora, Jenny needed someone to play the yaya. That was when she thought of Maine Mendoza, whose funny Dubsmash videos Jenny would always see on her Facebook timeline. She saw talent and potential.
"It's not really her Dubsmashing skills," she says of what caught her attention. "I saw beauty and kapal ng mukha… Ibig sabihin, puwedeng maging komedyante, kasi wala nang gano'n ngayon, e."
Jenny saw Maine as a representative of her generation. The EB exec was reminded of teenagers who often did wacky poses in photos. She had a good feeling about Maine.
She thought: "Kung kaya niya 'tong gawin sa ganito, tingin ko may kapal 'to ng mukha, may topak sa ulo."
Smiling, she tells us, "E, alam mo naman, hinahanap namin may topak sa ulo."
Jenny had her staff track down the Dubsmasher. They sent her a message through Instagram, inviting her to audition. Maine said yes.
During the audition, Jenny interviewed the girl and found out that Maine had no other talent but Dubsmashing.
Jenny went with her gut and hired Maine anyway for the yaya role. Since the girl said that she didn't have any other talent, Jenny decided to have Maine Dubsmash her dialogue. She named Maine's character Yaya Dub.
THE BEGINNINGS OF ALDUB
On July 4, 2015, EB introduces the new characters of Lola Nidora and Yaya Dub.
"Ang instruction ko lang, huwag kang ngingiti kahit ano'ng mangyari," Jenny remembers telling Maine.
Jenny's plan was to make a game out of that no-smiling rule—"pa-contest sa barangay kung sino ang makakapagpatawa kay Yaya."
In the first few days of the new format, EB was getting negative feedback from viewers because of Yaya Dub. Apparently, Jenny says, "hindi type ng mga matatanda ang nakasimangot sa TV."
Jenny was deliberating over what to do with Yaya Dub when her floor director mentioned to her that Maine had a crush on Alden Richards, who hosts EB's "That's My Bae" segment in the studio. "Para lang makapag-urot," Jenny asked Alden to sit in the audience and watch the "Juan for All, All for Juan" segment, which was being broadcast to the studio from a remote location. Ever the trouper, Alden agreed, not knowing what Jenny's intentions were.
As Maine was doing her Dubsmash, Jenny placed Alden's face on the other half of the split screen. When Maine saw Alden on the TV monitor in the barangay where the "Juan for All" troupe had gone, the Dubsmash girl broke out of character. She broke into a thrilled smile. The studio panel, which includes comedian and standupper Allan K, caught on, pointing out, "Kinilig si Yaya."
Though the Dabarkads didn't realize it then, that scene was the beginning of AlDub.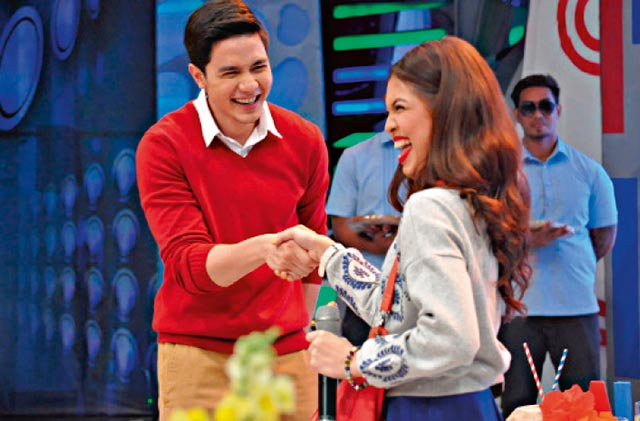 PHENOMENAL REALITY TV
"That's where the reality TV started, e," Jenny points out. "They didn't know how to react. Na-out-of-character talaga sila. Walang instruction 'yon na ngumiti ka, tumawa ka. Kung ano'ng makita, nararamdaman, hindi ka makapagsinungaling, e. Sina Allan, magagaling pumick-up. Wala ding instruction 'yon na tuksuhin n'yo, wala."
Right then and there, Jenny knew that they had something. She thought, "Oh, my God! Parang may istorya."
Within four months of its debut in July 2015, the AlDub kalyeserye drew "raw" and "organic" as buzzwords, as it reached phenomenal heights in mass reception.
In a short span of time, Alden and Maine have become one of the hottest love teams in show business, getting endorsement offers from different companies. Its September 26, 2015 episode generated over 25 million tweets from AlDub fans. Eat Bulaga! is itself enjoying a spike in TV ratings in the survey results of both AGB Nielsen and Kantar Media.
Jenny believes that what got the audience hooked from the start was the "sincerity" that Maine showed in that first split-screen "meeting." The moment she saw Alden, Jenny says, Maine became a regular person. "Kasi si Yaya, hindi artista. Hindi niya alam kung paano 'Itatago ko muna ang emosyon ko.'"
Also, unlike the standard teleserye that has a definite plot, the "kauna-unahang KalyeSerye sa telebisyon," to use the description that Eat Bulaga! uses to introduce the segment, presented a new format: a combination of improv theater, reality TV show, and on-the-spot direction.
The members of the cast—which has grown to include Lola Tinidora (Jose Manalo) and Lola Tidora (Paolo Ballesteros)—are given on-the-spot instructions on the scenario and their blocking. But for the most part, they are left on their own, reacting the way they think their "street series" characters would react.
"I'd like them to feel the moment," Jenny says. "Hindi 'yong emosyong ipapakita ko, preparasyon sa susunod na eksena… Ayoko na iparamdam na umaarte sila."
During the wedding scene of Yaya Dub and Frankie Arinoli (Jose Manalo), for instance, Jenny did not instruct Alden to cry or do anything specific. She just told him: "Ikinakasal sa iba ang mahal mo. Ano ang mararamdaman mo? Masakit, 'no?"
The result was a teary-eyed Alden slumped on the floor, looking defeated.
Jenny muses: "Sa totoo lang, mahirap itong kopyahin. Right now, o, sige, the genre is available, pero mahirap siyang kopyahin. Unang-una kasi, it's the mystery. It has a life of its own. Parang dinidiligan lang siya."
BACK TO THE CONSERVATIVE & OLD FASHIONED
When Jenny says "mystery," the word is not to be taken lightly. Only she knows what will happen in every episode. And even that is a mystery to her because she usually writes the working script—more like a rough scenario, or script outline—just the night before the show. The crew gets the scenario at 10:30 the following morning, an hour or so before the show airs live.
But if Jenny ever had a guiding principle, it is this: "Sa tamang panahon." It is also one of the lines that Lola Nidora always delivers whenever Alden and Yaya Dub ask for permission to see each other, go on a date, or even touch hands.
"May nasaling ako na sensitivity ng core market din namin," Jenny explains. "Siguro conservative, pero puwedeng ito sana 'yong tama. Hindi namin sinasabi na mali 'yong mga ginagawa nila [young viewers]. Pero ito 'yong dati, na puwede naman nating gawin."
This conservative view stems from what Jenny has observed about today's youth. They're "aggressive, gusto mabilis," she says. "Pag mabagal ang Internet, nagwawala, gusto nang mag-suicide. Alam mo 'yong mga ganyan?"
And so, in AlDub's love story, Jenny wanted things to be different.
"Kasi, kung noon ba naman, ginawa naming tuksuhan lang nang tuksuhan 'yan, e, di, hanggang ngayon nagtutuksuhan lang," she explains. "Malamang, kumakanta na silang naka-holding-hands, and they will just be an ordinary love team."
AlDub's universal selling proposition is that the kilig moments are given in small increments.
"Sa totoong buhay ba, sa first date, nagho-holding-hands? Hindi pa kayo, di ba?"
Love, Jenny says, is always sweeter when you work hard for it.
"Example, bago ka makabili ng bahay, Diyos ko! Maraming sakripisyo. Pero no'ng pumasok ka sa bahay mo, ang sarap. Gano'n din ba kaya ang kaligayahan ng isang taong binigyan lang ng bahay? Di ba ikaw, vina-value mo 'yong mga bagay na pinaghihirapan?"
Jenny points out the importance of Lola Nidora in the story of AlDub. Lola is the moral compass that holds everything together.
"Meron kaming nasasabing hindi na nila nasasabi sa mga anak nila, dahil siyempre, sabihin nila na nagger ang mga nanay, nagger ang mga lola."
And because of this, the kalyeserye got a seal of approval from an older audience, the parents and the grandparents. It even received a nod from the Catholic Bishops Conference of the Philippines (CBCP). In a tweet dated September 26, 2015, CBCP wrote: "Supporting the noble cause of spreading virtue, values and morality that our nation deserves. #ALDubEBforLOVE"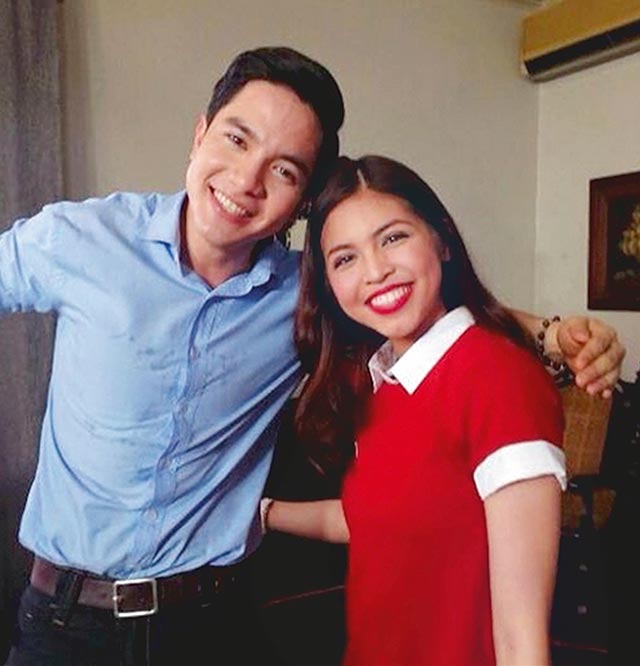 On October 11, 2015, the Catholic Social Media Awards, established by Youth Pinoy and Areopagus Communications Inc., rained awards on those involved in the kalyeserye:
—Maine Mendoza, for being influential in propagating Christian values to the youth;
—Alden Richards, for being a good youth role model;
—Lola Nidora, for being instrumental in spreading good values in media;
—TAPE Inc., for producing #KalyeSerye and giving importance to promoting Christian family values and virtues; and
—The ALDubNation Team, for spreading #KalyeSerye values online through inspirational posts and tweets.
In a phone interview with YES! in 2015, Atty. Eugenio "Toto" Villareal, chairman of the Movie and Television Review and Classification Board (MTRCB), says it's worth noting that the kalyeserye has reached out to different social classes: "It's not only the masa, but other sectors of the general public, that appear to be very much attracted to this particular segment of Eat Bulaga!"
He believes that the show is able to do this because "everybody is always attracted to the portrayal of what is good in each and every one of us, kung ano 'yong mabuti sa atin. You would see that the kalyeserye, although in a light manner, shows or promotes virtues or good habits, which in turn uphold Filipino values."
Attorney Villareal cites "respect for elders," "true love waits," "patience," "fortitude," "perseverance to attain what is difficult," and "cheerfulness" as examples of what can be seen in the show.
"And we have seen that the appreciation of the audience in this regard is not new," he adds. "We have seen it appreciated in shows before like May Bukas Pa, like Be Careful with My Heart. The kalyeserye is a vibrant development—something which strikes at the heart, literally, of the community."
(May Bukas Pa and Be Careful with My Heart were both ABS-CBN dramaseryes. May Bukas Pa told the story of a young boy who was able to help others with the guidance of "Bro." Be Careful with My Heart was a story of a good-natured nanny who helped bring together the family she served.)
Overall, Attorney Villareal surmises, the AlDub kalyeserye "brings out the good in us—hindi lang sa masa kundi sa iba-ibang sector ng lipunan."
WHERE ALDUB GOES FROM HERE
It is 2015, and the end is not in sight. Jenny Ferre is positive that AlDub is here to stay.
"I see a lot of things that we can do. What's good about them, hindi ka magsasawa, kasi magkahiwalay sila ng mundo, technically, e," says Jenny in the 2015 interview.
She sees them doing their own thing in terms of work. "Iba 'yong mundo ni Maine, iba 'yong mundo ni Alden. Pinagkokonek lang namin nang pinagkokonek, e." She is hopeful that a lot of feel-good movies or show segments are forthcoming or already in the works.
As the unofficial matchmaker of the Alden and Yaya Dub love team, Jenny jests that, should the AlDub relationship lead to the altar, "kami 'yong wedding coordinator!"
And no one would be happier than Jenny. "Alam mo kung bakit ko sila gusto?" she asks us, rhetorically. "Napakabait nila pareho. Si Maine, napaka-pure ng puso, wala sa kanyang masama, e."
The same goes for Alden. Jenny told Maine's parents: "Ang sinumang babaeng mamahalin ni Alden Richards ay napakasuwerte."
She adds: "Sinasabi ko rin kay Maine 'yon. 'Ay, naku! Daig mo pa ang tumama sa lotto.'" As it is, both Alden and Maine are lucky to have met each other.
2018 UPDATE: ALDUB
In 2018, or four years after AlDub was first introduced, the love team of Alden Richards and Maine Mendoza—for various reasons—takes a backseat to regular Eat Bulaga! segments.
The two stars have had a good run nevertheless.

Alden Richards and Maine Mendoza starred in Destined to Be Yours, a GMA-7 teleserye which ran from February to May 2017.

They followed this with Love Is…, a telemovie produced by Eat Bulaga!, which aired in October 2017.
On the movie front, in 2016 Alden and Maine had a cameo appearance in Enteng Kabisote 10 and the Abangers, Vic Sotto's movie under his own M-Zet Productions, with APT Entertainment and OctoArts Films.
In 2017, they had another cameo appearance, this time in Meant to Beh, a movie also produced by M-ZET, APT, and OctoArts, for the 43rd Metro Manila Film Festival.
Maine and Alden appeared in two full-length movies: Imagine You and Me, in July 2016, which marked AlDub's first anniversary; and My Bebe Love, in December 2015, an entry to the 41st Metro Manila Film Festival, where the lead stars were Vic Sotto and Ai-Ai delas Alas.

Imagine You and Me was produced by APT Entertainment (a production outfit owned by Antonio Tuviera, who is also the executive producer of Eat Bulaga!), GMA Films, and M-Zet Productions.
My Bebe Love was produced by APT Entertainment, OctoArts, M-Zet Productions, GMA Films, and MEDA Productions.
Today, Alden and Maine still appear as hosts in Eat Bulaga! from Monday to Saturday. Sometimes they have special production numbers together.
2018 UPDATE: ALDEN RICHARDS
Alden Richards appeared in the television drama-documentary, Alaala: A Martial Law Special (2017), a GMA News and Public Affairs' narration of the life of martial-law survivor Bonifacio "Boni" Ilagan.

He also appeared in the GMA drama anthology, Magpakailanman (2017), in an episode on the life of a soldier who survived the deadly May-2017 Marawi siege.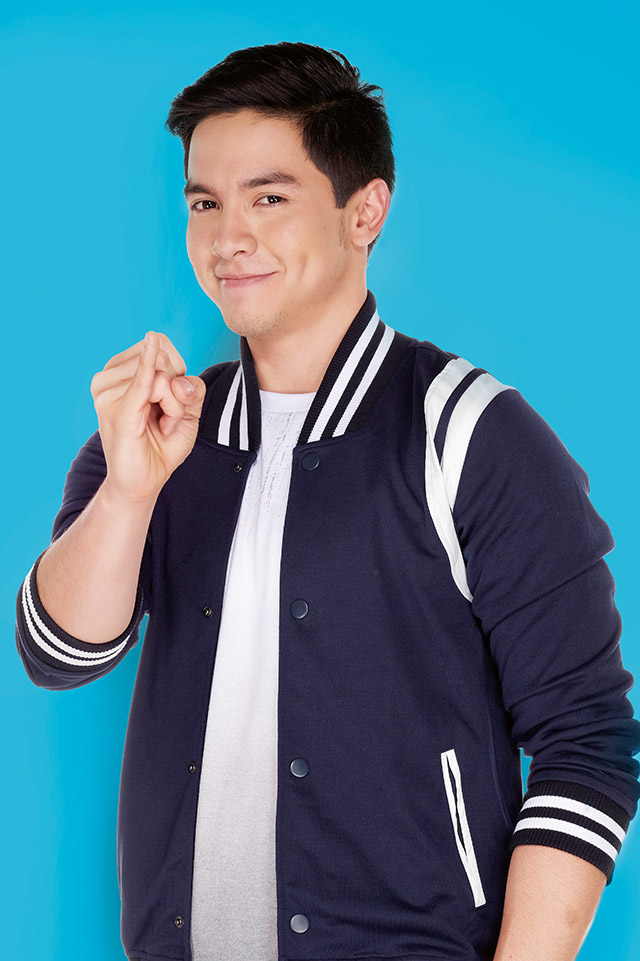 From July to November 2018, Alden top-billed the prime-time, fantasy-drama series, Victor Magtanggol (2018), where he played the title role.
On the concert scene, Alden did his major, solo concert, Upsurge, at the KIA Theater in Cubao, Quezon City, on May 27, 2017. Appearing as guest was Maine Mendoza, who performed a dance with Alden.
Alden appeared in another solo concert, Adrenaline Rush, on September 21, 2018, also at the KIA Theater. This time, Maine Mendoza was not a guest.
2018 UPDATE: MAINE MENDOZA
Maine Mendoza appeared in GMA-7's fantasy anthology, Daig Kayo Ng Lola Ko, first in a single episode as Osang Chismosa in December 2017, and later in a five-part special as Laura Patola, which aired for the whole month of July in 2018.
She is part of the 44th Metro Manila Film Festival, which falls in December of 2018, via the Vic Sotto-Coco Martin starrer, Jack em Popoy: The Puliscredibles. Alden will not be in the movie.
At present, besides a daily noontime appearance on Eat Bulaga!, she top-bills the Saturday sitcom, Daddy's Gurl, where she plays the daughter of Vic Sotto. The sitcom, which airs on GMA-7, is a co-production of the GMA Entertainment Group, M-Zet Productions, and APT Entertainment.
On the music scene, Maine is currently working on her first solo album, still untitled, under Universal Records of Bella Dy Tan.
ALDUB TRIVIA CIRCA 2015
Maine's real-life father, Teodoro Mendoza, has been christened "Daddy Dub" by AlDub fans, while Alden's dad, Richard Faulkerson Sr., has been christened "Daddy Bae." (Pronounced bay, with a long a.) These two men seem to be okay with their new monikers, since they've been actively joining in on the fun and banter on social media. At one point, they even posted a photo of the two of them doing the pabebe wave, a move associated with the Pambansang Bae, Alden Richards.
Even fans of other celebrity love teams have jumped in on the AlDub bandwagon. Someone, obviously with a colorful imagination, even did a Photoshopped image showing Dingdong Dantes and Marian Rivera (she's a Dabarkad on maternity leave) carrying a baby that looks like Yaya Dub.
Pinoys are always quick to spring into action whenever they see an opportunity to promote or sell their business. AlDub has prompted many enterprising Pinoys to come up with their very own AlDub-inspired merchandise: bags, pillows, key chains, T-shirts, miniature toy ?gures, cakes, and even espressos with AlDub latte art!
This cute illustration of the Twitter "bird," bruised, covered in bandages, and on crutches, refers to #AlDub's consistent placement on the list of top-trending topics in the Philippines and the world. From the time #AlDub became a trending topic on Twitter, the numbers have not gone down, especially for Saturday episodes.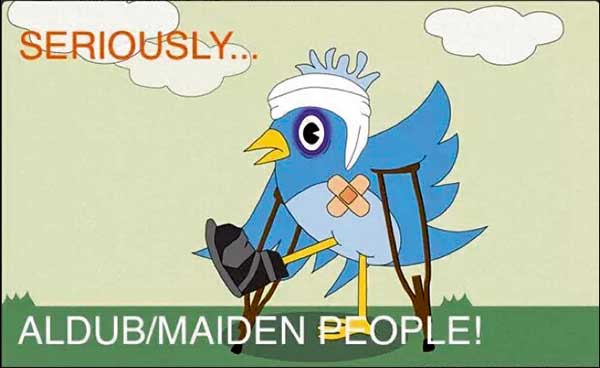 Various fan clubs have set up Facebook pages devoted to anything AlDub. These photos, shared via Facebook and Twitter, prove that even jeepney drivers, who spend most of their day on the road, have caught the AlDub fever. It's also probable that jeepney drivers take a break from plying their routes when the kalyeserye comes on.
#ALDUB PLAYLIST
From '80s heartbreak hits to current kilig tunes, music has played an integral part in the ongoing love saga of AlDub. Both Alden and Yaya Dub express their thoughts and their feelings for each other by lip-synching lyrics from famous songs. Here is the unofficial soundtrack of your favorite #Kalyeserye:
"God Gave Me You" by Bryan White
"Thinking Out Loud" by Ed Sheeran
"I Won't Give Up" by Jason Mraz
"Bahala Na" by James Reid
"Ngiti" by Ronnie Liang
"Makita Kang Muli" by Sugarfree
"Para Lang sa 'Yo" by Aiza Seguerra
"Goodbye" by Air Supply "Goodbye"
"I Knew I Loved You" by Savage Garden
ALDUB SONGS HELP OPM
The AlDub craze didn't just inspire numerous fan-made art works, it also spawned a number of AlDub-inspired original songs written by some local acts.
Singer and songwriter Jimmy Bondoc, who rose to fame in the early 2000s via his hit song "Let Me Be the One," for instance, wrote a Tagalog song titled "Yaya," which includes such phrases as "AlDub you," "MaAlden kita," and "tamang panahon," which are often spoken by the Kalyeserye characters on TV.
YouTube sensation Mikey Bustos also came up with an original song called "That's My Yaya Dub." The song has lyrics that go: "I don't know what it is about her beautiful eyes/ That makes me all kilig and fall apart.../ A million angels sing, oh when she smiles I'm in love/ She's the yaya of my heart, the yaya whom I love."
YouTube singing duo Isaiah and Andrai Antonio (collectively called The Antonio Duo) performed and co-wrote a song titled "The AlDub Song" with PhilPop 2012 finalist Keiko Necesario. Their song, uploaded on their official YouTube account on September 19, 2015, had 748,495 views by the following month.
In the September 26 episode of Eat Bulaga!, Joey de Leon said that the increasing number of AlDub-inspired songs is a good sign for Pinoy music. "Hindi lang ang kulturang Filipino ang binubuhay at ibinabalik ng AlDub, pati na rin ang mga OPM [Original Pilipino Music]."
Joey added that it also prompted Eat Bulaga! creators to start a songwriting contest for amateur songwriters. In the same EB episode, Joey said, "Kaya para sa lahat ng Dabarkads na gustong makapagsulat ng kanta, ng awitin na nabigyan ng inspirasyon ng AlDub, ito na ang pagkakataon n'yo."
JOSE MANALO, WALLY BAYOLA, PAOLO BALLESTEROS
The immense success of Eat Bulaga's first kalyeserye cannot be attributed to the phenomenal AlDub tandem alone. The solid comic trio of Jose Manalo, Wally Bayola, and Paolo Ballesteros played a vital part in making the kalyeserye everyone's noontime habit.
If there's one thing that Wally has learned from working in the "street series," it's how to think on his feet. "'Yon din naman ang natutunan namin sa TVJ, lalo kay Bossing," he says. "'Yong simpleng script, pag binasa mo, alam mo 'yong mapapaisip ka na kailangan may mangyari na nakakatawa, kasi komedyante tayo, e. Pati rin si Jose, gano'n din."
Bossing, of course, is the Dabarkads' name for EB's biggest star, Vic Sotto. And TVJ stands for Tito Vic Joey, the original trio that started Eat Bulaga! and turned it into the noontime television phenomenon it is today.
2018 UPDATE: TITO SOTTO
Since then, Tito Sotto, or Vicente Sotto III, probably on the strength of his exposure in Eat Bulaga!—he appears and reappears on the show—has been elected to the Senate for two consecutive terms, 1992-2004; again for one term, 2010-2013; and another for one term 2016-2021. On May 21, 2018, he was named Senate president, making him third in line to the presidency, should anything happen to the President and Vice President within their term of office.
In the 2015 interview, Wally is proud to say that some of the jokes thrown around on the set have already caught on with viewers, particularly the "asawa ni…?" jokes. In one of the episodes, Wally heard the word babala from one of his fellow hosts. He thought of sparking some friendly banter out of it.
"Naisip ko na sumundot, 'Asawa ni…?' Natawa ako dahil: 'Babalu.' Nakakatawa 'yong mga pasok na gano'n. Inaantay ka nila na madulas o mabastos. "Ginagano'n-gano'n ako ni Paolo. Kaya minsan si Paolo ang nabiktima. Sabi ni Joey, 'Sapat ba 'yong pera?' Sabi ni Paolo, 'Sapat.' Sabi ni Joey, 'Asawa ni…?' 'Supot.' Hahahaha!
"Halos tumambling ako no'n. Sabi ko kay Pao, 'O, ayan, kakaano mo sa akin, ikaw ngayon ang biktima. Hahaha!' Kaya pag alam kong bastos, sasagot ako, 'Single siya, wala siyang asawa. Hahaha! Wala siyang asawa.'"
Life may be glamorous at times for these stars, but it is always hard work.
In 2015, the kalyeserye airs on TV at around 1 or 2 p.m., and its main stars have an early call time, sometimes as early as 7 a.m., depending on the shoot location.
In his 2015 YES! interview, Wally Bayola gives us an idea of what his mornings are like:
"Pag malayo kami, 7 a.m. So ang gising ko na niyan, mga 5:30, kasi one and a half hours 'yong allowance ko palagi. Madali lang naman ako makapunta, kasi nakamotor lang naman ako. Kaya lang, ina-anticipate ko 'yong preparation. Dapat kasi, wala kang maiwan na gamit. Pagdating ko sa office, sa coaster, natutulog ako. Do'n na lang ako naghahabol ng tulog."
Among the kalyeserye stars, Paolo is the only one who does his own makeup. Wally himself only makes suggestions to his makeup artist about the look for his character of the day. "Siguro, mga forty minutes din ang pagme-makeup. Di ako marunong, pero marunong ako mag-suggest kung anong look." For his character Duhrizz, for instance, he was the one who thought of adding a mole on his cheek.
Everywhere they go, and especially in the barangays they visit for the "Juan for All, All for Juan" segment, the Dabarkads receive a warm reception from the public. Greetings and signs, including handwritten ones on pieces of manila paper, are put up in places where they would be captured by the Eat Bulaga! camera crew.
Eat Bulaga!, the longest-running variety show in the Philippines, celebrated its 36th anniversary on July 30, 2015. In thanksgiving, the cast and crew attended a Mass at Broadway Centrum after their live broadcast. The day EB celebrated its 36th anniversary was also the day AlDub marked its second "weeksary." The hashtag #AlDub2ndWeeksary became a trending topic that day.
Published in PEP.ph April 2019 Adapted for PEP.ph by Jo-Ann Q. Maglipon
Originally published in YES! November 2015 Text: Candice Lim-Venturanza
Chief interviewer/researcher: Anna Pingol
Editor in Chief: Jo-Ann Q. Maglipon Executive Editor: Jose F. Lacaba