DATELINE: METROMANILA 2016
In our first one-on-one interview and photo shoot with Nadine Lustre, she comes across as a bit of a surprise—a pleasant one, surely. Unlike some of her peers in Tinseltown, she relies on her thoughts, memories, and emotions to answer questions, rather than on canned and safe responses. She's introspective, and as our conversation progresses, she becomes her own life's analyst, sharing stories that give us—and herself—a deeper understanding of who Nadine Lustre is behind the cameras.
We knew beforehand, based on what we had read in her previous interviews with the press, that she is smart. We had also heard that she is genial. But we didn't know that she had broken down that figurative big-time-celebrity wall, a feat that makes her one of her generation's most intriguing stars.
"I'm just being myself," she tells us.
We believe her—she who has gone from child of paradise to breadwinner, from student to girl-band vocalist to actress, from bit player to bankable celebrity. She isn't totally an open book. Not yet. Understandably, she wants to keep some parts of her life private. But Nadine is beginning to reveal pages of her story little by little, and observers are waiting to read the book from cover to cover.
A CHILDHOOD OF BLISS
Nadine Alexis P. Lustre was born on October 31, 1993, the eldest of the four children of Ulysses Lustre and Myraquel Paguia-Lustre.
For the young Nadine, childhood was "never complicated." With a big smile—her famous one, which her eyes emulate—she narrates her outdoor adventures: "Hindi ko alam kung paano ko ide-describe, pero sobrang love ko po 'yong childhood ko. I wasn't really the girly girl. May mga kalaro ako, and 'yong mga laro for me is larong kalye."
Her playmates were mostly girls who, like her, were "boyish." Their usual games included "habulan, ride bike, 'tapos rollerblading, skateboard."
The little girl wasn't lost in the little Nadine, though. When she chose to play indoors, it was with her Barbie dolls. "I have a lot," she says of her fashion doll collection. "But then, 'yon lang, sa loob ng house 'yon. When I go out, it's different. We would catch 'yong mga tipaklong pag umuulan." After a short pause, she adds, "Siguro amazing, kasi it was really very simple."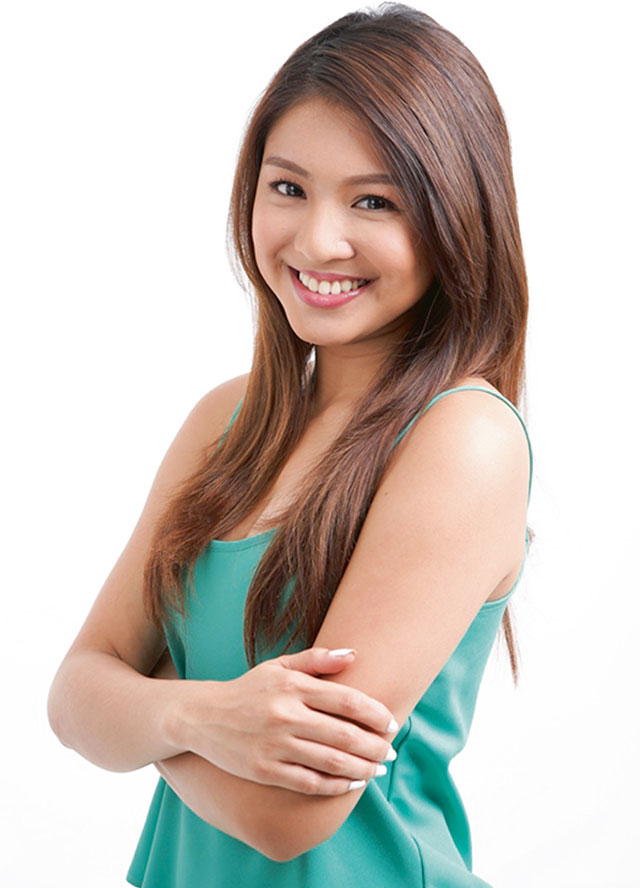 It is early 2016, she is 22 years of age, and her charming boyish quirks are still a part of her. "Medyo nabawasan nang kaunti, but still…" She believes that this side of her was influenced by her dad, Ulysses, a mechanical engineer. "He's the one who's artistic, and he has an eye for style. 'Tapos, with the gadgets and games, sa kanya ko nakuha, then with drawing. Mahilig din siyang mag-joke nang corny. Pero nakakatawa, kasi corny."
Her fondest memory of her father involves the video game PlayStation. "My dad, whenever we would play PlayStation dati—I was six or seven—I would watch lang. Siya, umiinom na ng beer, 'tapos I'm lying down on the floor with my pillow. Kasi I have a pillow na until now buhay pa rin siya, and I can't sleep without it."
Nadine's mom, Myraquel, who used to work for a bank, was the carrier of the obsessive-compulsive (OC) trait that the young star inherited. "I'm really OC," Nadine confesses. "I'm the type who washes my hands all the time. Siguro, in one day, mga five times."
Before anyone can react, she explains herself: "Before, siguro mga two years ago, pag mag-wash ako ng hands, ang itim. Kasi, di ba, madumi siya, like the whole day. Pag mag-wash ka ng hands, ang itim ng water. Ayoko no'n, kasi I always touch my face, kumakain ako. Before I eat, I always wash. After putting on my makeup, I wash."
The techie has also infected her Instagram account, @nadzlustre, with her OC traits. She admits that it takes her quite some time to curate her posts: "Hindi days. Minsan weeks! So it takes a few days before I can post anything, kasi dapat the colors are all"—she sighs—"ewan ko."
Her parents, who have helped Nadine become who she is today, have also served as the pillars of their three other children: sons Ezequiel and Isaiah, and daughter Naomi; who are, in 2016, 16, 15, and 9.
Nadine admits that it took her time to develop a strong bond with her siblings: "'Yong sumunod po sa akin is six years younger than me, so hindi naman nakaka-relate pa. Now na lang, kasi growing up na, e. I was young din, so hindi ko alam kung paano. Unlike now na parang I help them with everything."
In each of her siblings, Nadine sees a part of herself: "Like 'yong sumunod po sa akin, mahilig sa mga gadgets and computer games, ganyan. So we can talk about that. 'Yong isa, music, and 'yong style, gano'n. Fashion. And then 'yong isa, 'yong bunso naman, she likes anime a lot. She draws, she's good in drawing. So silang tatlo, meron ako no'ng characteristics nila."
The star, who grew up as an only child for six years, regards her younger self as "spoiled." Her dad, after all, had a successful trucking business, which provided for her needs and wants. When we ask her to elaborate, Nadine obliges:
"When I was a young girl, like every day, me and my mom will be at the mall, buying stuff, 'tapos buying me toys. Every day, I have a new toy pag umuuwi ako sa bahay." As if still in disbelief, she reiterates: "This was every day po. And I'm not exaggerating. As in, every day."
She, Ezequiel, and Isaiah each had their own yayas as well.
In elementary, Nadine studied at the Diliman Preparatory School in Quezon City. She describes herself as "sobrang bibo" in her elementary school days.
When she was around nine years old, Nadine began working as a host and a perfomer for a kids' variety show that aired on RPN-9. The show, called Storyland, was named after the children's theme parks located inside SM malls, where the program was usually taped.
"It was my mom talaga who really pushed me into doing that," Nadine says. "Wala lang. Gusto lang niya na maka-experience ako ng something unusual and different." In fact, it was her mom who always accompanied her to auditions.
With much affection, Nadine recalls that the sessions with the VTRs (video tape recorders) and the long lines at auditions were some of her favorite moments with her mom. "We would just sit down and talk."


NADINE'S BLISSFUL WORLD TURNS UPSIDE DOWN
Nadine turned 10 soon after the Storyland show ended its run. Suddenly, life as she knew it was turned upside down.
"Nag-change na lang po bigla," she says. Her father lost his trucking business, and the Lustre family got mired in financial troubles.
Nadine felt the change, but somehow, earning a living at a young age made the unfortunate situation easier to handle.
"Na-feel ko po talaga ang change, but I was working na po kasi," she remembers. "'Buti na lang, I was working na. I was having TVCs [television commercials], and TVCs paid well. So parang before mawala 'yong business ng daddy ko, nasanay na ako."

After Nadine graduated from elementary school, when she was around 13, her parents brought her to the United States. "We planned to stay there mga weeks lang or months lang," Nadine recalls. "Mga one month, rather."
While in the U.S., Nadine put her artistic skills to good use. "I was a graphic designer there. I was getting paid to make mga graphics for mga sites, pero 'yong mga blog lang."
Nadine tells us that her stint in the U.S., although she was unaware of it at the time, might have turned her into an introvert: "Wala akong social life, kasi nga I was into computers lang. Weird nga, e. It's a phase, I guess. Mga teen years, so parang depende sa 'yo kung magiging antisocial ka or magiging ano ka."
The supposed short stay in the U.S. turned into a few months, until Nadine's mother got pregnant. Myraquel and Nadine had to go back to the Philippines, leaving Ulysses behind.
"My dad stayed for a while pa, kasi nga he got a job na. Mechanical engineer, e. It pays well kasi. Meron silang sarili nilang garage do'n sa States. Sariling talyer ba ang tawag do'n? May sarili silang talyer, and it pays well."
When Nadine returned to the Philippines, high school life was waiting for her, but it was not what she expected.
"I got back late na, I think mga November. So hindi na ako tinanggap ng school. Parang two semesters na lumipas no'n, e."
Myraquel decided that Nadine should finish high school through homeschooling. While studying in this manner, Nadine was continuously working in front of the camera, helping her parents with the financial needs of the family.
Back then, Nadine saw homeschooling as something that worked for her, since it resulted in a work-life balance. Only recently did she realize that such an arrangement was also the reason why she became "antisocial."
"Ngayon ko lang na-realize, kasi pag iniinterview ako, tatanungin nila kung bakit homeschool, ganyan. I'd always tell them na, kasi I have this, I have work, ganyan, I have my career. Pero lately, no'ng magkausap-usap kami ng mga friends ko, 'yon pa pala 'yong reason na parang, wala lang, bigla lang nag-cross sa utak ko na takot pala kasi ako na makipag-socialize."
She thinks that even her choice of college—the Colegio de San Lorenzo in Quezon City, where she took up a film course—is a product of that fear. "I chose a really small school lang, kasi hindi ko kaya 'yong mga university. Hindi ko kaya 'yong… ano 'yong tawag do'n? Naku-culture-shock ako."
From where she's standing now, it's hard to believe that part of Nadine ever existed. Fate must have been working overtime.
Eventually, her father had to come back to the Philippines. "My parents, they had work, pero it's not enough. There's four of us." Soon, the family made the difficult decision to let her father stop working, "kasi nga he had to look after my sister."
On the other hand, Nadine and her mother were busy rushing from one project to another, from one audition line to the next.
At that stressful time in her life, Nadine was aware of the concept of struggling to survive, of persisting against all odds. And then, one day, the odds were in her favor.
NADINE NEVER WANTED SHOWBIZ?
"I never wanted to be in showbiz," Nadine tells us impassively at one point during the YES! interview. Before Storyland, Nadine had zero experience in acting, hosting, singing, or dancing—at least in public. However, she tells us that she always had an inclination for performing.
"I have mga videos, mga home videos namin na kumakanta ako, sumasayaw ako, ang likot-likot ko, ganyan. Kasi I like watching 'yong music channels MYX and MTV. 'Tapos, singing along to M2M songs, ganyan, Westlife. No'ng time na 'yon, 'yon pa, e, Britney Spears. I love Britney Spears."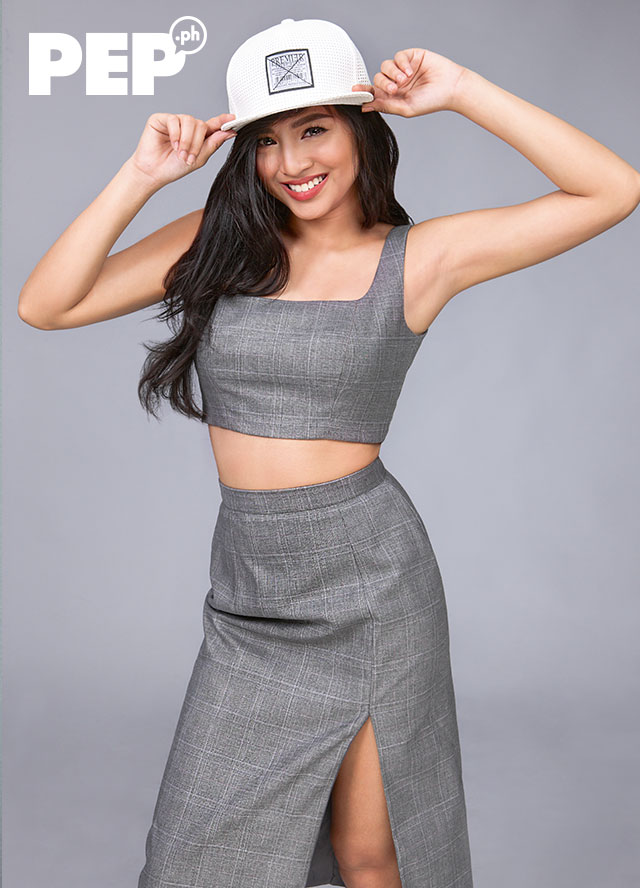 M2M was a pop music duo, while Westlife was a boy band. Both are now inactive.
But the fame that her favorite singers enjoyed never crossed Nadine's mind at the time. Her gigs were simply a way for her to meet new people, besides being a way to help in the family finances. "I was going with it lang kasi may makikilala akong bagong friends, ganyan. Hindi ko talaga inisip 'yong fame. Even with the TVC. Kasi, after naman ng TVC, wala ka na, hindi ka naman sisikat and all, e."
Then, when she was 15, Nadine auditioned to be a part of the girl group called Pop Girls, and she found herself being signed up by Viva Artist Agency, the talent management firm of Vic "Boss Vic" del Rosario.
Up to this day, Nadine remembers her audition with clarity.
"It was just one person lang who auditioned everyone— Tita Geleen Eugenio," Nadine says, referring to the popular choreographer who has worked on such variety shows as Party Pilipinas and Wowowin.
For her audition piece, Nadine sang "The Climb" by Miley Cyrus.
"'Yon lang 'yong first na pumasok sa utak ko that time," she says. "'Tapos, as in, very casual na interview. Nandiyan sa labas lang kami. GMA pa no'ng time na 'yon. Nasa labas lang kami, nakaupo lang kami, 'tapos nakaupo lang siya [Geleen] diyan sa tabi ko. 'Kanta ka nga,' ganyan. And then, after that, that was it."
Two days later, Nadine Lustre signed a contract with Viva.
Pop Girls had five members, and the girl band released a self-titled album in 2009 under Viva Records. (By 2016, all the original members have been replaced, and the number of members has been cut down to four.)
Nadine says she found performing exhilarating, "I love performing, kasi it gives me this adrenaline rush na ewan ko, na hindi ko nafi-feel sa ibang mga bagay."

But it was also during this time in her career when she started exploring her skills in acting. At the time, her love for the craft was "sakto lang."
She had a continuous flow of acting projects, including bit roles in the movies Petrang Kabayo (2010), starring Vice Ganda, and Who's That Girl? (2011), starring Anne Curtis, Luis Manzano, and Eugene Domingo. In 2011, Nadine got the lead roles in TV5's television remakes of the hit films Bagets (1984) and P.S. I Love You (1981).
Despite all the opportunities that came her way, Nadine remained nonchalant about her work. "Parang no'ng time na 'yon, nag-e-enjoy naman ako kasi may mga friends ako, but then my heart wasn't in it. Wala lang, I'm just enjoying, being carefree. Kasi, 'yon nga po, I never really wanted to be in showbiz. So parang basta gawin na lang natin 'to."
Talking to the lively and passionate Nadine of the present, we cannot imagine how she could have been nonchalant in the past. We ask: When did you learn to love your craft as much as you do now?
"No'ng nawala," she replies.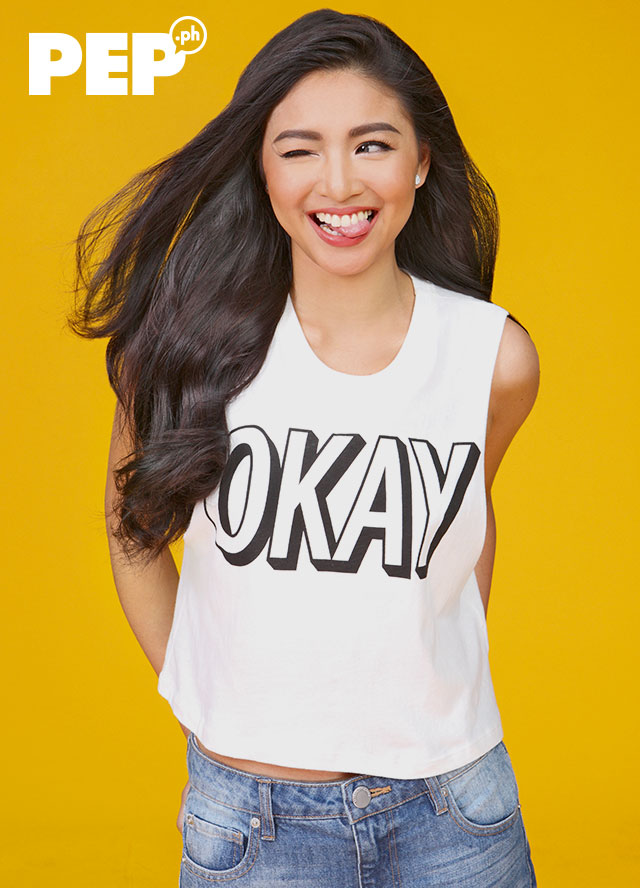 SHOWBIZ FIZZLES FOR NADINE
In 2012, the Bagets series presented its final episode, and so did P.S. I Love You. From then on, Nadine's projects dwindled, work opportunities came few and far between, and she began to feel that showbiz was not for her. "Biglang sumemplang, kasi I was taking it for granted. So I thought to myself na baka hindi na."
It was at this point that she decided to go back to college, while at the same time pursuing some of her other artistic interests. "Kasi may liking for photography, visual arts, music. I was planning to be a music video director, something na medyo artsy—definitely not like teleseryes and movies. Movie, puwede siguro, but then I was really aiming for music videos, TV commercials, I guess."
The new adventure served Nadine well, but her heart was missing something. Plus, financial insecurities started to set in.
"I'm used to paying for my own tuition fee, I'm used to buying my own stuff nang hindi ako humihingi sa parents ko. 'Tapos, no'ng nawala lahat ng projects ko with TV5, I was really insecure. Kasi my tuition, it was my parents who paid for it. Because I started working when I was really young, so parang nag-stick na sa sarili ko na I have to be independent, na I have to be able to pay for my own things, for what I need. 'Tapos, I'm used to giving my brothers 'yong tuition din nila, their baon."
Fate, this time, wasn't so forgiving. But it was her faith that was put to the test. One day, she and her mom were invited to attend The Feast, a weekly prayer gathering of a Catholic group called Light of Jesus Family. They decided to give it a try.
As she recalls the experience, Nadine's voice starts to soften. "'Yong Feast po kasi na 'yon, they give out mga envelopes. In the front…" She pauses. It takes her a few seconds to speak again. This time, her voice cracks a little. "Naiyak ako. In the front, it says, 'Things that you're thankful for,' and then at the back, 'yong mga wishes mo." For five consecutive Sundays, "Lord thank you for another day" was what Nadine would write on the front of the envelope. "Simple lang," she says. On the back, she would wish for her showbiz career to come back. "'Tapos, ang 'binibigay ko no'n, parang fifty pesos, gano'n."
Months went by, and her prayers remained unanswered.
"I gave up na din. Parang hindi na ako humihingi sa Kanya. Sabi ko, 'Lord, Your will be done na lang. Thank you po for everything.' Ang wish ko na lang sa Kanya, 'Please continue blessing me, keep my family healthy.'"
Months went by. Again, nothing. As if out of curiosity about what could happen, Nadine wrote her long-forgotten wish once more. This time, as she speaks, she giggles. "Kasi I talk to Him like a normal person lang po. I said, 'If it's not too much to ask, kung di N'yo mamasamain, puwede po bang ibalik N'yo 'yong career ko?' Haha. Sabi ko, 'Kasi nami-miss ko na po.'"
A few weeks later, Boss Vic asked Nadine to come to the Viva office. When she got there, she was introduced by Boss Vic to an online novelist.
"O, eto si Denny, 'yong author ng Diary ng Panget," Viva Entertainment's chairman and CEO (chief executive officer) said. "'Yon 'yong movie na gagawin n'yo."
Diary ng Panget is a romantic comedy originally posted on the online community Wattpad, written under the pen name HaveYouSeenThisGirl. In real life, the author is known—or prefers to be known, at least for now—as Denny R.
THEN DIARY NG PANGET HAPPENS
The online novel's movie adaptation, Diary ng Panget: The Movie, premiered in April of 2014. As anyone familiar with showbiz now knows, the movie became one of the biggest sleeper hits of this generation.

In a matter of days, the movie itself, as well as its lead stars, Nadine Lustre and James Reid, had amassed a cult following of mega proportions. It also relaunched Nadine's showbiz career.
The male lead, James Reid, had earlier won the "Teen Clash 2010" edition of the reality-TV game show Pinoy Big Brother. Before Diary ng Panget, James, like Nadine, had played bit roles in movies and teleseryes.

Today, the widely popular love team of James and Nadine is known by the celeb uni-name JaDine.
Her story, Nadine now says, is a lesson in faith, including faith in other people.
"Di ko po alam bakit ako pinili. Pero Boss Vic has been consistently encouraging me and keeping the faith. Sabi niya, 'Huwag kang mag-alala, bibigyan kita ng project, antayin mo lang. Pag dumating na 'yong project na 'yon, you will be really, really famous. 'Tapos, you'll make it big.' Gumagano'n siya palagi.
"Hindi ako naniniwala kasi parang, 'Ang tagal na, Boss, e. Pero sige na nga, kasi ikaw naman 'yong tumulong din sa akin.' Sobrang hindi siya tumigil talaga. Parang ini-encourage pa niya ako, kahit sumuko na ako."
Everything happened—and is happening—so fast. Nadine has completed her first year of college, but due to her suddenly busy showbiz schedule, she has to put school on hold for the moment. Just a few weeks after the commercial release of Diary ng Panget, Nadine's talent management group already started planning the second movie that would star Nadine with James. Also, product endorsements started flowing in, other projects piled up, and glossy magazines put the glamorous new star on their covers.

But to this day, the premiere night of that first big-screen lead role is still one of Nadine's best memories in showbiz, and one of her loudest reminders of why she's here.
"Do'n sa cinema, sa premiere, when we were watching DNT [Diary ng Panget], tumitingin talaga ako, as in everywhere, even sa likod, tinitingnan ko po silang lahat. So, parang ako, 'What's my purpose?' Parang naisip ko na 'yon, e, siguro ito 'yong purpose ko—to make everyone happy, to make people carry a smile, to make everyone laugh."
GOING THROUGH A SAD PHASE
The Nadine before Diary ng Panget: The Movie isn't easily recognizable in the Nadine of today.
But some things have stayed the same, she says. "I still go to Trinoma [mall in Quezon City], I still go to SM malls, I still watch movies with my friends, dinner, ganyan. Why not? I did that dati."
The changes, although not easily perceived at first glance, lie in the strength of her heart and mind.
When she's in front of the camera, for example, she has learned to forget her insecurities and give her characters integrity. She remembers that in Diary ng Panget, she found it difficult to act out her character, who was full of energy, animated, and clumsy.
"I was having a hard time. I'm shy. Pag ipapakita ko, 'yong acting silly, 'yong being spontaneous, takot akong ilabas sa ibang tao na hindi ko naman kilala. E, papa'no? E, di ba, kailangan? Nahihiya nga ako. I can do that with my friends lang, pero kung crew, pag ganyang maraming tao, hindi ko kaya. So I had a workshop with [actor, director, and acting coach] Direk Pen Medina kung paano ko siya ilalabas."
She has now become more dedicated to playing her characters.
"Sobrang natuto po ako because of OTWOL. Sobrang nag-improve din po because of it. Kasi nga, every other day I get to act, so parang napa-practice ko siya. And then every time na may eksena, I try my best na higitan ko 'yong ginawa ko last time. I challenge myself."
She has also learned to draw the line between real and reel emotions. "Before, hirap po akong bumitaw. But then, ngayon, kaya ko na. Like, after a scene, tapos. Dati, nadadala ko po siya."
This newfound, unreserved actress in her can be liberating, Nadine says, and this openness has permeated her personal life. But to be this open and be this famous at the same time can create taxing situations.
On October 19, 2015, Nadine posted, on her Instagram account, a photo of this short poem: "It's gotten to the point where/ I don't know who I am anymore./ I constantly feel like I'm on the verge/ of breaking down." In that same post, she wrote a caption: "Hey, it happens…But you gotta get back up."
Netizens and Nadine's more than 1.5 million followers on Instagram immediately expressed their concern for the actress, making guesses and assumptions: Was it her job? Was it her love life? Was she exhausted?
Nadine explains that it was not what people assumed it to be. She begs off from giving exact details, but simply says: "I guess it was also a phase. I went through something with my family. No pressure with my career, kasi my career is going really well. The pagod? Hindi din po, kasi I'm a workaholic, so parang even when I go home, I do stuff pa. Kunwari ngayon po, later when I go home, I'm gonna clean my room pa. 'Yong mga clothes ko, io-organize ko pa. Kasi I'm very OC. Parang never akong napapagod."
Throughout our conversation, Nadine turns reflective every now and then, conjuring up memories and reminding herself of lessons learned.
At one point, while we are talking about her childhood, she says: "Naisip ko—wala lang, 'sisingit ko lang—no'ng I was in my depressed phase, naisip ko, parang I wished I never grew up. Kasi parang no'ng tumanda ako, parang all the little things, ngayon nagkakaroon ng meaning. Dati, all the things that you worry about lang is about school, about your grades, about not being able to pass your projects, about not doing your assignment. Do'n ka lang malalagot, babagsak ka sa exam, 'yon lang. But now there are so many things that can bother you, that can make you sad."
To find peace during one such difficult moment in her family life, Nadine decided to go with friends to Seoul, South Korea, for her birthday. One night, she was at the N Seoul Tower, a tourist attraction that has a revolving restaurant and offers a panoramic view of Seoul. At that exact moment, Nadine remembers, she felt that she wanted to get rid of the pain she was feeling.
She brings out her phone and shows us a photo of herself atop the tower, getting her panoramic view of the city.
Exactly this moment," she reveals, her voice breaking again, "naiiyak ako. You can see, you can see, 360 [degrees], you can see 'yong buong Seoul. Itong moment na 'to, nakatingin lang akong ganyan. 'Ang ganda ng mundo, e,' sabi ko. 'Why am I being like this?' Kasi there were times na parang ayoko na. I was giving up na, no'ng time na 'yon, sobrang give up na ako. Sabi ko, 'There are so many things that I want to see, and I want to see this.' "This is the panoramic photo, but this is one area lang. Just imagine if it's 360!"

She adds, "It's really, really beautiful. I want to see more of this. This made me really happy. 'Tapos, parang for some reason, it just made me realize na I don't wanna be depressed anymore because I wanna see more of this. I wanna see more of the world. I wanna be happy."
A MORE OPEN NADINE
The vacation did her good. She's better now, she says: "Kaya ngayon, pag tinatanong ako, 'A, tapos na po 'yon, e.' Happy na ako ngayon." She admits, though, that the members of her family don't talk to each other that much. "But we just fix things. 'Yon nga, e. Basta, weird."
Now, Nadine has the courage to open up.
"Before, parang I'm limiting the things that I tell to other people, kasi I'm afraid of people judging me. Now, parang na-realize ko na 'Why would I be afraid?' That's me. And I'm happy with how my life turned out to be. I'm happy with all the experiences that I went through. I'm happy with all the problems, hardships, and everything. So why would I be ashamed of it? I'm proud of it, e, kasi I got through it."
The phases that she has gone through are now seen by Nadine as life's coaching techniques. For instance, she knows what it was like to have little money, so now her finances are well taken care of. She's currently saving up for her own business—probably real estate.
She's also renovating the family's ancestral home: "Di pa po maayos, e. Mga 70 percent pa lang po siya." Her artistic skills are challenged this time, as she's also conceptualizing the design of the house, which is leaning towards "Scandinavian, Nordic," she says. "Clean po kasi, cozy. Tina-try ko po ayusin. Kaya lang, wala po talaga akong time. Hindi ko po matutukan."
Nadine admits, though, that she's still working on her shopping habits: "Medyo magastos po ako ngayon, kasi nag-aadjust ako. Hindi naman deprived before, pero it was different.
"Like before, when I was still studying, I had no work, and this was the time when I was into fashion. Wala lang, window shopping lang, kasi I really couldn't buy. Bibilhin ko pa ba imbes na baon ko, di ba?"
At the time, her daily allowance was around 100 pesos. "Kakainin ko lang no'n was worth 50 pesos. The other 50, I save it, kunwari I want to buy a certain pair of shoes."
She also doesn't scrimp on food, because that's what her mom advised her to do back in her younger days. "Sabi ng mom ko, 'Huwag kang magtipid when it comes to food.' Food makes my mood better. It makes me better."
The road ahead is unknown, but Nadine is equipped for the journey. To survive, she takes a piece of wisdom from every struggle and every triumph, and she lives by the words of her parents:
"My dad says to never change. Kung sino ka before all of these, huwag kang magbago. With my mom, be happy. As long as you're happy, keep doing it. But if you are not, stop."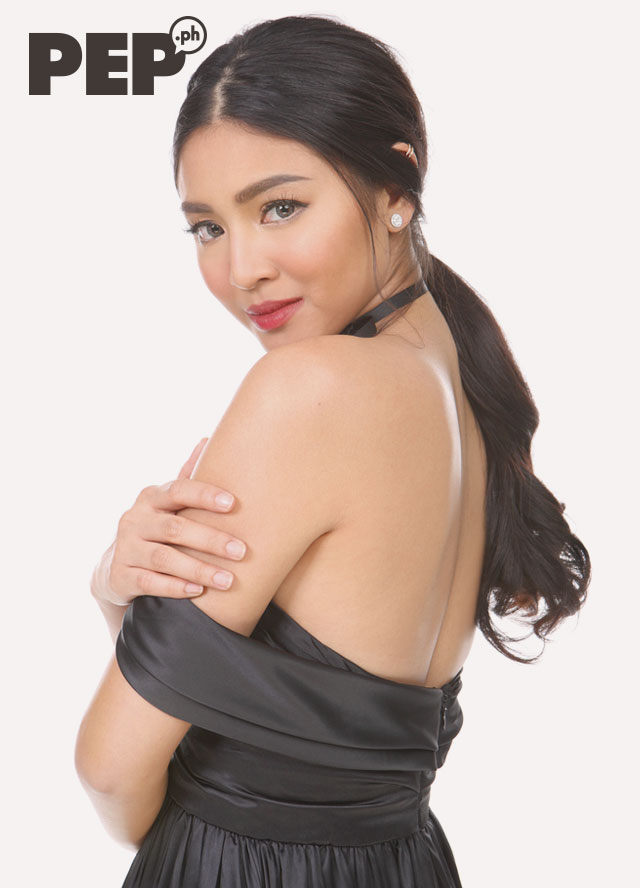 Published in PEP.ph April 2019
Adapted for PEP.ph by Jo-Ann Q. Maglipon

ORIGINALLY PUBLISHED IN YES! FEBRUARY 2016
Text: Bam V. Abellon Interviews: Bam V. Abellon & Candice Lim-Ventura Photos: Cyrus Panganiban
Editor in Chief: Jo-Ann Q. Maglipon
Executive Editor: Jose F. Lacaba