DATELINE: 2016
Before there was a JaDine, there were James Reid and Nadine Lustre—two stars whose careers were at a standstill.
James, a product of a hit reality-TV show, failed to reach stellar heights in his first foray into showbiz. Nadine, who was starring in teen shows, failed to make waves with the projects that were given to her.
It would take an ugly girl's diary and a leap of faith to change both their lives.
It's a rainy late Monday afternoon in December, and yet the hallway in the Viva office at the Ortigas Center in Pasig City is abuzz with activity.
Various showbiz denizens are all over the place: an auditioning girl group composed of blonde-haired members, an actress from a hit primetime teleserye,a former sexy star, an aunt of a pop star, a comebacking dancer, a television director, and a few unfamiliar people seated in the lounge. All of them are waiting for one man: Viva's head honcho, Vicente del Rosario, more popularly known in the industry as Boss Vic.
The man almost never gives interviews to media—perhaps not for any particular reason, but that he is just really busy. He is known in show business for being charming in person but a fierce combatant when it comes to maintaining his entertainment empire. That empire, Viva Entertainment Inc., is doing more than producing films, TV shows, and concerts; it manages artists (actors, actresses, singers, groups, and, more recently, Internet sensations), produces music albums, publishes books, and owns radio stations and cable channels, among others. Still, we're taking a chance, since we have a scheduled meeting with him. But by the looks of it, and judging by the horde making a beeline for his office, today might not be our day to meet the boss. We are escorted instead to the office of his daughter, Veronique Corpus, president of Viva Artists Agency—the talent management arm of the company responsible for the careers of the likes of Anne Curtis and Sarah Geronimo. Veronique looks up from the documents she is signing and greets us with a warm smile. She does not have a whole slew of people waiting to see her at this very moment, but she has, literally, an almost two-feet-high stack of papers on her desk begging for attention. Even so, she graciously accommodates us.
People filling up the hallway is something that happens frequently at the Viva office. "Hindi naman siguro daily, but it's a regular thing that people come here," Veronique says. It's part of the business, after all, for Veronique and her dad to see stars and wannabe stars seeking representation on a regular basis. But, of course, not all are given management contracts.
The president of Viva Artists Agency doesn't have the exact number, but estimates that the company has around 200 talents in its stable. It's a conscious decision, she remarks, to keep the number low, "para quality." She confesses to being "selective" because she wants her talents to be "top of the class—either may hitsura or very talented."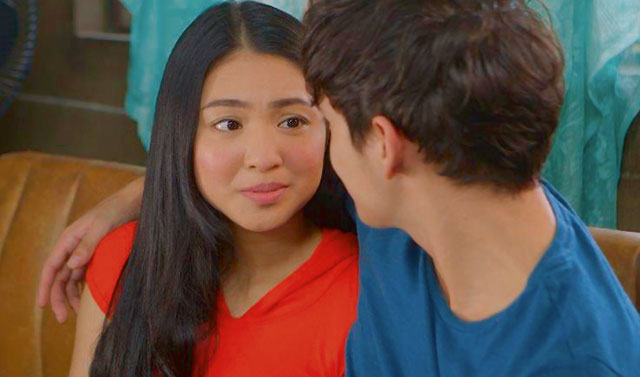 And what do the the Viva people look for in a talent?
We don't limit," she replies. "Siyempre, minsan gusto naming makita, kasi sabi nga namin, to see is to believe. So, parang it's better that we get to talk to them kahit sandali lang or get to know their background." There really is no single formula on how to make a star, she emphasizes. "Minsan naman kasi, sa umpisa, hindi super guwapo. Nade-develop, e. So, in time, give them proper training, proper encouragement, and discipline. Lumalabas naman in time 'yong kanilang pinaka-potential."
Veronique says Viva really invests in its potential stars. Since not all of the aspirants come from well-to-do families, it's Viva that pays for gym memberships, voice lessons, acting workshops, beauty regimens, and, in the case of some foreign talents, Tagalog lessons.
Save for a very select few, stars are not made overnight. Viva recognizes this and has maintained an outlook that the company is in it for the long haul.
"We don't give up easily if we feel na merong potential. Like, most of our stars, matagal na sa amin. Anne Curtis started with us. Dati, hindi pa marunong mag-Tagalog. Her roles were limited and everything, pero we didn't give up. Because we knew that face would really go a long way. And maganda rin that the other half of it, talent mismo, e nagpursige. So, ano 'yan, it takes two to tango."
Viva's goal is to give people jobs, Veronique says. It aims not only to find potential actors and actresses, but also to have working actors and actresses. It sends its talents to auditions on a regular basis. It is also exploring different platforms, such as the Web, to promote its stable."Siyempre, you don't let others din get frustrated. So, you try to either train them or look for projects for them."
HOW NADINE AND JAMES WERE FOUND BY VIVA
By the start of 2014, Viva was looking for a project for one of its talents—Nadine Lustre. The young singer-actress was an audition discovery when Viva decided in 2009 to form a teen singing girl group called Pop Girls, a pet project of Boss Vic himself. From the get-go, Boss Vic already saw Nadine's potential."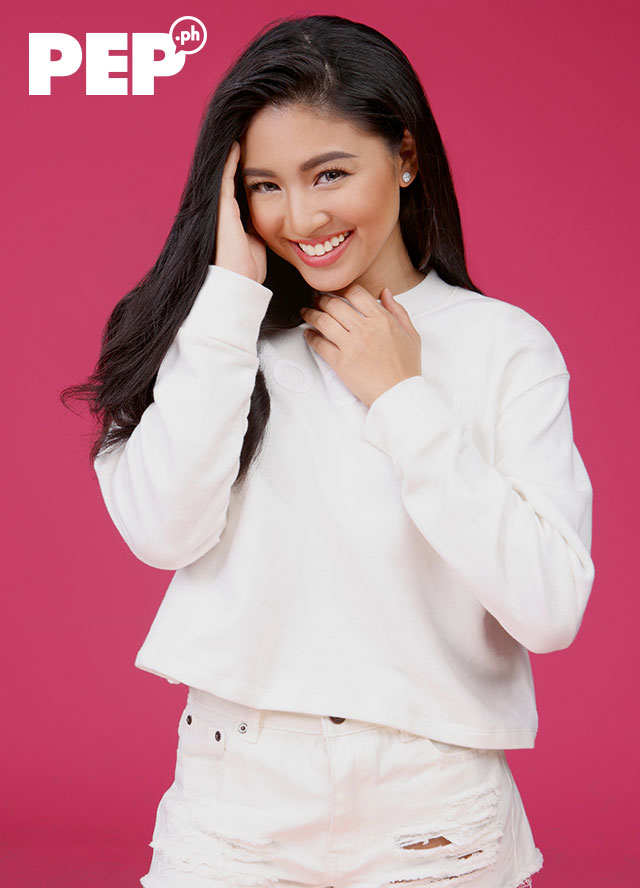 Baby ni Boss Vic 'yong Pop Girls," Veronique tells us. "Nakita niya 'yong parang pagkasimple ni Nadine, pero alam mo na may dating. He saw that already. And of course, 'yong makaka-relate 'yong mga tao, kasi 'yong features niya, parang Pinoy, parang Sarah Geronimo, gano'n. Parang magaan loob niya."
Nadine, who was around 16 at that time, underwent acting workshops and voice lessons. The Pop Girls went on to record a self-titled album and perform in mall shows. "After siyempre no'ng dine-develop na siya as an artist, do'n na namin nakita lahat. 'O, she can do this, she can do that.' So, parang importante na makita mo na kung ano pa 'yong puwede nilang magawa and try to develop that. Kasi, siyempre, sa una naman, hilaw pa 'yan, e. Kaya nga kami nandito—to boost that talent na meron sila, na ilabas nila para mag-bloom."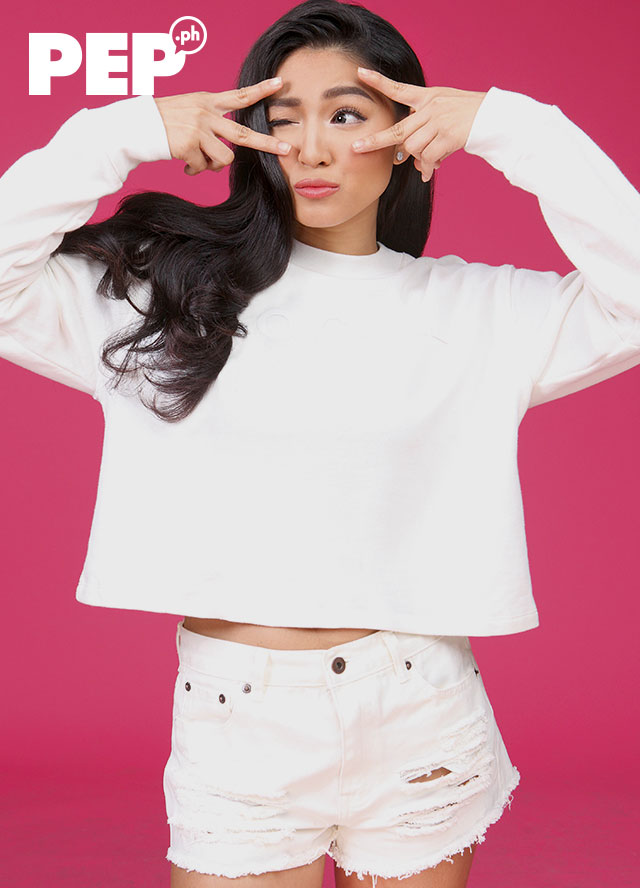 Nadine was able to get steady acting and hosting work on TV5 in the next few years. She was also cast in Viva-produced movies, such as the Vice Ganda starrer Petrang Kabayo. But by the end of 2013, her career seemed to have come to a standstill.
James Reid was in the same situation. He was the winner of the teen edition of the reality-TV show Pinoy Big Brother in 2010, but his showbiz career did not fly in his home network, ABS-CBN. He was getting little acting work, and his digital album, We Are Whatever—which he made with his fellow PBB grad Bret Jackson—did not make waves.
His manager, Jojie Dingcong, brought him to Viva, hoping to strike a co-management deal."Of course, we knew who James was," Veronique recalls the meeting. "So, medyo kilala na rin, in a way... But when we saw him, siyempre we saw the potential na puwede."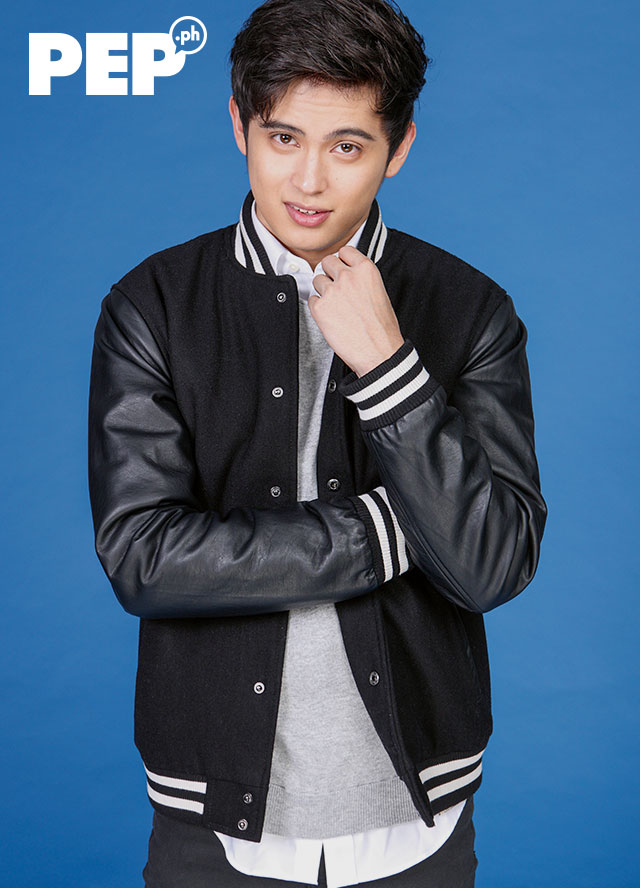 Did Viva ever hesitate to take a chance on James, knowing that even a big network like ABS-CBN, with all of its subsidiaries, was not able to make the young hunk a certified star?
Without batting an eyelash, Veronique says bluntly, "Hindi. Kami kasi, we don't give up easily… Hindi kami 'yong flash in the pan. We're here for the long haul because this is our business, our family business. So parang we look at it na five, ten years, okay. Pagtitiyagaan ka namin basta we see the potential. And we saw the potential in him."
Aside from James's good looks, "we felt that marami pang puwedeng ibigay 'yong bata. He was very hungry for another chance at stardom."
And besides, Veronique says, comebacking stars or celebrities looking to be repackaged are easier to "sell" to networks than complete newbies. "Because may platform na. Kilala na, in a way."
She cites actress Cristine Reyes as an example. "Hindi naman namin siya ni-revive dahil hindi naman siya nawala. Pero the thing is, she had parang mga character roles. We knew that she's for lead. Gano'n din with Bela Padilla. Pang-lead din pala siya."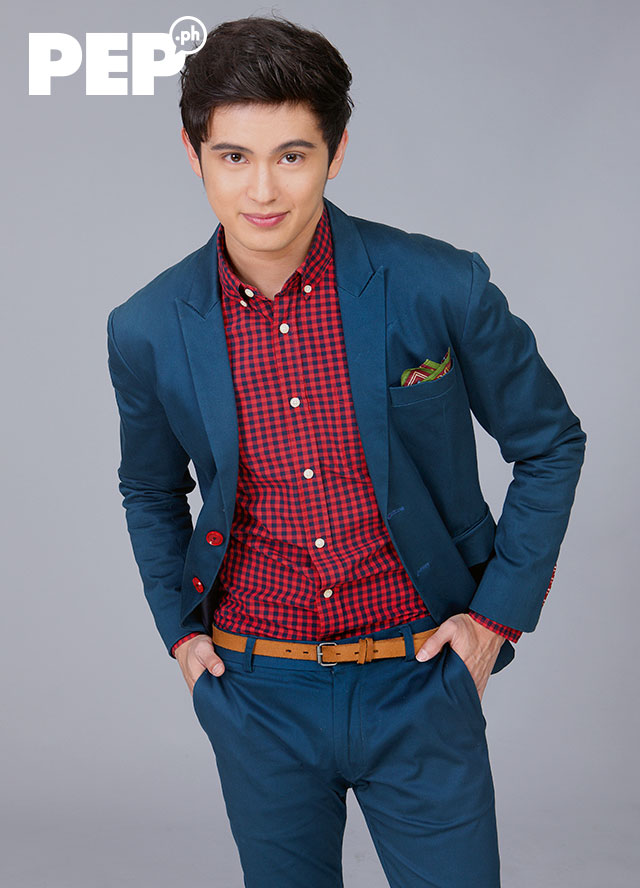 When they take on stars, Veronique says, they assess if the star fitted the projects he or she had previously done. "Baka kasi namamali lang ng projects na nabibigay," Veronique explains. There are some stars who have been packaged as "pa-sweet," but would thrive in darker roles.
Boss Vic saw that James had the potential to be the next matinee idol. Veronique was there when her dad gave such an assessment to James's camp. For Veronique, it was a case of déjà vu. She believed her dad because he had said the same thing about Anne Curtis, who was just 12 years old when brought to the attention of Boss Vic. In a meeting with the young star and her father, Boss Vic told Anne's dad, "I'm gonna make your daughter a big star, a superstar."
Anne's rise to stardom was rather slow. But it did happen eventually. She did become a very big star."
Iyon nga, we don't give up," Veronique reiterates. "Nadine had shows before. Hindi naman siya masyadong napansin. But we didn't give up on her. Kasi, kung iba 'yan, baka 'Next! Move on na tayo. Wala na 'yan.' Hindi. We believe in the potential of the artist. So, maganda lang din na nagtitiwala sila."
HOW JADINE BEGAN
In 2011, a fan of anime, a Laguna-born teenager living in Italy with her OFW mother, decided to write a simple romance fiction novel about a poor ugly girl falling in love with a rich young boy. Under the pseudonym HaveYouSeenThisGirl, the teenager uploaded her novel, titled Diary ng Panget, on the e-book online site Wattpad. The online novel gained a huge following among young adults, reaching over 12 million views. PSICOM Publishing Corporation, co-owned by Viva, published the story in four paperback volumes. And in 2013, Viva Films secured the film rights to the story.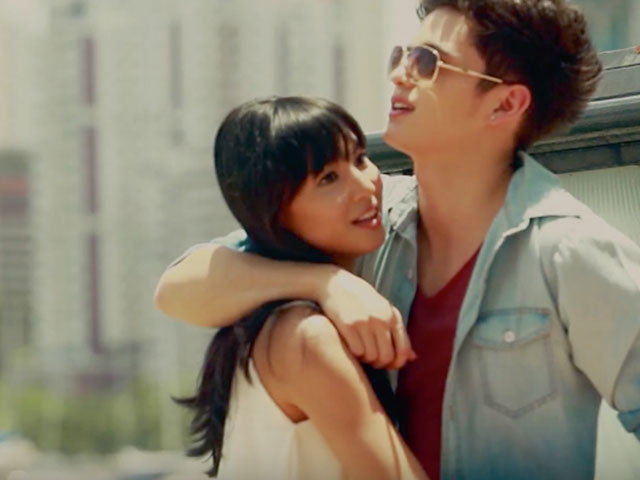 Boss Vic had the foresight to dabble in the young adult fiction market since its success in the U.S. He had cited, as an example, the Canadian-American independent film company Lionsgate, which had secured the film rights to the popular book series Twilight, The Hunger Games, and Divergent. He felt that the success of these franchises, which had launched newbies to stardom, could be replicated on Philippine shores. And he chose Diary ng Panget as the first project with which to test the waters.
"We just knew that the project was really a good project for a new tandem," Veronique explains. "Because it's pre-sold material… So, everybody would want to watch it—whoever the star is. Boss Vic was on that note na parang if it happens worldwide, then of course, dapat applicable din siya sa Pilipinas."
The Viva execs already had James Reid in mind. They were eyeing a different actress to play the panget girl, a star from a different management company."
She turned it down," Veronique reveals, but declines to name the actress. "So Dad had to pick from our roster. And at that time, he really wanted Nadine."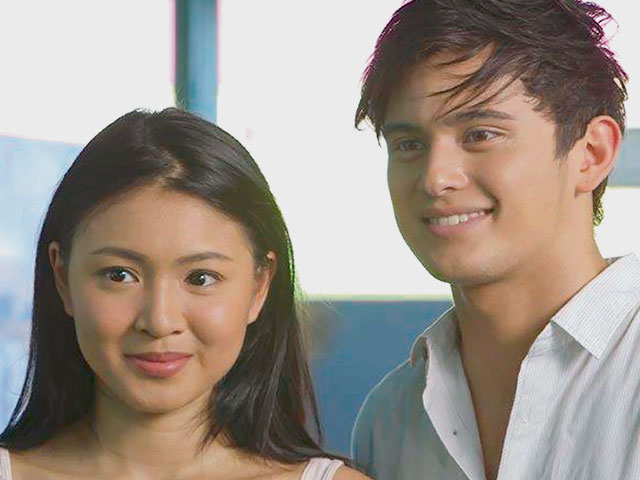 James and Nadine had previously starred in James's music video for "Alam Niya Ba," and Boss Vic had seen the contrast and the chemistry between the Pinay-looking beauty Nadine and the tisoy hunk James. Based on that little project alone, he cast the two in the movie adaptation of Diary ng Panget, with another pair of newbies, Andre Paras and Yassi Pressman, in supporting roles.
"Si Dad, pag may binet siya, sure siya na 'yon na 'yon," Veronique says, obviously proud of her father's instincts. "Sabi ni Daddy, 'Bilib ako sa project. At sa tingin ko, dapat magkaro'n na rin tayo ng chance na magkaro'n ng mga bagong bagets because, siyempre, kailangan natin 'yan. This is our future. We need artists. This is our business.'"
It's a gamble, Veronique points out.
The stars started working to fit their characters. James, already a fitness buff, hit the gym to develop his abs some more and went through rigorous Tagalog lessons. Nadine was made to wear transparent braces on her teeth, to perfect her smile.
Just as we're talking with Veronique about what it took to launch James and Nadine to stardom, voila! Boss Vic appears in Veronique's office.
He has come to ask her about something, but Veronique now goads him into answering a few of our questions. The boss man obliges.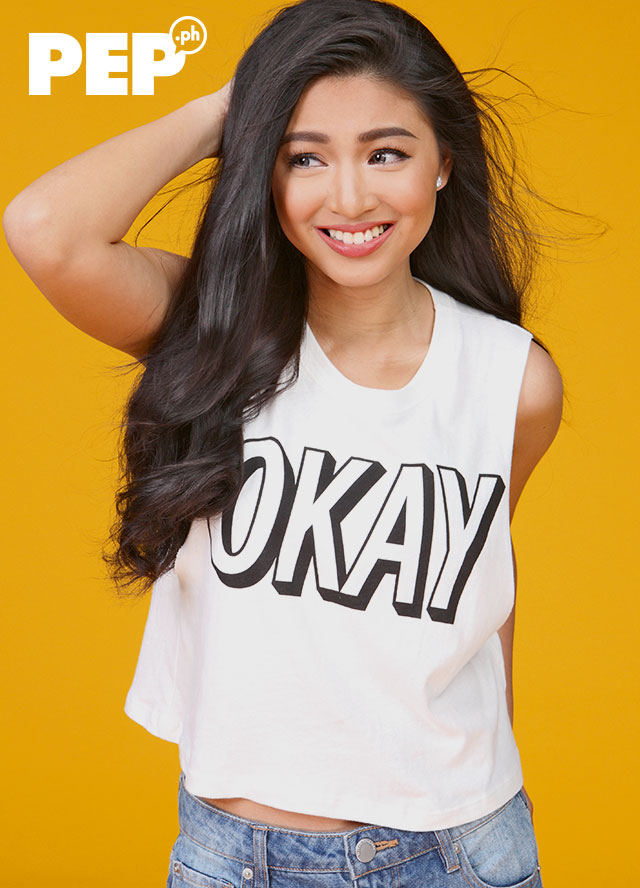 "Si Nadine muna 'yong una kong talagang binuildup, e," he says. "Pop Girls pa lang, maingay na, e."
He tells us that when the opportunity came for Nadine to star in Bagets: Just Got Lucky, TV5's adaptation of the 1980s cult film classic Bagets, he decided to pull her out of the girl group. Unfortunately, Nadine's initial love-team partnership with AJ Muhlach, her partner in the TV series, did not really fly.
"So, we waited for a while," Boss Vic recalls. "Noong dumating si James, nagustuhan ko siya as an actor. And then dumating ang time na nagkaro'n ng pagkakataong gawin 'yong Diary ng Panget. So, sabi ko, with this strong leading man, puwede nang i-launch si Nadine."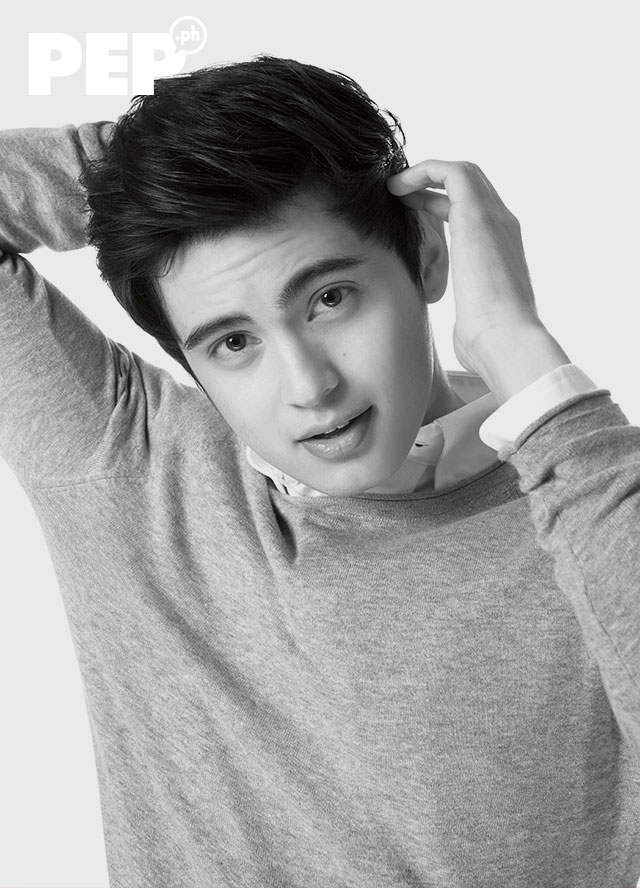 He consulted the book's author to find out if she was amenable to casting Nadine for the role. The latter agreed.
"So, we promoted it in, I think, mga 35 mall shows," Boss Vic says. "Halos wala kaming TV guestings."
Veronique later explains that they weren't able to promote the movie on TV properly because, "siyempre, naiintindihan naman natin na ratings ang TV guestings. So, kung hindi naman sila kilala, hindi sila ige-guest. So, you know, we had to pull some strings. Aminan na, parang, 'Uy, pa-guest naman. Tutal, andiyan naman 'yong iba naming artista sa inyo. Give them airtime.'"
Viva was able to get a few promotional spots, but "on the side lang, walang production number. E, siyempre, kain na kami do'n. 'Wag nang choosy! Kailangan lang namin makapag-promote sila, siyempre. Iba pa rin 'yong nanonood ng TV,di ba?"
What really helped them was social media. James and Nadine were soon christened as JaDine. And the film, despite the minimal hype, did earn over P120 million at the tills—a strong number for a launching movie."
"The rest is history," Boss Vic tells us.
JaDine went on to star in another film adaptation, this time of the book series Talk Back and You're Dead, before signing up with ABS-CBN for a network contract. With their primetime series On the Wings of Love (to which fans have given the nickname OTWOL), the two have captured the free TV audience as well. Both have ongoing product endorsements, solo albums, shows abroad, and movies. This February 20, they are expected to fill the Araneta Coliseum for their first major concert, JaDine in Love."
Walang parehong formula sa isang artist," Boss Vic tells us. "Nararamdaman mo lang 'yan. Mahirap ipaliwanag, di ba? Minsan, number one, siyempre 'yong may dating ba? Pangalawa, tama ba ang attitude? Mukha bang magsisipag? Mukha bang gutom? Kasi kung may dating pero masama ang attitude sa career, hindi rin sisikat. Siyempre, pangatlo, pag mabigyan natin ng tamang break, ayun, tuloy-tuloy."
Making stars is easy, he says. "Ang pinakamahirap sa pagma-manage is how to sustain for the next ten years. E, 'yong mga nahawakan namin, matatagal. Sina Sharon, matagal. Si Sarah, 12 years. Si Anne… Madali ang mag-build-up, pero paano magtagal is mahirap."
Boss Vic, however, is dead sure about one thing. "Ang siguradong mangyayari is James and Nadine—together o individually—will last more than the next ten years."
He adds: "They will grow because they're both good. They're both multimedia stars. Pareho silang kumakanta, pareho silang sumasayaw, pareho silang marunong umarte. Iyong look nila, pareho silang malakas ang appeal. So, tamangattitude. Tingin ko, 'yon lang."
Who are we to argue? The man knows his show business.
Published in PEP.ph April 2019
Adapted for PEP.ph by Jo-Ann Q. Maglipon

Originally published in YES! February 2016
TEXT: Candice Lim Venturanza
INTERVIEW: Bam V. Abellon & Candice Lim Venturanza
PHOTOS: Cyrus Panganiban
EDITOR IN CHIEF: Jo-Ann Q. Maglipon
EXECUTIVE EDITOR: Jose F. Lacaba