DATELINE: 2016
If you want to know how James Reid feels, the best option is to ask him directly. He will be respectful. He will be civilized. But rarely will he mince his words, unless, of course, doing so is part of his current job as heartthrob-actor-singer-dancer. If, for some reason (mostly professional), his words become too measured, just observe his attractive face. One look will tell you whether he wants you to approach or retreat, to carry on with the conversation or fall silent.
One late Saturday night, in our third exclusive interview with one of today's hottest male celebrities, we can see that he wants to rest, to be in a peaceful place, to be with his family. But we also know that he wants to be responsible in view of the opportunities that have been given to him, and that he wants to be good—and better—at his job. We know because, either he has told us, or we see it like a neon sign on his face. The moods are easy to spot: most of the time, his expression is unchanging and his voice is impassive.
A year after Diary ng Panget: The Movie, the film that catapulted him and love-team partner Nadine Lustre to the heights of popularity, this is now what goes on in his mind. This is how James Reid feels.
NUMB TO FAME
"I struggle to get out of bed" is James's first response when we ask him to describe his regular day. He wakes up sometime between 5:30 and 6 a.m., he tells us, but he adds, with emphasis: "I'm not a morning person. I like pressing the snooze button [on his alarm system]. I'm one of those people who keep pressing it, just to have the feeling that you have more sleep. I press it three times before I get out of bed."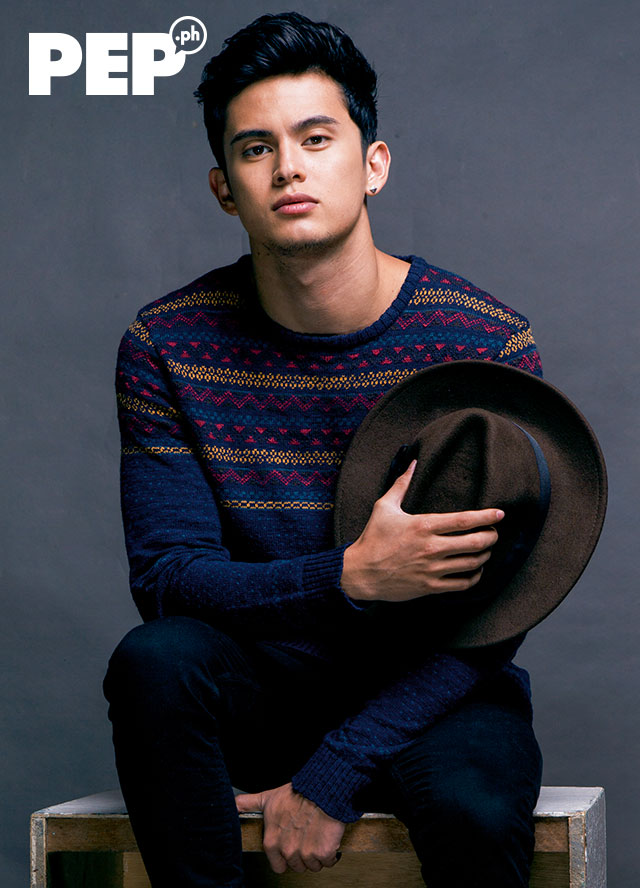 Once out of bed and all spruced up, he goes to the taping of his and Nadine's first daily teleserye together, the hit primetime series On the Wings of Love.
"I'm there at the taping till 3 a.m. the next day, and then I'll go home," he reveals.
That's just for Mondays, Wednesdays, and Fridays. "For Tuesdays, Thursdays, Saturdays, Sundays," he adds, "I'll have work in between: photo shoots and endorsement shoots, concerts, mall shows." James has made four films—Diary ng Panget: The Movie (2014), Talk Back and You're Dead (2014), Para sa Hopeless Romantic (2015), and the Metro Manila Film Festival 2015 entry Beauty and the Bestie—plus one TV project, My App #Boyfie (2014). Now he's taping regularly for On the Wings of Love. His work schedule, it goes without saying, is filled to the brim. The last time he had a week off was last Holy Week.
On the night of the YES! interview, seated in an armless chair, he is his usual candid self, but a little weary. His eyes, usually a dangerous mixture of pleading, inviting, and daring, show little light. "Everything's blocked off until next year, each day."
A day like this would have been unimaginable to a younger James.
"When I was, like, 13 years old," he recalls, "I never imagined that I will ever be anything. I just imagined myself getting into a nine-to-five job every day, sitting at a desk, and then saving up to go on a holiday once a year, and going grocery shopping. That's the idea, that kind of life. Anyways, now, I've completely transformed. The 13-year-old me, or the 15-year-old me, would be terrified. 'Oh, my God, so many people.' I'd be like, 'How do you do it, all the pressure and everything?'"
Now, the 22-year-old James—he will be 23 in May—is always in the middle of a crowd, of the people that used to terrify him. And that kind of daily routine can take a toll on anyone. Add to that the fact that rest is rarely part of the whole picture.
"I was just optimistic before," he says, pronouncing each word as clearly as possible. "I was, like, this is the best that I have been, like happy, because I was getting there."
In our first exclusive interview with James, which came out in the October 2014 issue of YES! Magazine, the new showbiz heartthrob told us that he was taking his success "well."
Tonight, in our third interview, he says in his usual straightforward manner: "It was not easy getting to where I am now. But it's harder to stay here. Like, to keep it going, there's pressure and working nonstop."
He thinks for a while, before revealing: "I feel, I get numb to the fame. I wish I didn't, but sometimes I get numb to the fame. When people shower me with gifts and clothes and stuff for free, I find it, like…"
He pauses, unable to finish his sentence. Then he takes another tack: "Sometimes I notice that there are fans during tapings, on the set, waiting for, like, a couple of hours, and then I take photos with them so that they can go home because I feel bad… Yeah, sometimes, you get numb to the… I feel, I get numb to the fame."
James's physicality has also been affected by his work schedule. "I don't have time to go to the gym. I've lost more than 10 pounds. I was 145 before. I think my peak was around October last year. And then, nonstop work. After that, I'm down to 130. And I don't have much fat on me. It's just muscle I lost."
Working out on the set isn't even an option anymore. "I'm too tired. I tried that before. Now I'd rather sleep."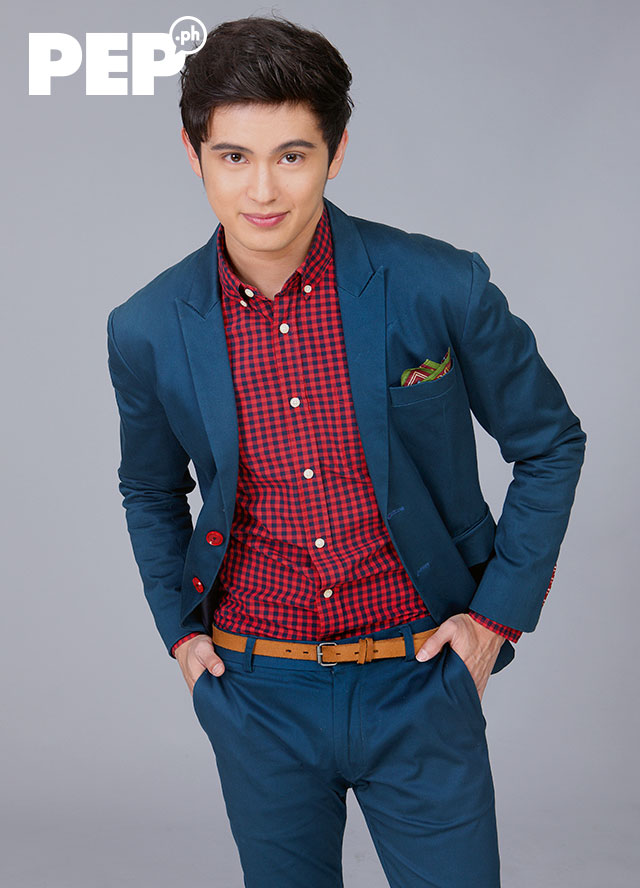 James is lucky, though—and he knows it. He has met friends, both in and out of showbiz, real friends who have proven their loyalty and support, who are unaffected by his newfound fame.
"Nothing I do is real," he says. "It's all pretend, make-believe. So when I get to my friends, I can come back to be a normal human being. Actually, my only stress relief would be to see my friends. I mean, my friends are the realest people I know, so they help me, like, refresh my thinking. 'Cause sometimes, I'm taping every day, nonstop. And I'm just acting and acting and acting. I would sacrifice sleep just to see my friends for a couple of hours."
He cites fellow actors Sam Concepcion (who's in the cast of the TV series You're My Home) and Bret Jackson (who stars in the 2015 Carlo J. Caparas movie Angela Markado) as two of his closest friends in showbiz. He has a small group of showbiz friends, he admits: "The longer I'm in the business, the smaller it gets. I think that's me moving up, moving up the ladder. So I was, like, as I get higher, I see how everything works, I understand it more. That's what I mean by 'it gets smaller.' It just happens like that."
Without waiting for our next question, he adds, "Like, I don't really have time for fake people."
It's a good thing James has another passion, which serves as his shock absorber: music.
"Whenever I feel stressed out, I always put on good music, with no lyrics. Instrumentals. Music helps. I mean, I won't listen to happy music. I'll listen to, not sad music, but more mellow, chill music."
Busy as he is, he makes time for making music with his friends. His face visibly lighting up, he talks about his next album: "We make music, and it helps a lot in my stress relief because I'm writing lyrics. This album will be for 2016, when I've perfected it, because I don't wanna release now the album just for the sake of releasing it, just to say I'm doing something."
James Reid's self-titled solo debut album came out in 2013. His second solo album, Reid Alert, was released in 2015. The new album, his diary of sorts, will be his third. "This third one, I wanna go all the way. It's gonna be different from what people see, what they're used to. It's still like hip-hop, R&B. It's about love and a lot of other things, as well. But it's gonna be different."
While on the topic of music, James tells us that singing uplifts his spirit: "I sing just anywhere. That's one thing I do to lighten my mood. Especially when I'm in a good mood, I sing."
When we tell him to rate himself as a singer, he answers: "Eight out of ten, especially when I record some of my songs. I really love the songs that I make."
And while he's juggling all of these engagements, while he's putting his emotions under control, one thing is clear to James: he wants to do a good job. Fortunately, too, staying even-tempered is in his blood.
"I think it's about the Australian in me. Like, Australians are very laid-back. We appreciate it. But I'm doing this for, like, you know, I wanna be very successful. I just wanna be the best I can be. I wanna be a 100 percent before my time's up."
FAMILY FIRST
"I like to think that I'm still grounded," he says when we ask him how he has changed since our first interview. "And you can ask my friends. They'll say that I haven't changed." Then he adds, poker-faced but clearly tongue-in-cheek: "Only thing now is, I'm more talented."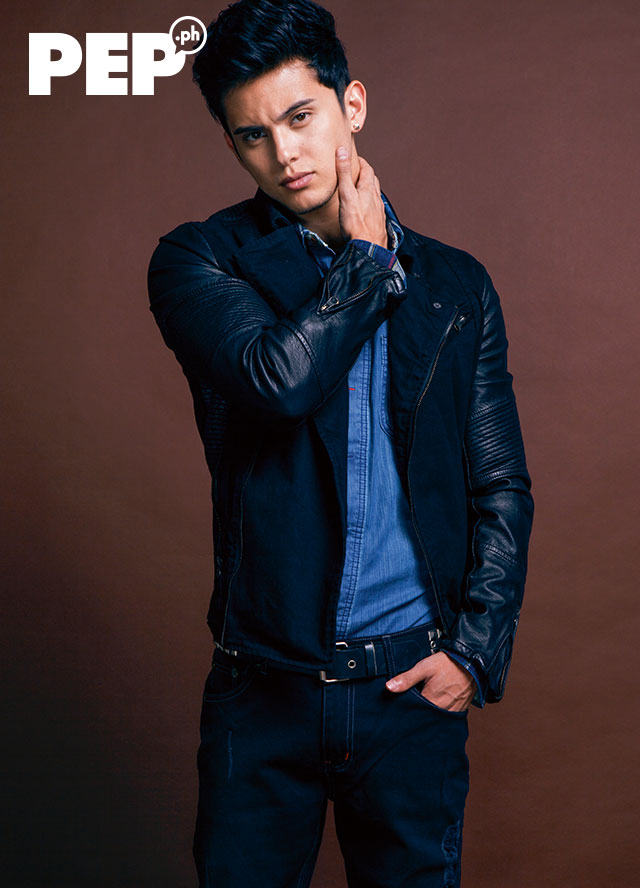 Even if the world around him has evolved fast, there is one word in his priority list that has remained on top: family.
"I definitely haven't lost sight of why I do this," he says, his voice going up a notch. "It's for those people over there—my dad, my brother."
And he points to a wall, which separates the studio from the adjacent reception area, where his father, Robert Malcolm Reid, and his youngest sibling, Jack Reid, are waiting for him.
"Basically, I'm doing this for my siblings and my father. And it keeps me grounded. All the time, I think, 'I'm lucky'—though someone has to remind me every now and then. That's why I have my dad. He's always reminding me. And also Caryl."
Caryl Paraico is James's devoted senior road manager from Viva Entertainment, and she's practically part of the family. "When I'm feeling down, she's one of the first people I go to. And then she's, 'Everything's going the way you planned, everything's going good, you're lucky.'"
In our October 2014 issue, we asked James, "If you win the lottery tonight, what would be your first purchase?" His answer: "Plane tickets. Not for me—for my brother and sister. So I can bring them here."
He didn't win the lottery, of course, but we say he won a figurative kind of lottery. "There was a point where my siblings Jack, Tom, and Lauren were all here," he reveals.
James has six paternal half-siblings: Andrew, Robbie, and Jenny, who are pure Australians, and are now in Australia; and half-Pinoys Tom, Lauren, and Jack. At 22, James is the second to the youngest of the Reid brood, just five years older than the 17-year-old Jack. At press time, Jack and Tom are here in the Philippines, while Lauren is back in Australia.
Every time we talk about his siblings, James is transformed into a doting brother.
"They all moved here because I told them," he tells us, with an enthusiasm that rarely comes out during the interview. "I told my sister Lauren to come back. My sister is very pretty. I told her, if you want to make a lot of money, you can [join showbiz]. The thing with Lauren is, she's very business-minded, but I told her she could be very successful here. And that's what she wants. She wants to succeed in life. But she's also very sensitive, so I'm not sure if she can handle everything."
As for Jack, he could very well be the next Reid in showbiz.
In September of 2015, Candy magazine held its annual Candy Fair, which the glossy teen magazine describes as "the biggest teen event of the year." Part of the program at the fair, held at the Metrotent events place in Pasig City, was the introduction of that year's "Candy Cuties"—a list, made by the magazine, of the "cutest" boys that year. James was, of course, part of the list, and was the main guest at the fair. But one of the most anticipated "Candy Cutie" was James's brother Jack.
James recounts that experience with a huge smile on his face: "At the last Candy Fair, he [Jack] had the loudest scream. And he was so nervous. He was so nervous because he has been a shy kid just like me. When I was in PBB [Pinoy Big Brother], I was so nervous my ears turned red. He's going through the same thing. Haha. So it was hilarious. He wants to just get out of there. He was terrified."
We tell him that at the fair, backstage, we heard him giving Jack instructions on what to do in front of the cameras.
"I was giving him tips," James says of that moment. "And he was like, 'What do I do? Smile?' And I'm like, 'Just relax. Just be mysterious. Do what I do.' Haha! He's really like that. He's very like me. We have the same character. People love the mystery. Even though there really is not much that he's, like, you know, hiding. But they love the idea that he's being mysterious."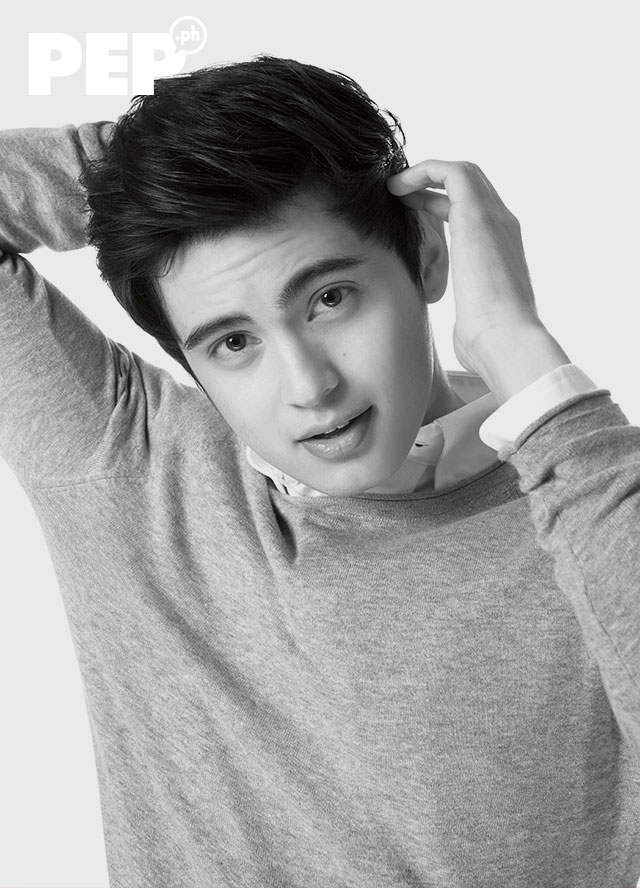 James even admits that he sees his youngest sibling outshining him one day. We ask who he thinks is better-looking. He answers: "I think he will be, eventually, but right now I am. He will surpass me one day."
The Reid brothers' growing number of fans will find out for themselves soon, because James reveals that Jack is "testing the waters of show business."
Last year, James's plan was for Jack to come to the Philippines and continue his studies here. "He can't go to school yet because it's a different time here," James explains, referring to the different academic years of Australia and the Philippines. "And then he said that he would like to try show business. So I don't want to take the opportunity away from him because even me, even then, I didn't want it, but look where I am now. But him, he actually wants to try it, so I think, 'Give him a shot.'"
Family has always been James's rock, and he especially has a close, heartwarming relationship with his father. "I get very emotional when it comes to my dad," he says. His father, who is retired, is actually his designated driver on most occasions, such as the YES! photo shoot.
"We don't get to see each other very often," James explains. "So I don't have a driver, and that's on purpose. He wants to drive me because that's the only time we get to talk. Even if I sleep in the car, that's totally fine. At least, I get to see him every day. Because if I don't, if he doesn't drive me, I get home late and leave early morning for work. At least, that way, we have a chance to talk about things."
For the Philippine-based Reids, quiet and special moments are usually spent at home. "My family, we don't really go places, unless it's, like, out of town. With my dad, it's just, like, we'll go eat at a restaurant. Like one of our favorite restaurants. My all-time favorite—to which I go with my dad only, I don't go with anyone else—is this small restaurant in Greenbelt 5 [Makati]. It's called Lusso. I love it."
His father, James admits, isn't as open as James when it comes to showing feelings or expressing thoughts. "There's one thing he just told me that I guess is the reason I love him so much. He said that, for him, 'The only real love that exists is for your own.' He feels deep love for his kids, for his children. We feel that for sure. He's bad at showing it, but it's, like, it's so hard to explain."
James adds: "When my dad says, 'I love you,' it's not an everyday thing. It's like, in those really emotional moments, when I really need it, he doesn't just throw it out like it's nothing, 'cause for him it's really powerful. It is precious."
It is this strong love for his family that gives James the much-needed push when he gets too exhausted: "Everything has given me a lot of confidence, a lot of self-esteem. And I think now that I'm the breadwinner in the family—I'm the one who's taking care of everyone now—I guess, I've matured a lot."
IN THE SKILLS DEPARTMENT
"I'm at about 80 percent of how much I can be doing," says James. He is talking about his skills in acting, a fairly new passion, which he is trying to master one taping/shooting day at a time. For now, he has taken on the role of Clark, the near-perfect gentleman and husband in On the Wings of Love.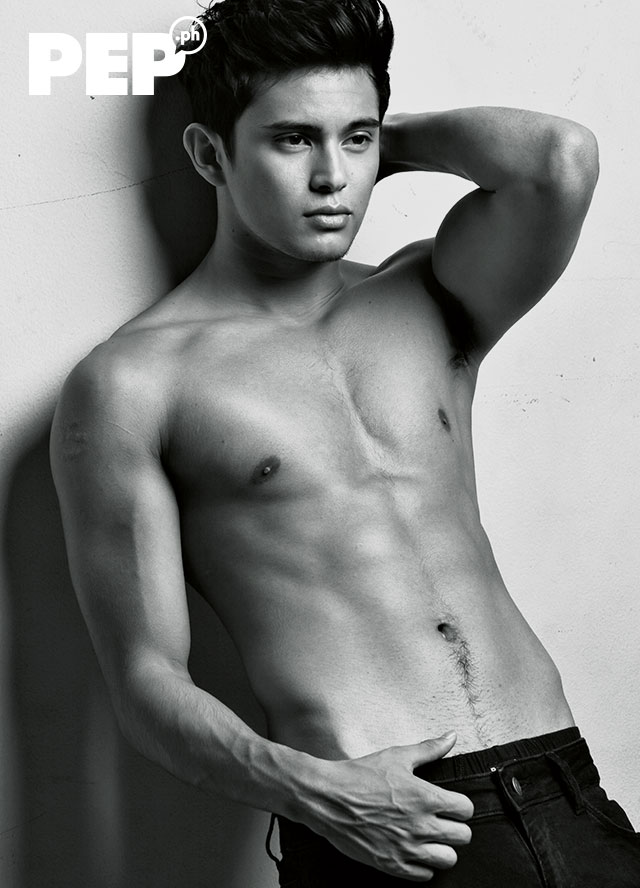 "Clark is fun, and I love light romantic comedy," James admits. "I mean, thank God it's light romance, I don't have to be crying all time. But I feel like I can be doing more challenging roles. I can't wait to be doing more challenging roles."
He thinks that his sense of humor could work to his advantage in playing more serious characters: "I think I'd excel at doing something more serious. I'm not really like a joker kind of person. If you haven't noticed. Haha. Very dry. For me, in a more serious movie, dry humor works. But in a light romantic comedy, they wanna see that, you know, slapstick, perky. I just want something that feels real."
But not too much crying? "The crying scenes actually relieve stress. You're getting it out. But not too many. Too many, and your head's gonna explode. Like, one crying scene a day, that's okay."
As James the actor explores the wide range of emotions for a number of roles, so does the James working off-camera.
"There are emotions you never really knew you could have," he reveals. "I'd have become sensitive, because as an actor you need to be sensitive so that you can absorb what your partner is doing, and then react accordingly."
But at the same time that he's showing his sensitiveness on-cam, James can't help being the forthright person that he has always been.
"I can't hide the way I feel. If I'm in a bad mood, I'll be in a bad mood. People can see it. As a celebrity, that's not okay. If I see something I don't like or they're interviewing me and my face is, like, down, they say, 'Simangot.' I'm like, 'Sorry, sorry!' Like, 'Hit me on the back or something.' So that I'll stop because I can't hide the way I feel.
"I find it really exhausting to be plastic. For me, you should just feed your emotions. If you wanna feel a certain way, get it out of your system because, for example, you're feeling down, don't fight it. I mean, anybody gets to feel down for a reason. You get it out of your system, later on it will be easier. Later on it will be easy for you to pick yourself back up."
In the skills department, dancing is also something James wants to work on. "I wanna take dancing lessons actually. I wanna study it and, like, practice more, because for me, dancing and singing really give you purpose, a way to express how you feel. And they're a good way to feel good about yourself."
In the course of our interview, we've noticed the Fil-Australian James adapting to the Filipino way of speaking, and even inserting a few Tagalog words, like simangot. We tell him this is one skill he has greatly improved on. "Tsk, a, wala pa rin," he replies smiling. "I try, but nabubulol pa rin ako." He cites an example: "I have been practicing mamamanhikan."
In On the Wings of Love, his character Clark has to do pamamanhikan, or formally asking for the hand of his love Leah, played by Nadine Lustre. Thus, the need to perfect the future-tense verb mamamanhikan.
"I can say it now, but I had to practice. Too many mama. It repeats itself! I can say naglalaro. I couldn't say that before. Others say, 'Okay, I'm done.' Me, I really have to sit there, and they wait for me because I don't wanna go on the set and mess up. So I really have to go and say it out loud, stretch my mouth."
To solve his problem, James asks for a copy of the script early. "It will take me, like, if it's a light scene, minutes to memorize the script. But if it's a heavy scene, longer. It has to come out naturally, so that later on I don't have to think about what am I saying, and I just have to focus on how I feel. I have to act with confidence, so I act as if I know what I am saying."
We get to watch him later in that pamamanhikan episode. The hours spent practicing have obviously been paying off.
ROMANCE RESERVED
One part of himself that James has discovered while acting is his ability to accept emotions as they come. It is through this discovery that he can say, "I don't like anger." "Judging the way I feel when I'm acting," he explains, "I'm not an angry person. In fact, even when I'm acting, I don't like anger. Because when you get angry, it's such a useless emotion. It ruins the way you think, you know. You can't think properly, it stresses you out. For me, it's the most useless emotion."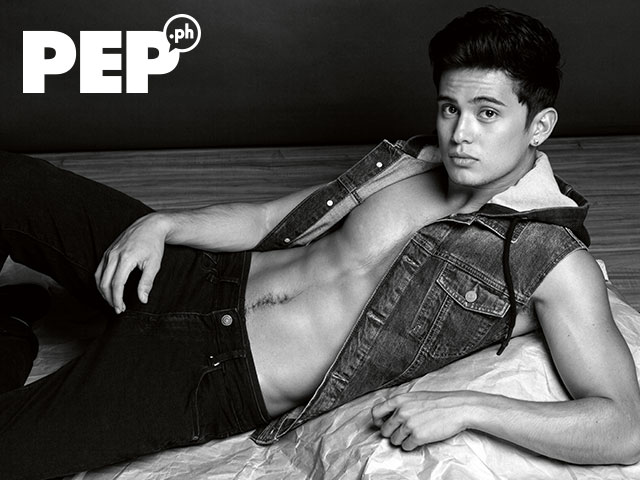 What he would most want to feel is the opposite of anger.
"When it comes to love, anything to do with love, I put my heart out. Romantic love."
"You're a romantic?" we ask.
"Apparently," he replies. "I've always known it. I'm not talking about corny romance. I'm just talking about, like, I'm standing there, and there's a girl in front of me, and there's a connection, that's it. When you have those small, subtle looks… It's hard for me to explain. Anger and hate are most useless for me. But love is the most important. It's the emotion with the most purpose."
But James admits, "It's not easy for me to fall for a girl." Which may be the reason why he says, "When I'm in love, it's really all out."
Love may have to wait for now, at least in the eyes of public. It is clear—and James has said it more than once—that he and Nadine are good friends and are not romantically involved. However, being in one of the hottest love teams today can have unexpected repercussions. Some fans and showbiz devotees want them to be a real-life couple.
And these same people, if they don't get what they want, can be shaken by emotions ranging from sad to sympathetic, to annoyed, to enraged. Netizens, specifically, have linked James to several ladies, most recently to And I Love You So actress Julia Barretto.
According to a report posted by the Philippine Entertainment Portal (PEP.ph) on November 25, 2015, a few days after our interview with James, a person with the user name Inah Evans wrote on a Facebook account about a bad encounter with James at The Bowery restaurant and pub.
Here's part of the Facebook comment that Inah posted on November 23, as published by PEP.ph:
"Grabe lang! Kanina my fandom with James Reid ended…
"I had one glass of cranberry vodka before we had the confidence to request to take a picture, in the most polite fan way. But we were turned down. I was turned down with these words 'Not today. Maybe next time' and Patrick Sugui apologized. Buti pa siya. [Patrick Sugui was James's fellow contestant on Pinoy Big Brother: Teen Clash of 2010.]
"Hindi ko alam kung anong mahirap sa magpapicture, e wala naman nang tao du'n sa restaurant. It was just their table, my friends and a couple on another. Parang picture lang, e."
But what created havoc in the world of social media was Inah's other revelation (as published by PEP.ph):
"Ang yabang lang. Presko ba. Kasi nga famous.
"And the fact that he's so occupied kissing and flirting Julia Barretto that time. Yes, maybe that's why. Kulang na lang kasi mag-sex sila sa harapan namin hahahahaha. Real talk Bruh. Ayaw ko na kay James. Hmmmp."
On November 27, according to PEP. ph, James broke his silence regarding the issue, through his own Facebook account, Facebook.com/justjamesreid (reproduced as is): "Give me a break. Does anyone really think I would have sex in a bar/public place... Stupid. If everyone wasn't so gullible I wouldn't even have to be explaining my private life right now [angry emoticon] Cut the bullshit. Stop the hate."
That wasn't the first time James and Julia were rumored to be dating. In another article written by PEP.ph, posted on July 7, 2015, James was reportedly seen being "sweet" and kissing Julia in a coffee shop. According to the same article, James denied the rumors when he talked to reporters on July 5 in the Quezon City studio of the variety show ASAP 20.
In that July 7 article, James was reported as saying (reproduced as is): "Go out? No, no… they said that we are in the coffee shop? No." The article also stated that James said this of Julia: "Of course I know her, we did Hopeless Romantic [the 2015 movie Para sa Hopeless Romantic, which also stars Nadine Lustre and Inigo Pascual].
"Her number? No, I don't have."
Sometime in December of 2015, YES! had a conversation with reliable sources who are close to Julia. The sources told us that James and Julia are indeed an item, that theirs is a sweet but exciting young romance, and that the feelings between them are in full bloom. The relationship, the sources added, has developed to the point where Julia has introduced James to her family. But at press time, Julia herself has not spoken about her relationship with James at all.
Our sources may also have the explanation for this. They claimed that a Julia-James romance truly scares (nearly all) the network bosses, who will not have the fans of JaDine agitated. Team JaDine—along with Team KathNiel, aka Kathryn Bernardo-Daniel Padilla; plus Team LizQuen, aka Liza Soberano and Enrique Gil—counts, after all, as one of the top three hottest love teams of ABSCBN today. And their individual fans have strong expectations that what they see up on that screen is what they will get down on the ground.
James admits to nothing. But our interview with him reveals that he understands a great deal of what scares the big bosses. His fans are now a big part of his life, but their expectations can be inhibiting.
"Before it was easier to say that 'I don't owe you anything,'" he says. "But now that my fan base is growing so big— like, bigger than I could ever imagine— it's harder. I get pressure from them to be with Nadine in real life."
Clearly disconcerted, he adds: "There's a lot of things that I can't do now. For example, I can't just date whoever I want. I mean, I still do that on my own time, but I do it, like, you know. I mean, it's my private life, and it's got nothing to do with showbiz. And everybody knows that Nadine is just my friend. That's all it is. And that's why our love team works, I think."
"You don't date?" we clarify.
"No," he says. "Anymore. No. That's part of my stress."
He slouches in his chair and thinks for a few seconds, then continues: "But, I mean, I have all this romantic energy reserved, and I use that in On the Wings of Love. It helps when I'm acting, and I can release that much energy, at least with Nadine, and she's a friend, and she's close to me, so it's not weird or anything."
James is trying to learn to accept that his love life is now part of the public domain, a subject that creates heated discussions and myriad reactions. So, at least for now, when it comes to the subject of romance, he's treading on thin ice, "because the fans will be upset." He fumbles for words: "It's just that I want peace, and I can't have that."
BEYOND THE WALLS OF FAME
When James inadvertently took a break from show business a few years ago, he dreamed of, and hoped for, a second chance. He wanted to make it. But what happens now that those dreams have come true?
James admits that his perception of fame has changed: "It's like, you know, when you see celebrities on TV, and for you there's this magical stuff on TV, and you idolize them. But when I see them really in person, they become real, not so magical anymore."
In order not to get stuck in projects and responsibilities, in order not to worry continually about fans and bashers, James tries to keep his eyes on the goal.
"I've yet to experience the fruits of my labor," he tells us.
These days, he's all about saving his earnings. "The only thing I spend on is clothes, and it's not that expensive." He's also not into designer clothes. And he has a dream: "I'm planning to build a house of my own. I don't wanna live in someone else's."
James is aware of how fragile fame and popularity can be. So, every day, he prepares himself for whatever will come his way: "I just work harder. It's one thing that makes me want to work harder, because I know I could lose this all. And I know it could be with just one silly mistake, which I'm very good at doing."
He gives out a little laugh. "I made a lot of mistakes, but I mean, I put myself in the position to make those mistakes. But for me, that's just part of life. I actually enjoy making mistakes… I just wanna be, like, in full gear like all the time. I'd rather say when I am 30 years old that I did all this when I was 22, instead of doing it when I'm 30 years old and wasting time at 22."
And if all the success that he's enjoying goes away—although his career trajectory indicates that this won't happen anytime soon—James can take that.
"I would be totally happy if I took the money I have now, and if I just left show business, and just go and live a simple life. I could do that, no problem. And, like, it will be fine. I'd lived before, like, broke, totally broke, with holes in my shoes. We just eat scrambled egg for dinner and don't have anything else. But for me, it's more of the personal achievement. Before my time is done, I wanna be able to say that I'm 100 percent experienced in my life. Took the fullest, didn't waste a single second."
He has plans, he says, outside of showbiz, but he admits, "Now is not the time to do them. I'm just focused on On the Wings of Love."
The hit TV series is supposed to end in February of 2016. And James is ready for that, "I'm just waiting for On the Wings of Love, and I'm gonna go on a vacation. For a month, a whole month, I'll be gone."
That much-needed break would be felt by his admirers, but they probably have nothing to worry about. After all, he made it back to the showbiz radar through Diary ng Panget: The Movie and the TV series OTWOL. This guy makes comebacks all the more glorious.
For now, and every night, while he's on the small screen as the dreamy romantic, it is best to just drink in the inviting, bittersweet concoction that is James Reid.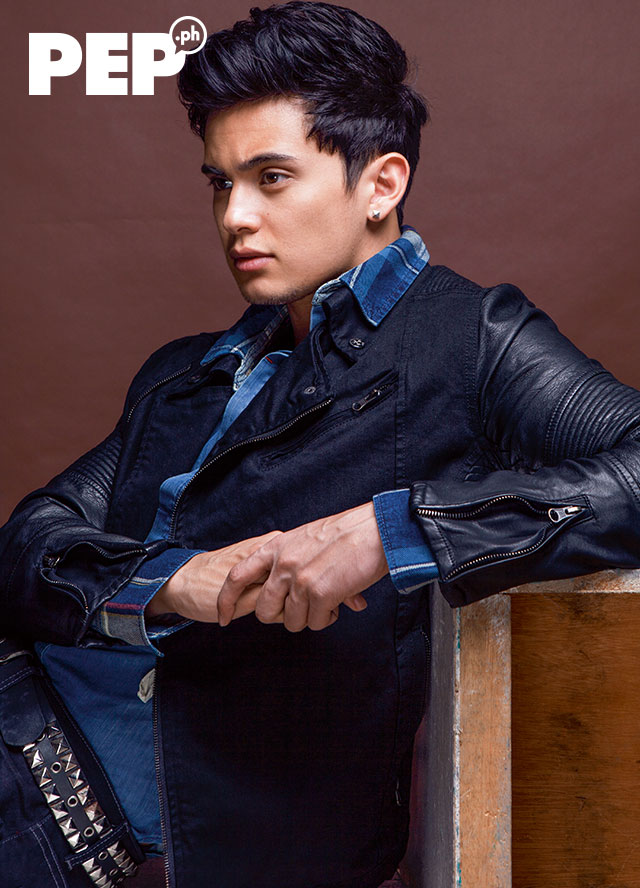 Published in PEP.ph April 2019
Adapted for PEP.ph by Jo-Ann Q. Maglipon

Originally published in YES! February 2016
TEXT: Bam V. Abellon
INTERVIEW: Bam V. Abellon & Candice Lim-Venturanza
PHOTOS: Cyrus Panganiban
EDITOR IN CHIEF: Jo-Ann Q. Maglipon
EXECUTIVE EDITOR: Jose F. Lacaba