DATELINE: METROMANILA, 2015
It's a Friday afternoon, which happens to be a holiday. It is the Eid'L Adha, or Feast of the Sacrifice, one of the two greatest feasts of Islam, along with Eid'l Fitr. The YES! team is in the Broadway Centrum studio in New Manila, Quezon City, waiting for Alden Richards.

Richard Faulkerson Jr. in real life, Alden is one half of the phenomenal, accidental love team that is AlDub. The other half is Maine Mendoza, who plays Yaya Dub.
The onscreen love team is now a few minutes away from appearing live on television—on a split screen, one of their unique selling points—for their AlDub kalyeserye on Eat Bulaga!
After the kalyeserye, Alden will be doing a mall show sponsored by Robinsons Supermarket, at Robinsons Place Malolos in Malolos City, Bulacan. And we are graciously given permission to tag along with him for an interview, and to witness what his life has become since he was thrust into the blinding spotlight.
At around 1 p.m., Alden arrives at the studio. As usual, he is genial and full of energy—no small feat, considering that he is hard at work every day. Mondays to Saturdays, he is on Eat Bulaga!, and on Sundays, he is on Sunday PINASaya, an afternoon comedy-musical-variety show. That's not counting the mall shows, photo shoots, and taping days for TV commercials. Indeed, he's a busy guy, to say the least, but the 23-year-old isn't showing signs of weariness.

(Alden Richards' birth date: January 2, 1992.)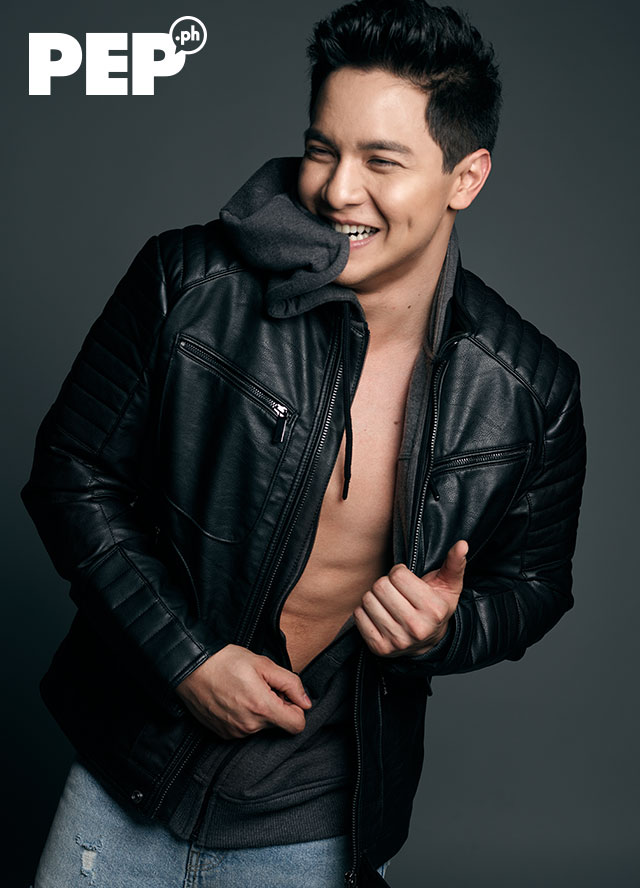 "Uy! Kamusta?" he greets everyone, exchanging pleasantries, as he slowly inches his way to the studio's backstage area, a part of which is a long hallway, where the dressing rooms are lined up.
"Okay, ready!" we hear one of the directors exclaim on the headset, as Alden positions himself at one of the stage entrances. "Alden, go!" Alden enters the Eat Bulaga! set—and the television screens of millions of viewers worldwide. In the studio, the crowd bursts into screams. Alden smiles, displaying his popular bedimpled cheeks, and sings a song. It lasts a good two minutes or so. The song ends. The screams don't.
After a few spiels and hand waves from Alden, it's time for the kalyeserye. In today's episode, the terms of Alden and Yaya Dub's second date—or Alden's "akyat ligaw," which is happening the next day, a Saturday—are being negotiated. The episode shows Alden and Yaya Dub singing love songs to each other, intercut with the funny antics of the EB hosts and the amusing reaction of the crowd. Around 30 minutes later, the episode ends. Lights are turned off.
Alden exits the stage and moves to the hallway, all the while having selfies with fans and shaking hands with people again and again, his enthusiasm unfaltering.
We can't leave yet, Alden's hospitable handler Sam Sanciancgo and assistant Tenten Mendoza, whom Alden lovingly calls Mama Ten, take turns in telling us. Alden needs to go in front of the camera again, for what seem like fillers and other random videos. In between takes, he treats more fans to a few more photos with him, and answers a few text messages on his cellphone.
After the shoot, he walks back to one of the dressing rooms. His team follows him, everyone moving at a fast pace, as if under orders: "Double time!" Now he needs to try on some clothes that he'll be using for his mall show, which is set to start only a few hours from now. "Wait lang po," he tells us as we wait for him outside the door.
Half an hour later, Alden comes out of the dressing room. "Let's go!" he says.
Sam tells us that we will be exiting through a secret passageway. We are also to follow Sam's lead, and to walk as fast as possible until we get to the van that will take us to Malolos. Alden's team and ours walk briskly towards an exit, then trot on what seem like tin roofs and in the backdoor areas of the studio. We go down a few flights of stairs before we see the van, already surrounded by fans, who explode into screams at the sight of Alden.
We push our way through the crowd until we make it inside the vehicle. The doors close shut. The van's driver steps on the accelerator, slowly, so as not to hurt the fans, some of whom are lining the streets, or blocking the car and banging on the windows, pushing their faces against the tinted glass, with their open palms held close to their faces as they peer through the glass, yelling, "Alden! Alden!"
Since July 16, when Yaya Dub first saw Alden flashing a smile for her on camera, this has been, more or less, how Alden spends his afternoons.
NEW KID ON THE SET
It has been jovially crazy, so far, Alden tells us during our interview, while en route to Malolos. There are very few moments that are predictable.
"Kanina lang," he recalls, "there was this girl, she was trying to kiss me, when I was coming out for the people. And then, hindi niya ako maabot, kasi she was being pulled by other people, e. Bigla niya akong nakalmot on the cheek, using her nails."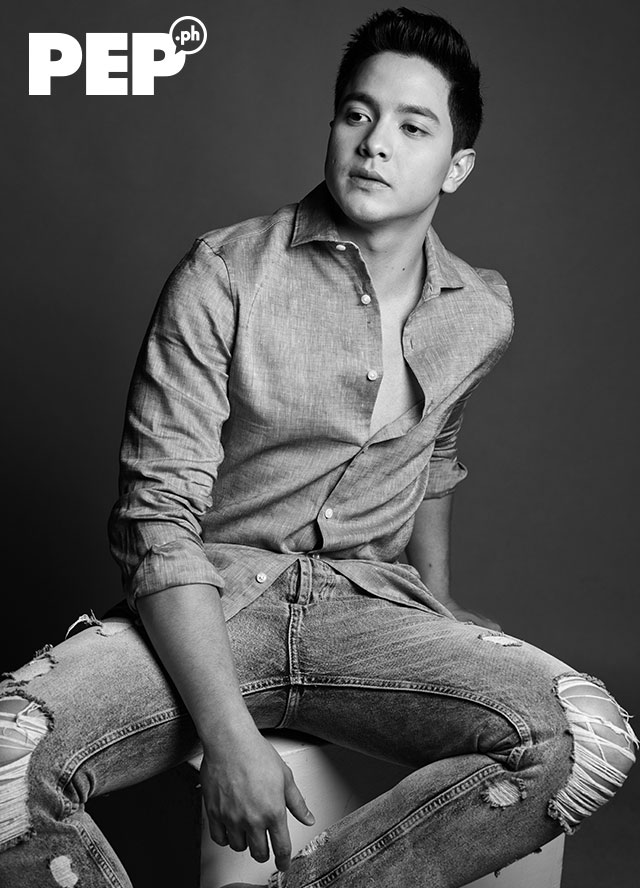 Alden says he didn't budge. "Sabi ko na lang, 'A!' Haha. Wala naman sa akin 'yon. Kanina, medyo masakit, but I understand din. It's the excitement. And then I continue to mingle with the crowd."
The hysteria is fairly new to the actor. He has had admirers before—as YES! reported in its April 2013 issue, where we wrote extensively about his life—but not this kind. Performing, however, is something he can masterfully execute without much struggle.
When he was a kid, the Laguna-raised Alden remembers performing in front of family and relatives on special occasions.
"Before, di pa ako artista, we have this family thing every Christmas, so exchange gifts. But since mga bata pa kami, we don't have the money to buy gifts for other family members, so sila na lang 'yong may gift for us. Ayaw nilang ibigay 'yong gift, especially my aunts. Makukulit 'yan, e. Pasasayawin nila muna or pakakantahin muna nila kami bago ibigay 'yong gifts. So we're trained actually."
But Alden admits he had more things to learn about the craft he passionately loves. So when he landed the Eat Bulaga! stint—first as a guest host—it was more than what he had hoped for.
"Eat Bulaga! has been a part of our daily lunch since we were kids. And you know, being part of it, parang never in my wildest dream na na-imagine ko na I will be part of the family. Sobrang blessed."
What was supposed to be just a one-month deal turned out to be something else.
Since Alden had no acting assignment at one time, the GMA management had asked a favor from Antonio P. Tuviera, the president and chief executive officer of Television And Production Exponents Philippines Inc. (TAPE Inc.), producer of Eat Bulaga!

"They asked if I could work as a guest host for a month because I was leaving for the States that time for the Kapuso concert." The Kapuso concert was to be held sometime in June of 2015.
Tuviera was accommodating. Alden was taken in and tasked to host the looks-and-talent search segment "That's My Bae," which would earn him the label "Pambansang Bae."

But as the new kid on the set, he found things a bit intimidating on his first day on the job, especially since he was working with veteran TV hosts.
"My first day was awkward, of course. Number one, I know them as kabatian, but I don't really know them as they know themselves already. Kumbaga, ako 'yong alien, ako 'yong bago. And, of course, I am very careful with the actions that I do, kasi siyempre Eat Bulaga! has the reputation, e. They guard a certain reputation that all the Filipino viewers look up to. So I tried to keep that in mind during the first day...
"Ang hirap, kasi all of them can host without idiot boards already. They can ad-lib. That's how good they are. They're just given talk points, and then they elaborate on these—live on TV, a. So medyo hindi pa ako sanay do'n."
It didn't take long, however, for Alden to adjust to his new job. "And then, later on, kaya na pala," he says.
Since he started hosting the noon-time show, Alden has found out one thing: "It's harder to make people laugh. Kasi, as I can see, the audience nowadays are very smart, so you have to get the humor out of them, e."
Making a face, he pauses before describing his own sense of humor: "Medyo corny din kasi ako minsan, actually—promise. Korning banat. 'Yong alam mo nang corny pero ibabanat mo pa rin siya. And para hindi na lang ako mapahiya, tatawa na lang 'yong iba, but I can sense that I'm corny. Wala lang. Well, sometimes naman, mabenta ako."
Now, he's learning the ropes straight from the people who have made a career out of comedy and hosting.
"I learn from them, kasi, being with them every day, of course you get a chance to know everybody, not only on screen but personally. It's a family. I'm very, very impressed sa team of Eat Bulaga! Kumbaga, ang tagal-tagal na ng show, they still manage, e. Alam pa rin nila 'yong kiliti ng mga Pinoy."
NORMAL LIFE AT HOME
"I don't wanna let it sink in," Alden says of his newfound success. "I still wanna be the same Alden, the same person who started in show business. The Alden before is still the Alden now."
At home, Alden lives the "normal" life that he is used to living. A few routines have changed, though, like his waking-up time.
"I'm not a morning person," he declares. "Pero now I'm learning how to be a morning person. If given the chance, tulog all day, oooy! Hanggang hapon. Sarap. Kaya lang groging-groggy ka no'n paggising mo. Haha!" Quickly, he adds, "Hindi healthy, hindi healthy. Pag gumising ka nang maaga, mas focused 'yong mind mo."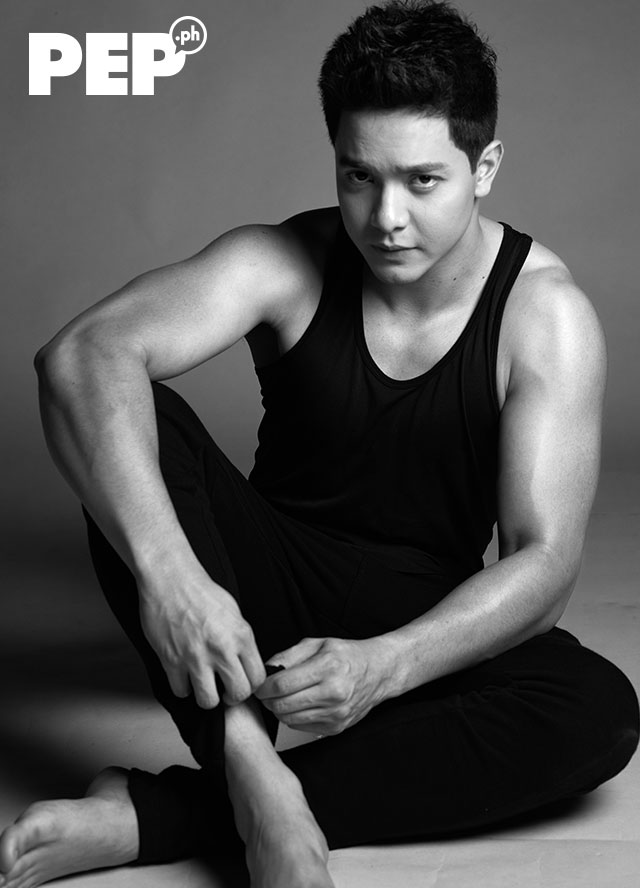 Mornings for Alden these days are reserved for working out and keeping his body and mind healthy and fit.
"I still have the time, not unless I have an early shoot. Ang maganda kasi with my schedule now, my mornings are mine. Unless I have to go early to Broadway to rehearse a prod [production number], ganito, ganyan, I have time."
Alden has a trainer who creates a program for him to do in the gym, where he spends anywhere between an hour and two hours. As for his food, he says, "Wala namang diet, basta kumakain ka pa rin. I just eat, I eat what I want. Still, in moderation 'yon."
Before leaving for work, or when he gets back home, Alden makes sure everything at home is in order—just as he used to do before his meteoric rise to fame. "Sa bahay, naka-shorts ako, nakamaluwag na shirt," he reveals. He also runs errands when time permits, "especially sa lola ko. Ayun, buhatin 'yong delivery ng tubig, mga gano'n."
In the YES! April 2013 issue, Alden described his Lola Erlinda as a vital presence in his life. When he was in high school, he was asked by his relatives to move in with his paternal grandmother, now in her late 70s, so she wouldn't be alone. Lola Erlinda was, at the time, living in San Andres Bukid, Manila.
Alden stayed with his lola for a year. "Siguro, 70 percent of my being now is because of my grandmother," he said in that issue of YES! "Parang 'yong one year na 'yon really did some good. Before that, I was really irresponsible, gastos lang nang gastos. Kapag may baon, hindi nagtitipid, ang then pasaway, makulit, gano'n. And then, when doon na ako natira sa kanya, parang life-changing for me."
Today, at home, Alden remains responsible. He still lives in Laguna, now with his Lola Erlinda, along with his father Richard Faulkerson Sr., his older brother Richard Daniel, and his younger sister Riza. Alden proudly announces: "I fix the table for breakfast, lunch, dinner pag nasa bahay ako, pag may time. And I still make my own bed."
It also helps that Alden is a stickler for order and cleanliness. "Siyempre, bawal ang crease," he says, matter- of-factly, his face serious. "'Tsaka kailangan, pantay na pantay ang distribution ng comforter on all four sides of the bed. 'Tapos, 'yong mga wires ng mga TV, ng mga extension, kailangan nakaayos. And then 'yong alignment no'ng Virgin Mary ko do'n—may Virgin Mary kasi ako sa room, sa bedside table—kailangan naka-align do'n, 'yong sa four corners no'ng pinagpapatungan niya."
He also changes his bedsheets at least once a week. And as often as possible, he bonds with his two dogs, Globie, a two-year-old Siberian Husky given by a fan, and Pachuchi, a two-month-old mixed breed, given by a friend.
It's this kind of normalcy that keeps him grounded.
"That's what I specifically asked of them: don't change the treatment. Ako pa rin 'to, oooy. Huwag n'yong baguhin, oooy. They're very happy. The good thing about them, they don't change. I am still the same kid, the same brother, the same son. Which is good, kasi ayoko ng masyadong special treatment."
A DAY IN THE LIFE
A little more than an hour into our trip, the van slows down and stops near a sidewalk, the engine still running. We haven't arrived at our destination yet, although we are now in Bulacan.
Alden has to switch cars, for safety reasons, we are told. We tell him that we'll finish the interview later. He jumps off the van, and a big man in an orange shirt goes behind him. Alden goes unnoticed by a few passersby as he gets into another vehicle.
Fifteen minutes later, we reach our destination, with the other vehicle taking Alden to a spot just a few feet away from our van. The crowd has already thickened outside the mall. We hear that some of them have been here since early in the morning—some say 7 a.m., others say 10 a.m. It's now almost four in the afternoon.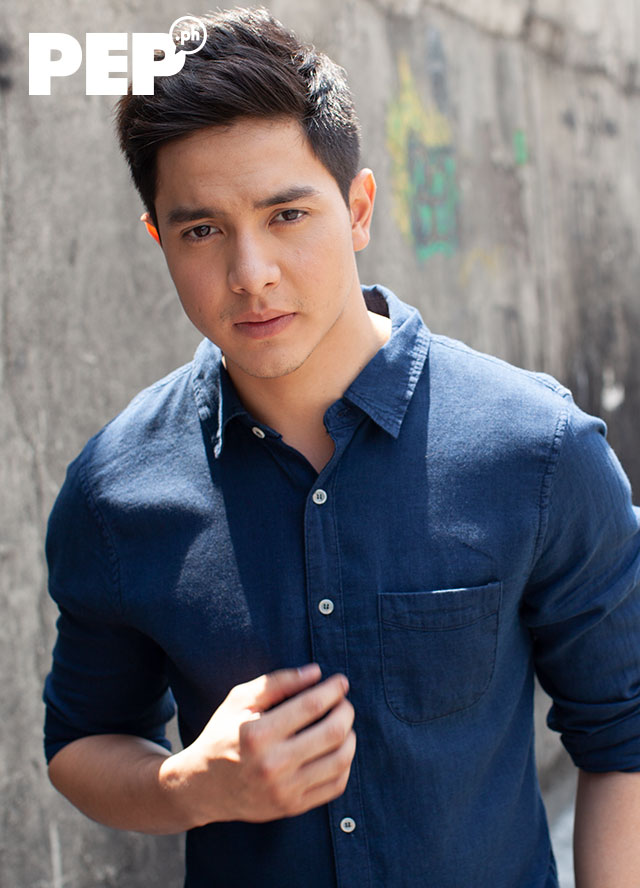 We enter a side entrance near the facade, and are led towards a makeshift tent right behind the stage, which is in the mall's activity area. The three-story mall is filled to the rafters, with people looking down from the railings, waiting for Alden to come onstage.
A program is going on before the big reveal, while Alden freshens up and takes a short breather inside the tent.
At around 5:20 p.m., the host asks a feverish crowd: "Handa na ba kayo kay Alden?" The answer isn't just a yes, but a deafening mix of screams, shrieks, and overall heightened energy. The sound grows louder, as the host calls out, "Ladies and gentlemen, Mr. Alden Richards!"
The sound now goes full volume. "Grabe, parang malakas na ulan," we hear one of the program organizers say. It's a spot-on comparison.
Alden raises the microphone to his lips, and sings the first few lines of the Ed Sheeran song "Thinking Out Loud," one of the signature songs of AlDub. He is barely audible from where we are standing. The sound guy is asked to adjust the volume of the microphone.
"And darling I will be loving you 'til we're 70," the song's chorus blasts from the speakers. The crowd sings along as Alden raises his free hand up to his cheek, and makes with it small and short waves, now famously called the pabebe waves—and the reaction of the crowd is hysteria. The hysteria does not die down as Alden sings a few more songs.
The Alden we see here is more confident, compared with the Alden that we saw a few years back. But there's still that adorable kind of shyness, feebly displayed when he heedlessly pulls his shirt down every now and then.
Then he sings his last song, and after that, he gets off the stage.
Later, he comes back up to thank his fans, say goodbye, and treat a few of them to a short photo op session.
It's time to go back to Manila.
Sam and Mama Ten tell us to not leave their side, as we are about to exit via another secret passageway. Inside the tent, Alden readies himself for another adrenaline-filled sprint. We stand behind him. Surrounding the 5-foot-11 heartthrob are five big men in orange shirts, and a bunch of other people in civilian clothes.
Then we all run towards the exit door, through the wild crowd, up flights of stairs, until we reach the topmost floor, where we take an elevator that goes down straight to the parking area.
As fast as we have tried to move, the van is already fenced in by a throng of admirers—almost the same scene at Broadway Centrum. The guards are quick to clear the path, as we push our way in.
It's deja vu: the van slowly moving forward, people banging on the windows, screaming.
The van makes it to the highway, and the driver finally picks up speed. The noise slowly begins to fade. Alden, he who has been working nonstop, asks us, "Are you okay?"
We are, we say. And we quickly add: "Are you okay?"
"Of course," he replies. And then he falls silent.
We observe him for a few moments, giving the man in the spotlight a little space, a little time to recover. His head tilts a little on the headrest.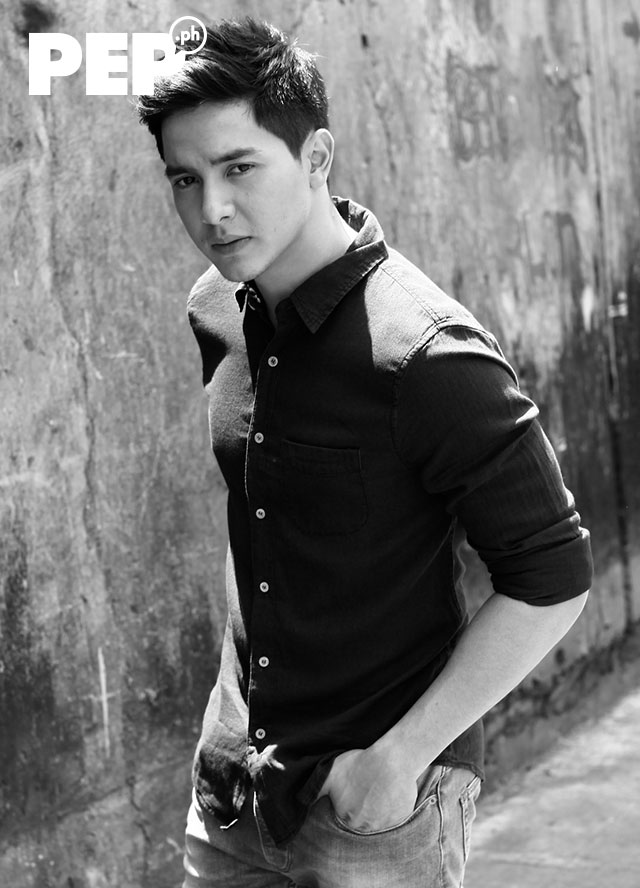 Here we see a celebrity, now one of the biggest of his generation, who, with all the strength of his soul, is trying not to change, who is keeping his feet on the ground. Because what sane human being would not feel a little egocentric when, every single day, millions of strangers, fans, call out his name with growing intensity?

But Alden tries to stay true to himself. He has told us earlier, "I don't wanna let it sink in," and we believe him. We're seeing it, and what we see is heartwarming.
He is also brave enough to admit that his greatest fear is "losing everything in an instant—family, career." He says he conquers this fear by "praying," adding that his faith has grown stronger since the AlDub phenomenon.
"Before it all started, after I came back from the States, after the Kapuso concert...before that kasi, a, I knew God, I knew there was a Supreme Being, but I don't really know Him, personally, unlike now. Iba, e."
He mentions singer Kuh Ledesma, whom he met during one of the episodes of the reality-TV talent search Bet ng Bayan, where Alden and singer Regine Velasquez are the hosts. Kuh was then one of the judges. Alden credits her for strengthening his belief in God.
Through his faith, Alden has also learned something new about himself: "Of course, parang as days go by, as years go by, there's something new that you discover in yourself, e. I'm so lost without the Lord."
During moments of peace and quiet, moments that are becoming rare these days, he talks to God: "Whenever I can, I pray. There's no time. I mean, waking up, while having lunch, I think of the Lord, I thank Him. I thank Him for everything kasi talagang..."
He tries to find the words. "I dreamt of this. Prayed for this, and parang hoped that someday, one day, it will happen. Pero I didn't realize na it would be given to me so soon."
During those quiet moments, too, he thinks of bucket lists and goals: "I daydream sometimes, 'yong punta all over the world, see mga historical places. And then, one of my dreams kasi is to... parang 'yong immersion.
Let's say I will go to India, and then for a month I will be there to immerse myself in a certain family na will adopt me, will teach me their ways. Kasi, para hindi lang isa 'yong culture na alam mo. Diverse ka rin as a person. No? Ang ganda niyan."
He ponders: "Ano muna tayo, ipon muna. Well, marami pang dapat priorities."
We tell him that he has always been careful with his expenses. He agrees: "Hanggang ngayon."
In fact, in the April 2013 issue of YES!, he cited Piggy, a phone application used for budgeting, as his favorite app. Today, he tells us that Piggy has been phased out. He is now using another app called Spending Tracker.
He also reveals that the reason why he has chosen to stay in Laguna, besides the fact that he wants to have a family to go home to, is that he doesn't want to spend on a condominium unit. "Ay, magastos," he says, shaking his head.

His money is well-invested, however, as he is now building a new home for his family—still in Laguna.
Even as dreams come and go, there is one dream that Alden continues to hold on to: inspiring people, the people who got him to where he is now.
"Alam mo, this phenomenon is really worth appreciating. Us, Maine and I, I'm sure, even though I haven't really talked to her, I'm sure she's feeling the same feeling I'm feeling. The moment we started, from day one, binago ng mga tao 'yong buhay namin, in an instant. Kaya we owe this to them, and of course to the Lord. He is the ultimate hand who made this possible.
"In the show, we lay out lessons, we give, inspire people. And at the end of the day, it's how the people will make something out of that lesson. It's either they throw it or they live with it, but as I can see now, the people are living the lessons, e, which is good. And that is the most touching thing about this whole AlDub phenomenon."
Incidentally, Alden admits at one point during the YES! interview that he was a fan of Maine even before she joined Eat Bulaga!
"Before she started sa kalyeserye, kasi nag-hit 'yong Dubsmash sa Philippines, di ba? Medyo marami pa akong free time no'n, so I tended to look up videos ng mga nagdu-Dubsmash, and I find hers really funny. Siya 'yong isa sa mga pinaka-best Dubsmashers na nakita ko, kasi with emotions, with the movement of the mouth. Kaya nga meron siyang tag na Dubsmash Queen, e. She's really good at it."
The sun has now completely set, and the cars are starting to pile up on the busy highway that is EDSA. We are now back in Metro Manila, and the van has entered the GMA compound in Quezon City, where Alden will wait for his own car, the car that will take him home.
We chat for a while before we say goodbye. He says we'll see each other soon, while opening his baon so he can take his much-delayed lunch.
THE RIGHT TIME
The day after our interview, the kalserye's most talked-about episode, dubbed #ALDubEBforLove, airs on TV. We watch on our screens as the hashtag exponentially garners a record-breaking 25 million tweets. In the episode, Alden is to meet Yaya Dub's family, following the style of traditional courtship.
Before the meeting, Alden is still in the Broadway Centrum studio—while Yaya Dub is, again, on location—and he is slated to sing his song for Yaya Dub, Bryan White's "God Gave Me You."
The choir members prepare themselves as the first note hits. A few seconds into the song, there's a faint break in Alden's voice, but he keeps his composure and his grin. Then he gets to the chorus: "God gave me you to show me what's real. / There's more to life than just how I feel."
He stops, bows his head, and closes his eyes, as he gives in to his emotions. The next line, "And all that I'm worth is right before my eyes," is left to the choir.
As he regains his control, Alden takes a fast deep breath, before singing the rest of the lines: "And all that I live for, though I didn't know why. / Now I do, 'cause God gave me you."
After getting through the performance, Alden tells the audience that he dedicates the song to Maine, the other half of his newfound success. This time, he's not referring to her as Yaya Dub, but using her real name.
In retrospect, the tears have been a form of catharsis, a revelation of long, suppressed emotions. The tears have also been meant for the long and bumpy road behind him. For the failed auditions that pushed him to evolve. For those times he felt stuck in his career. For his late mother, whose dream was for him to become an actor—and the memory of whom has always been his strongest driving force. For the dream that finally, after years of passionately proving his worth, has come true.
We find ourselves doing a flashback to our interview of the day before, when Alden pensively describes his fate.
"It's hard to prove yourself in so many ways," he says in that earlier interview. "Kasi show business is very competitive, very unexpected. Sometimes it gets you in a way na it would change your personality. Of course, show business will change your life, but it should not change the personality of the person involved.
"Ang daming temptations to change the real you. So you just have to really know yourself. Kailangang kilalang-kilala mo 'yong sarili mo para, you know, whatever happens, whatever comes your way, you're still gonna be the same person. And now, the way I see everything, parang good things come to those who wait."
This man's soul is as quiet as the clamor for his name is loud. Alden is where he is now because he deserves it. He proves one thing, as well—that with the right kind of passion and persistence, most things in life will fall into place.
Echoing Lola Nidora, he assures us:
"Lahat, sa tamang panahon."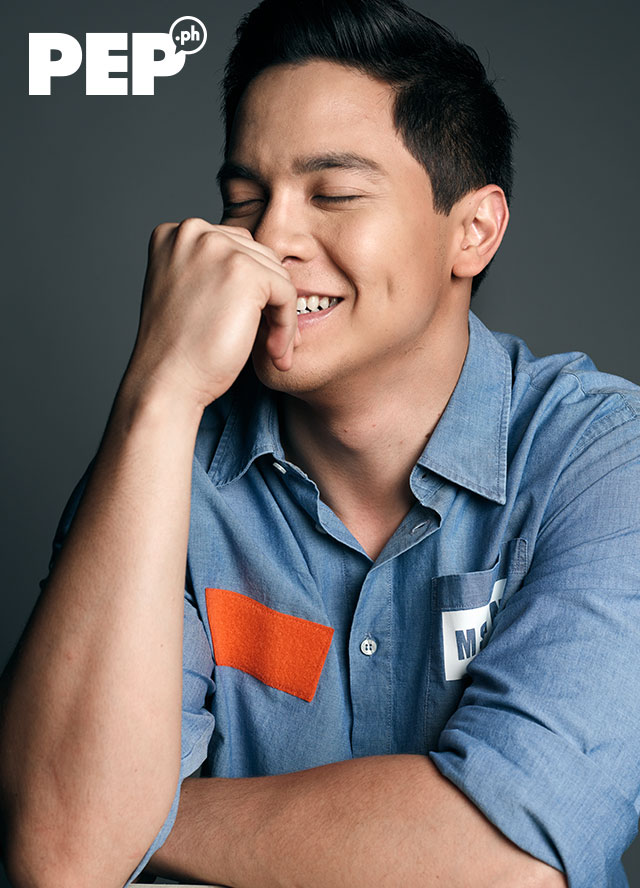 Published in PEP.ph April 2019
Adapted for PEP.ph by Jo-Ann Q. Maglipon

Originally published in YES! November 2015
TEXT & INTERVIEW: Bam V. Abellon
PHOTOS: Mark Nicdao & Roy Macam
EDITOR IN CHIEF: Jo-Ann Q. Maglipon
EXECUTIVE EDITOR: Jose F. Lacaba