The first time showbiz fans heard of Joanne Villablanca was in 2015.
She was not known by her name then as much as she was known as "Derek Ramsay's girlfriend."
Her profile on LinkedIn, a business and employment-oriented service, indicated she's a commercial model and a property consultant.
On social media, her short bio flagged that she's a health, wellness, and fitness enthusiast.
It is evident from her Instagram feed that she leads a stress-free lifestyle.
Without an office job, she keeps her own work hours.
That gives her plenty of time to work out—religiously.
She seems to be living an enviable life, and not only because she's Derek Ramsay's girlfriend.
In a previous interview with PEP.ph (Philippine Entertainment Portal), Joanne said, "I lift weights five to seven days a week. Then I allot extra hours for different group muscles. I rest for two days."
As a wellness speaker, she has tried different fad diets.
"Yup. It's like you lead a healthy lifestyle, and that's basically your job. But, of course, this did not happen overnight.
"Establishing a name in any profession takes years. Just that, I enjoy what I have been doing to get there."
It's typical when various brands approach her to promote their products while she's exercising or cooking or eating.
She is also often invited to events as an influencer or a brand ambassador.
At the recent launch of Burt's Bees lip care regimen, she told PEP.ph, "I am in charge of my own schedule, and that to me, is among the best perks of what I am doing.
"I also get to try a lot of things. In this case, like, for today, it's for lip care."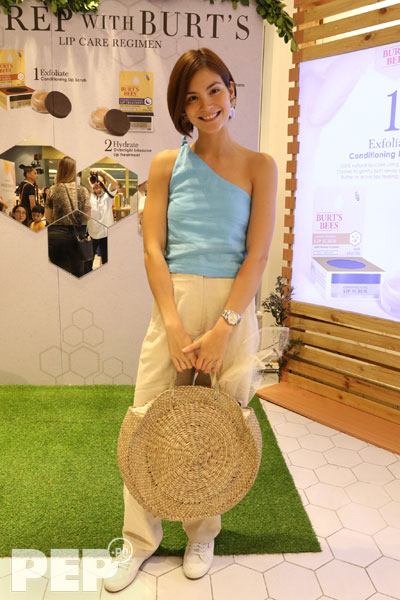 How does it feel to be thrust into the spotlight since she became Derek's girlfriend?
She said, nonchalant about it, "Wala naman. Okay lang. It's not like I asked for it or wished for it. It just happened, so I don't really think much of it."
How Derek and Joanne met
The first time Derek Ramsay saw Joanne Villablanca was in 2014, a year after his short-lived romance with Cristine Reyes.
It was also the year Derek was embroiled in a custody battle over his son.
In the June 2017 issue of YES! Magazine, the actor recounted the beginning of their love story.
"I was in a bit of slump because I felt hindi na ako makakahanap ng tamang babae. All my friends wanted to take me out, kasi hindi na ako lumalabas. Do'n lang ako sa bahay lagi. Once, sumama ako. Siyempre, all these girls flirting-flirting. Sabi ko, 'Guys, uwi na lang ako. Ayoko ng ganito.'
"So I was going to leave na and then we're all ready to get into the elevator. I saw, from the corner of my eye, Joanne going into the other elevator. Sabi ko, 'Guys, kung kukuha kayo ng babae para sa akin, dapat iyon. And then, sarado ang elevator. I never saw her again."
Their "meeting" took place days after a female friend showed Derek photos of dating prospects for him.
He picked Joanne from among the photos. They dated for year, and officially became a couple on January 1, 2015.
Instagram Posts
Save for their travel photos, the two do not have a lot of posts about each other.
But it was revealed to PEP.ph during the Burt's Bees event that it is Joanne who has been taking Derek's shirtless photos on Instagram.
The most recent one went viral— a back shot of Derek in the shower, teasingly nude, and netizens egging him "Lower," in the comments section.
About that photo, Joanne told PEP.ph, "Actually, we were in Bali during that time, and then sabi ni Derek, he was in a shower.
"Sabi niya, 'Babe can you take my photo?' He likes kasi taking photos of his back, so sabi ko, 'Ha? Sa shower? Bakit?'
"Sabi niya, 'Wala lang.' So, sabi ko, 'Okay. Fine!'"
"He liked the parang rain shower effect so I took it 'tapos binabaan ko konti, pero just enough, alam mo yun? And then he posted it.
"And then every time he checks his Instagram, lagi niya sinasabi, 'Grabe! Ang daming likes!
"Siguro mga five times more than his usual likes on Instagram 'tapos yung caption pa niya na parang, 'Swipe up to see more.'
"'Tapos ang daming nag-comment, 'I swiped up pero wala naman,' gano'n.
"So, anyway, I didn't know na nag-viral siya. Ngayon ko lang nalaman. I just know na madami talagang likes and comments."
How does it feel to have a boyfriend whose physique is being admired by a lot of women?
"I'm into fitness, so I like it that he takes good care of his body."
Does she get affected by the comments on social media?
Joanne replied, "No. If it's negative, we won't let it ruin our day."
Her Instagram posts are also double-tap worthy. Does she plan her content? Does she prepare for them? Does she use an app?
"Sometimes, like, kunwari whatever I feel like posting lalo na yung recent trip to Bali.
"I'm more of fitness, health, wellness industry kasi so like a lot of people would ask for like videos na workouts na puwede gawin with minimal equipment.
"Lalo na for people who can't go to the gym, yung mga home workouts. So, wala, sometimes, kung ano mang ma-feel.
"When you're in a vacation, if you snap a good photo, post lang din gano'n. Halo-halo.
"Ako lang usually ang kumukuha."
SUNBLOCK FANATIC
Lastly, she has a clear skin. What is her beauty routine?
"Honestly, kunwari someone from Instagram asks me, 'Anong skin regimen mo?' or like, 'What facial wash do you use?' like gano'n.
"Sasabihin ko, yung replies ko talaga, 'Honestly, whatever I see in the bathroom. Kung ano man yung facial wash na nandiyan, yun ang gagamitin ko.
"I started my beauty regimen lang siguro late last year, but, for some reason, parang mas nag-break out pa ko. So ngayon, binawasan ko mga products ko."
And what's her number one beauty essengtial?
"Ang pinaka-important sa 'kin is sunblock talaga. Sunblock, even if you don't go to the beach.
"Every day, I put sunblock talaga even if nasa house lang ako. So yun and number 1 and only ano ko. Next is cheek tint.
"I do not use a lot of products on my face. Basta ang importante, clean siya."